AI WEIWEI "NEVER SORRY": Official Trailer and #RaiseYourFinger Initiative
Juxtapoz // Wednesday, 13 Jun 2012
1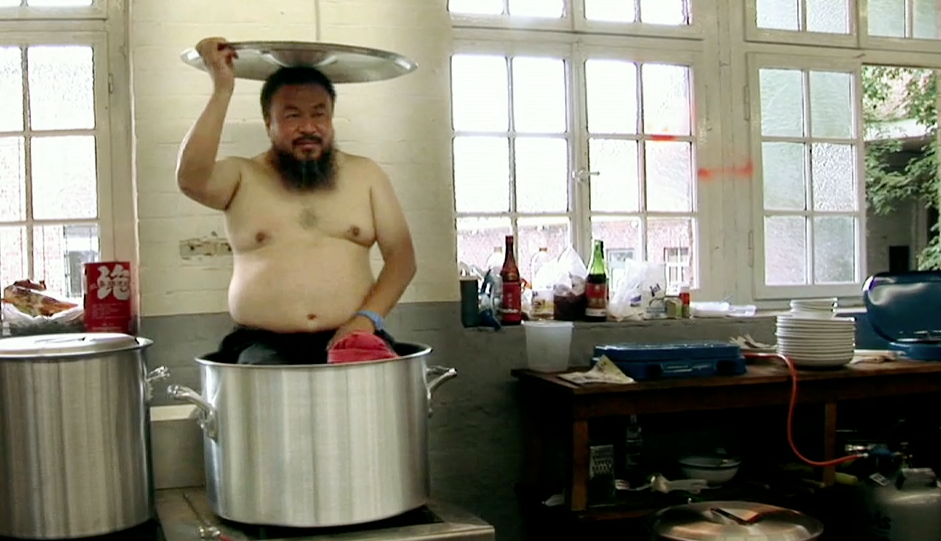 "Freedom is a strange thing." A perfect sentiment, spoken by one of the most famed, controversial, political, and influential contemporary artists in the world today,
China's Ai Weiwei
. Over the past few years, no artist has gained the international attention as Weiwei, both for his continually outstanding work, but for his arrest and imprisonment for phantom charges in China last year. First-time director Alison Klayman has captured the artist at his height in the documentary,
Never Sorry
. The film was one of 2012 Sundance Film Festival's official selections, and will see an official release on July 27, 2012.

Not only is the film being released, and special new trailer made for your viewing today, the producers of the film are holding a special social media initiative to support Weiwei as he is supposed to be freed from a Chinese governemnt imposed house arrest on June 22, 2012.

First, follow this...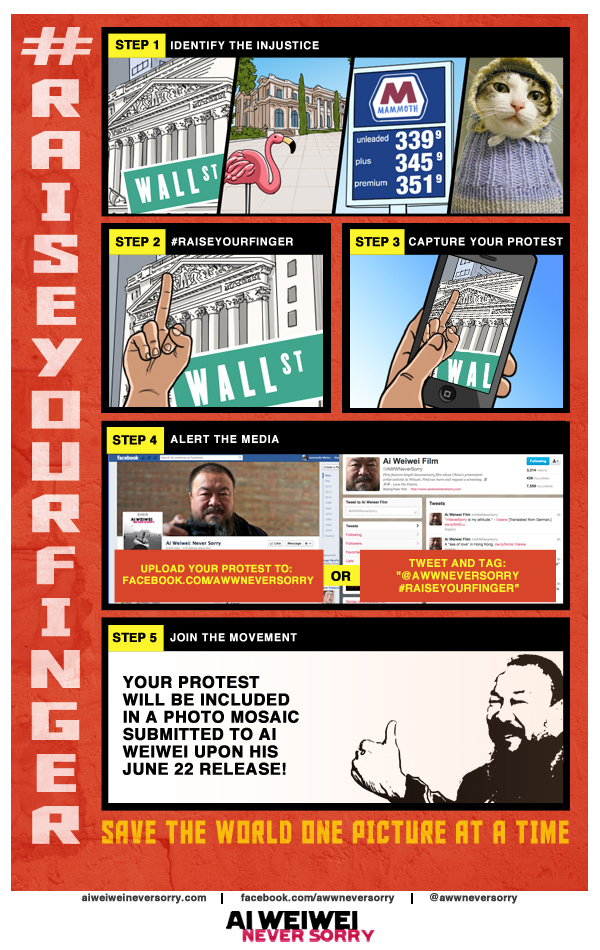 From the producers:

Drawing inspiration from Weiwei's famous photographs (from his exhibition "Fuck Off") giving the bird to symbols of injustice in his homeland (Tiananmen Square, the Birdsnest Olympic Stadium), we are launching a campaign in the artist's honor which calls users to "#RaiseYourFinger" and share a digital protest. We are calling the artists, activists and dissidents- or even the mildly annoyed - of our own homeland to to submit photos of themselves raising their middle finger to various "injustices" within our society—including things as controversial and powerful as Wall Street or as playful and harmless as an annoying meme. The photos collected from participants in this campaign will be assembled into a larger photo mosaic, which will be presented to Ai Weiwei via the social media networks he is active daily in, as a tribute upon his June 22 release from government-imposed house arrest.


Participants should submit their digital protest by uploading to the official AI WEIWEI: NEVER SORRY Facebook page (facebook.com/awwneversorry), or by tweeting and tagging "@AWWNeverSorry #RaiseYourFinger."