After 80 Years, Controversial Mural Brought Back to Life
Juxtapoz // Tuesday, 26 Oct 2010
1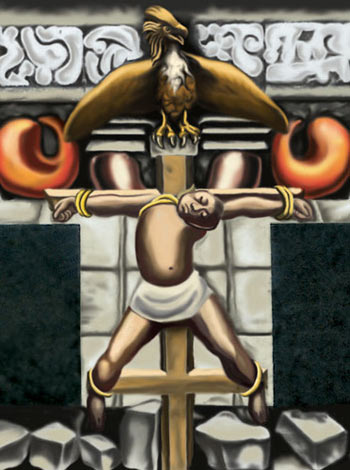 David Alfaro Siqueiros' controversial mural America Tropical, is being brought back to life through conservation and a display that will project a digital rendering of the mural.
In 1932, the piece  that the liberal Mexican artist was commissioned to paint turned out to be a controversial public mural that was quickly censored.
"Early last century, Siqueiros, Diego Rivera and Jose Orozco were the three major politically active Mexican muralists who merged revolutionary ideas with public street art," reports Mandalit Del Barco for NPR. "But Siqueiros' prominence in Mexico didn't do much to keep him out of trouble. In 1932, the artist was jailed for his radical militancy.

This mural was painted on historic Olvera Street in LA – a place which became a radical political venue for gatherings of labor organizers, and Italian and Mexican anarchists.
Siqueiros was commissioned to paint a mural under the theme 'Tropical America.' Instead of painting shimmering Southern California palm tress, the artist got political.
"For me, America Tropical was a land of natives, of Indians, Creoles, of African-American men, all of them invariably persecuted and harassed by their respective governments," the artist said in 1971. He titled the mural America Tropical: Oprimida y Destrozada por los Imperialismos — or Tropical America: Oppressed and Destroyed by Imperialism.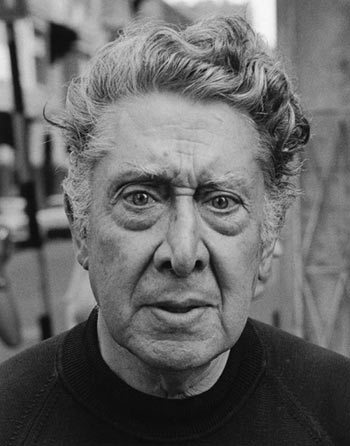 "Years of being covered over by white paint actually saved the mural from complete deterioration by the sun and rain. […] In September, city officials broke ground on a restoration project for the mural, which will include a platform on Olvera Street for people to view and appreciate Siqueiros work.
"America Tropical won't re-emerge until 2012, but Siqueiros' art is now on display at the Museum of Latin American Art in Long Beach and through January at the Autry Museum's exhibit Siqueiros in Los Angeles: Censorship Defied."
Read the full article by Mandalit Del Barco.