Image Gallery
Aaron E. Terry "Resistance to the Indignities of Modern Life" at Ever Gold Gallery
Juxtapoz // Wednesday, 01 Jun 2011
1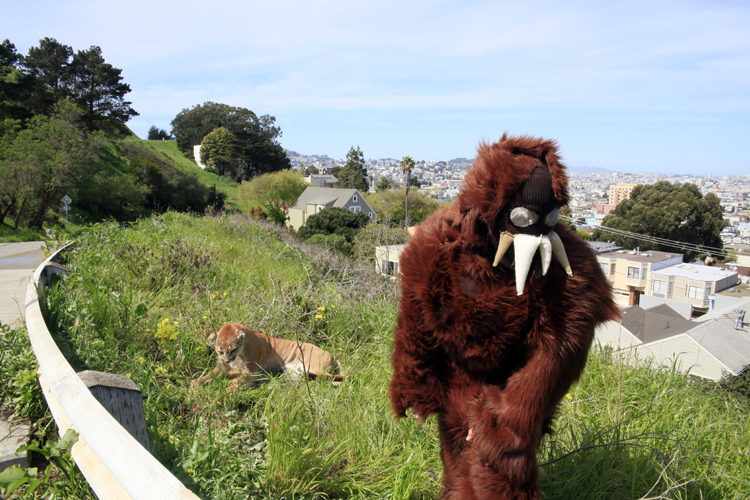 Anyone who can put together a documented reality of life as a Yetti is interesting by us, and that is exactly what Aaron E. Terry has prepared as part of his exhibtion at Ever Gold Gallery in San Francisco, titled,
Resistance to the Indignities of Modern Life
. The exhibition opens this Thursday, June 2, 2011.
The show features a large cave installation, large photos which document various performances by Terry's character, the Urban Yetti, handmade Yetti costumes, and a limited-edition book (Edition of 25) with a CD containing some of the audio aspects of the installation.


One of the ideas behind the exhibition was fairly involved: wear and act in the Yetti costume over a six-month period of time. Terry would give the costume to musicians, actors, visual artists, and taxidermists to interpret their experience with the Yeti and give Terry the imagery that became this latest series of prints.
For the show, "The transformed, cave-like gallery, will present a space full of the ingredients key to a collective narrative, including historical characters, social and political factors, wit, angst, and contemporary players - the audience. . . Costumery, masking identity, and positioning of self within the context of stories are paramount themes in the exhibition. Terry's alter ego, the Urban Yetti (a mythical character borne from Terry's childhood uprooting from living on remote land with no running water or electricity with Beat/survivalist parents, to an adolescence spent in urban Philly)reappears throughout the exhibition, but this time with a variety of artists donning the costume and submitting evidence of their own experience."

Aaron E Terry
Resistance to the Indignities of Modern Life
June 2—June 23, 2011
Ever Gold Gallery
San Francisco, California