A Visit with Parra: Juxtapoz Managing Editor Evan Pricco Does LA
Juxtapoz // Tuesday, 07 Apr 2009
1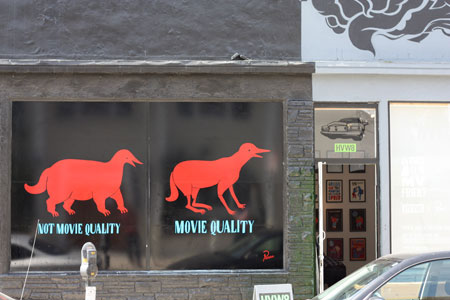 Juxtapoz Managing editor, Evan Pricco, traveled down to sunny Los Angeles and reports back on how he spent his weekend down South (contrary to popular belief, we're based in San Francisco, not LA.)

"I made a quick trip down to Los Angeles this weekend for a bunch of Juxtapoz activities, and was lucky enough to catch the opening of Parra's (Juxtapoz #86) newest solo show at HVW8 Gallery, Is That a Gun My Friend," writes Evan.

"In fact, I snuck in the morning of the opening so I could actually take some shots and speak with both Parra and HVW8's Tyler Gibney without having to shout over the crowds. Loved the "Movie Quality" banner outside the gallery. Parra is a genius of witticisms."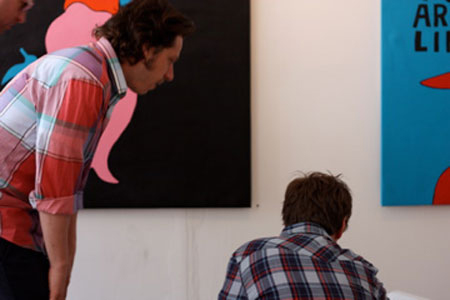 There's Parra with Mr Gibney. We snuck up on them as they checked emails from a computer left on the ground. They were clearing the space for the night's activities.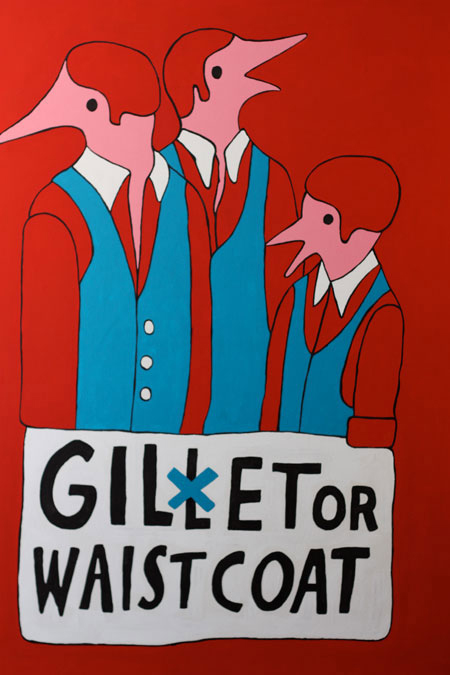 Parra did three really big pieces . . .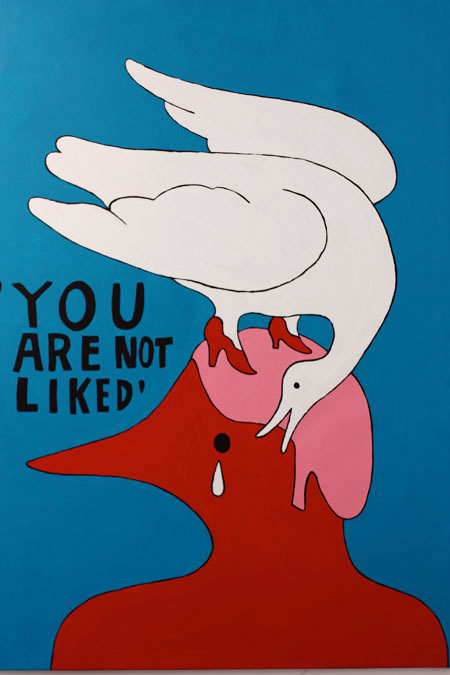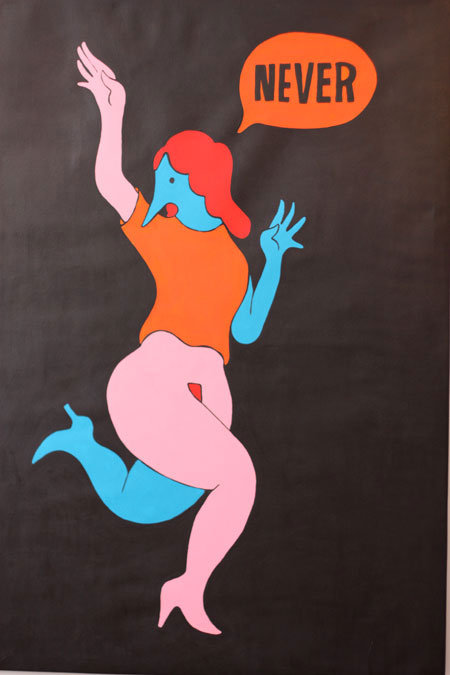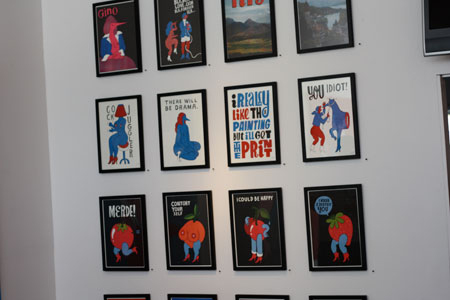 And then a bunch of his world famous poster-sized pieces. Seen altogether, its quite a sight.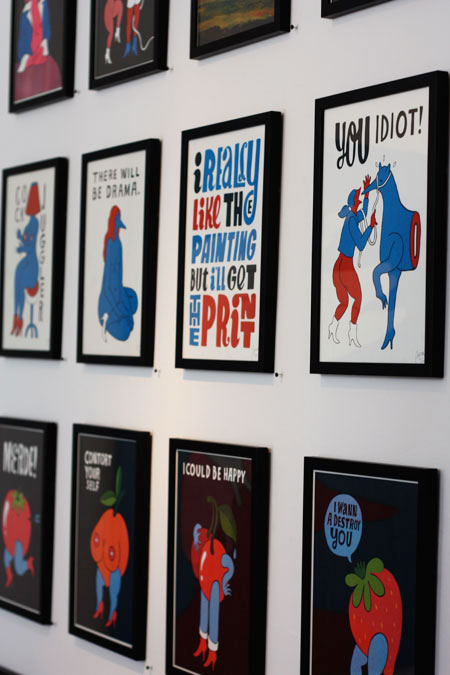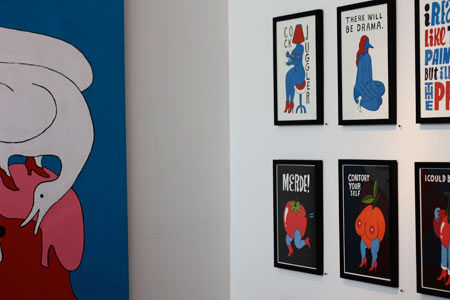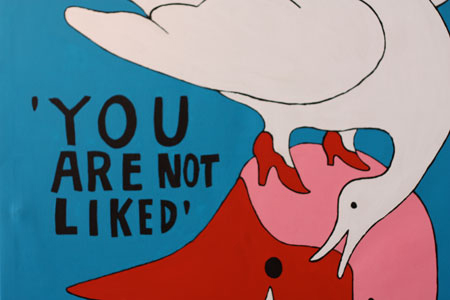 A little detail.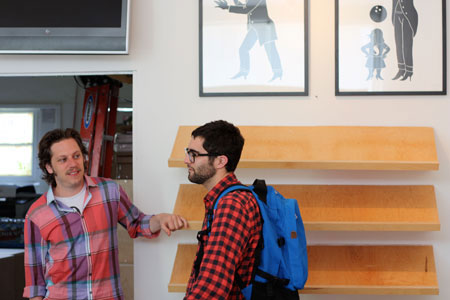 Parra and I, two people not from LA, talking about how much we like LA and the sun.
San Francisco and Amsterdam have similar climates, so we were envious. Yes, we talked about the weather . . . Parra was in a good mood. It took him months to do all the material in the show, and he had been in LA for weeks getting it altogether. So, I came back that night and ran into . . .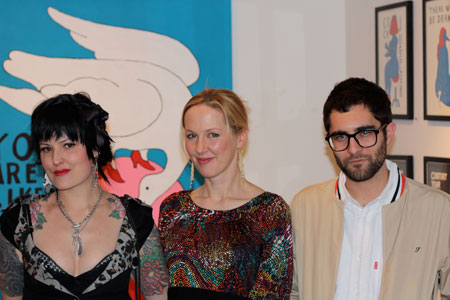 Angelique Groh (center) our Jux Style Sheet editor, who was also making the rounds. She and her friend (I forgot her name, goddamn) had just come from Kehinde Wiley's show at Roberts and Tilton, which I went to with a dead camera battery. That was a scene as well. Kehinde can paint, that's for sure.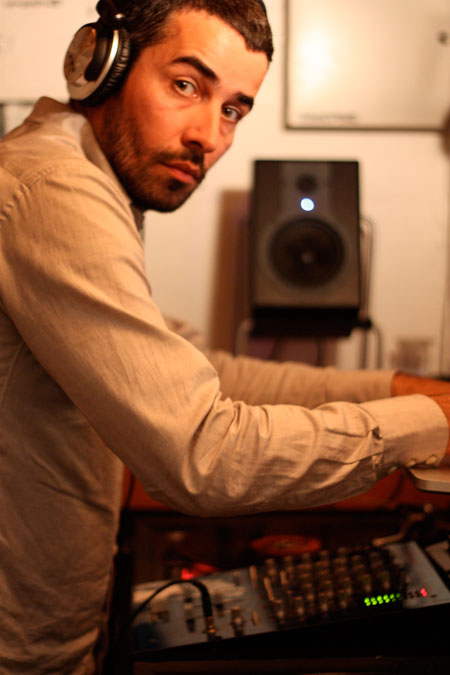 The DJ at HVW8. A great scene all night at HVW8, mellow crowd, reminded me of SF but with all the good parts of LA.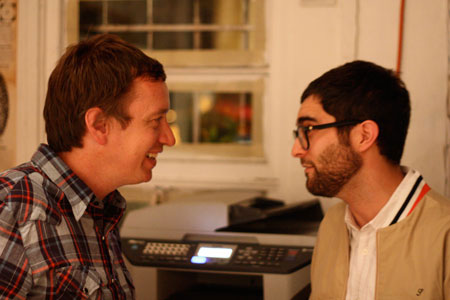 Tyler and I apparently talking very quietly and happily.

I think the gist of this was, "Thank you Tyler for the nice day, I hope the rest of your evening goes well." And Tyler to me, "Why yes Evan, it was a good to see you, come back for the podcast with Parra tomorrow." There was beer or two not pictured. I missed the podcast on Sunday. Sorry Tyler and Parra!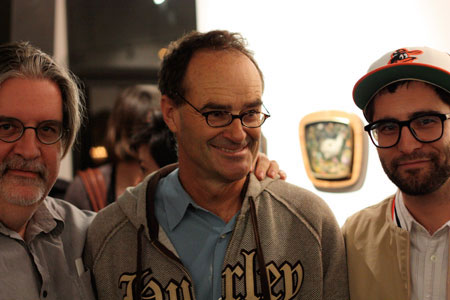 I made my way to Copro Nason Gallery, where I was reunited with one of Jux' founders, Greg Escalante, and the man I owe a ton of debt to, Mr Matt Groening. If you don't know who he is, then I can't help you, sorry. Matt told me that we do great work here at Juxtapoz. That sort of made my entire year.
Parra's new work is on display at HVW8, 661 N. Spaulding Ave, Los Angeles, Ca, 90036
Photo Credit: Wade Thoren, Amanda Krampf.