Image Gallery
A Train Adventure with Swampy
Juxtapoz // Tuesday, 31 May 2011
1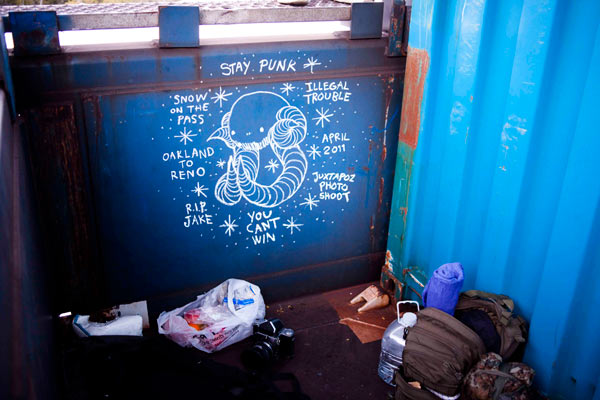 This past Winter, Juxtapoz assigned contributor
Joshua Blank
and assistant on a freight-hopping mission with the elusive photographer and graffiti artist,
Swampy
. Today, we show you pictures from their trip to prelude a feature on Swampy that will appear in the upcoming July 2011 issue of the magazine.
The following is an excerpt from the upcoming July issue of Juxtapoz. Text and all photography by Joshua Blank.
Early one morning, as the sunlight began to wake up a yawning city, I prepared to leave my house, checking my bag one last time to make sure I would have everything necessary: food, water, sleeping bag, warm clothes to make it through the nights, and my camera. The details of what was to come in the next days were mostly unknown, but what I did know was that I was going to hop a freight train from the Bay Area to Reno, and during the trip I would interview the artist, Swampy.
And in turn, Swampy was gong to be my chaperon on this risky but extremely exciting adventure. I had heard that he was a good partner for freight-hopping, and as I found during our trip, he seemed to have a premonition about what the train and its crew were going to do before they did it. That he trusted me enough to share this highly illegal, American tradition was somewhat lucky. out We rode for hours throughout the day and into the night, ducking periodically while in urban areas. Then, in more peaceful interludes, rode through the snow filled Donner Pass and other cites and gazed at the epic scenery around us.
Our train deposited us somewhere near Reno, Nevada. Near, we slept in a field that a hobo showed us. It was the perfect place to watch the trains and wait for our ride home, trying to stay awake. We huddled in our sleeping bags, to protect ourselves from the cold night. When our train pulled in we crept into the yard to hitch a ride, hiding until we were again outside of civilization. At the next stop in a large yard outside Sacramento we encountered a group whom we had seen trying to catch a train several nights before. They had been stranded there since then, camping in a "jungle," slang for a hobo hideout.
In the dark of night we passed through several lines of freight trains to find our final ride home. Our physical ability to stay awake beginning to wane, we hid in a refrigerator car's small metal room full of soot, motor leaking over our heads. As the train meandered slowly through the night, constantly stopping, backing up, lunging forward, and dropping off cars, the workers continually walked right by the open space we were hiding in. The stress of being so close to home and so tired had a multiplying effect. I was so tired that, when I ducked to hide, I passed out, waking up later about a mile past our stop.
An experience like this is necessary to fully understand Swampy, who doesn't merely get off the train anywhere it leaves him. He likes to make connecting trains and get from two mapped out points hundreds of miles apart, as quickly as possible. He leaves his moniker in the cars he rides as well as on walls and loose debris found in the places he visits. Some of these become his works of fine art. Documenting his adventures with a Pentacon Six camera, he creates a body of photographic works of his many years of travel, a nomad whose lifestyle defines the art he creates. —
Joshua Blank *Any persons you see in this photo series are either Joshua Blank or his assistant. Swampy's face has been obscured upon his request. The full interview with Swampy will appear in the July 2011 issue of Juxtapoz.

Swampy will open a solo show,
In My Room
, at FIFTY24SF Gallery in San Francisco on June 11, 2011.