A Toast to Your Birthday…Literally: World's Largest Portrait Made of Toast
Juxtapoz // Sunday, 24 Oct 2010
1
27-year-old museum curator Laura Hadland turned a photo of her mother-in-law, Sandra Whitfield, into the world's largest toast mosaic.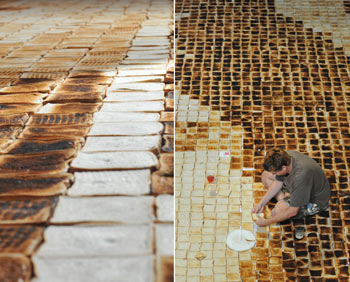 Created out of 9,852 slices of bread, Hadland enlisted 40 others, recruited through Facebook as a sort of social experiment, to help her make the massive mosaic out of 600 loaves of bread as a 50th birthday present.
Using nine toasters over six hours, each slice was toasted to varying degrees of darkness and then carefully arranged to make the giant 32ft 8in x 42ft 3in picture of Whitfield.
Hadland describes the gift as "a treat made with love and a sense of randomness. […] As a museum curator, I spend lots of time with Roman mosaics so it was great fun to make a modern one out of my favorite food - everyone loves toast."
The portrait was confirmed this week as having set a new Guinness World Record as the largest toast mosaic.