A Talk and Studio Visit with Eine, part 2
Juxtapoz // Monday, 09 Aug 2010
1
Helen Soteriou: Did you ever think that your letters would have such a powerful effect?
Eine: It was kinda weird how it started because I was going to write EINE across four shutters and I didn't have permission to paint it, and for one reason or another I just painted the 2 E's. I kinda knew that I wasn't going to have time to paint all of it. When I first started painting it, I started painting it with emulsion paint and paintbrushes and only used the spray paint to outline them and to do the horizontal lines.
Basically then people just associated spray paint with graffiti and with tags, so the moment anyone got a can of spray-paint out in the daytime everyone went 'oh my God, he is going to do graffiti', 'he is breaking the law', but you can stand there with a pot of paint and a paint brush and no one would say sh*t. So when I first started painting them it was with a paintbrush and that obviously took a bit longer. I got down there early in the morning, started painting it, and realized that I wasn't going to get it all done.
The shutters that I was painting were underneath this nightclub, and I thought it was quite funny just to do two big E's...well, it kinda made me laugh! So I painted the two big Es, and then was going to go back and paint the 'I' and the 'N' a little bit latter, but when I was looking at the photographs it dawned on me that if I wrote my name I would then turn it into a piece of graffiti, and by it being a piece of graffiti people would just ignore it.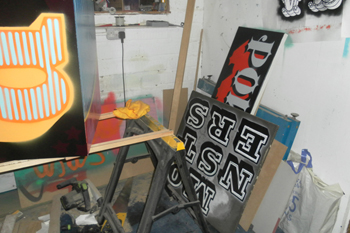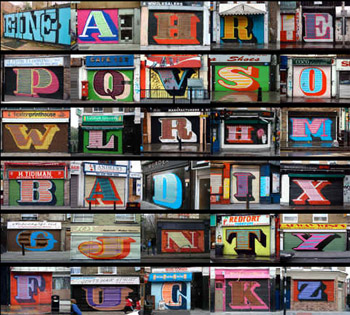 Eine continues: Graffiti had been around for ages and people weren't interested by it or they were just bored of it. It had just become a part of the urban furniture, the same as fly posters and the same as advertising. So, by writing my name I would turn it into a piece of graffiti and looking at the photographs of these two Es it was like 'this is quite interesting' it is not saying anything. It is just random, weird? why? what does it mean?
It was then that I decided to try and write all the letters of the alphabet. Thinking that it would be a pretty quick and easy thing to do.
I went off and I painted another eight or so and then I printed out a sheet of photographs and started approaching shop owners with 'Hi, I'm doing this project and would you let me paint the shutter?' and most people said yeah, but most people wanted the letters of the name of their shop, so if their shop was 'Ruby Handbags' they wanted an R and a H, or if their girlfriends name was Sally, they wanted an S. Most shop owners wanted me to paint them a letter, and it was like, 'no', 'I'm trying to do the letters of the alphabet and I need to do a T and an X'. I think I painted about 40 shutters before I got all the letters of the alphabet, and there were 4 Ts and 3 Gs…but when I started doing it I thought it would be interesting. I wanted to do the letters and have my own alphabet, but I didn't think I would be doing it four or five years later and I didn't think there would be the interest. I didn't think it would have the longevity that it has had.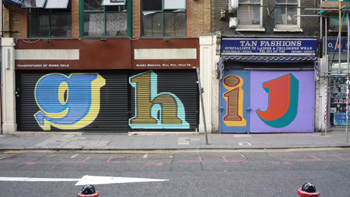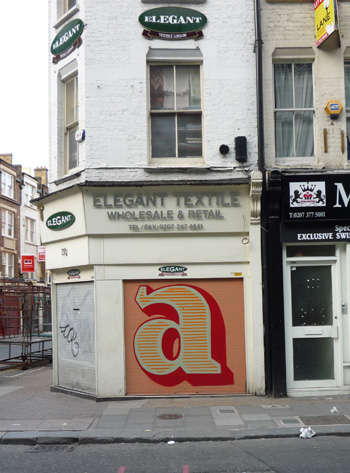 Do you think more shop owners should consider having their shutters painted?
What I do improves the look of the shutters, obviously they are privately owned so it is down to the individual shop owner as to whether they want to have a big random letter on their shutter. Something like that would be an interesting and a positive thing to do. It would be great to get councils involved.
The most recent big thing that I have done is that we have been talking to shop owners on Middlesex Street, around by Petticoat Lane. We convinced the shop owners to let us paint all the letters of the alphabet, in order, next to each other, without any gaps…one gap. Basically we have got A to N on one side of the street and O to Z on the other side. So because I had the opportunity to do all the letters, I did them all in lower case, which is something I have never done before. I have only ever done upper case letters and it is kind of weird over the years as to how they evolved.
I found this old wood-cut font in this old Dover bookshop book, and that is how they started and over the years they have evolved into something a little bit different.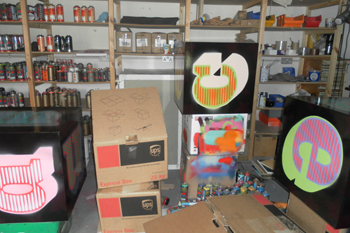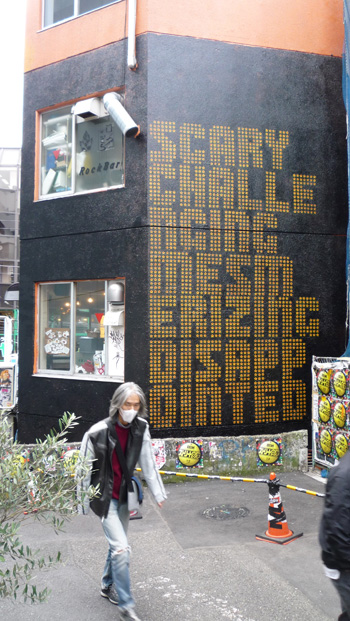 Did you ever imagine the response would be so positive?
I made a conscious decision to do something that was nicer, happier, more kind of user friendly than what I have been doing in the past.
One of the things about graffiti is you don't want it to get cleaned off straight away and if it looks ugly and looks sh*t someone is going to come and paint over it or the council are going to clean it off, but if you are making a positive improvement to the area, the street, the shutter, then there is less chance of it getting cleaned off and you want it to stay. Each one takes an hour to paint and you don't want to spend the day out painting and go back the next week and see it all painted over. So I made a conscious decision to try to offend as few people as possible so they would stay.
I didn't think that they would go down as well as they have. When there is a few of them next to each other they look pretty cool. They look quite impressive. There are a few rows where I have painted a load and come the evening time when all the shutters go down it looks pretty nuts. So kids like 'em and mums like them with their kiddies as they are singing out the alphabet as they are walking down the street. They are not offensive at all. They are an improvement to a shutter with some tags on it. They are nice.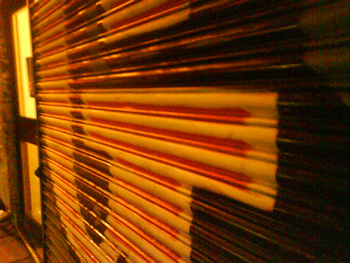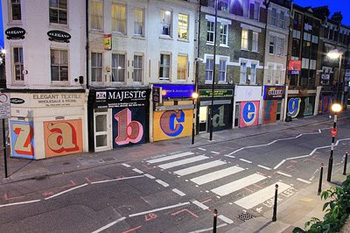 Your shutter designs have caused a stir in the fashion world too. What do you think about Topshop ripping-off your signature work without crediting you?
(Note: Topshop was approached, but did not provide a response. Staff members at their flagship did confirm the range flew-off the shelves and that they would not be re-stocking it).
It is pretty lame but it is something that goes with the territory. My shutters have become a part of East London. They have been around for a few years. There are quite a few of them. People who have no interest in graffiti or street art see them and take photographs of them. One of the ideas behind it was I would take photographs of each letter I painted and I would then have my own font, so I could then write things with my photographs. So I made, painted, photographed and now kind of collaged my own words out of my own font that I painted. So it is quite a unique thing to have and obviously other people have done that now…
…There was a picture framer I used to go to, and I went in there to get something framed and they said 'we've just had some kid come in and he had all your shutters in an A to Z printed out and we framed it for him'. I think that is quite cool. He is not selling them. He likes it. He has photographed it. He has printed it out. Which is kinda cool and I'm kinda up-for that but on the other hand the creative geniuses in Topshop sat around trying to think of some new tee-shirts and someone said 'why don't we get in touch with the guy who paints the shutters and see if he wants to do something with us?' and everyone else has said 'he'll never do it' and then someone else has said why don't we do something similar and someone else has said that's a good idea. So basically Topshop has got individual letters superimposed onto shutters. Coloured them in quite similar to how I colour some of mine in and done a range of I dunno...A to Z letters on T-shirts.
It happens. There is not that much you can do about it.
If you missed Part 1 of this interview, check it over here.
Keep up on Eine at  www.einesigns.co.uk