A Piece of Cake: New Mural by Blu Dissects Town of Grottaglie
Juxtapoz // Wednesday, 09 Jun 2010
1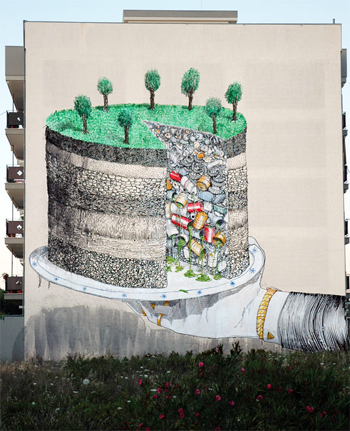 Blu has finished the latest contribution to Italy's FAME Fest, a yearly unsponsored event which invites top urban artists to spend weeks, even months, working on street and gallery works to be shown this Fall.
Angelo, of FAME Fest organizer Studiocromie, walks us through each aspect of Blu's impressive new piece, which incorporates specific imagery reflecting the Fest's hometown of Grottaglie.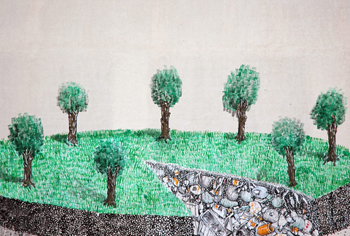 "One of the main cultivations here in Grottaglie is olives, there are thousands beautiful threes in the fields and some of them are more then a hundred years old."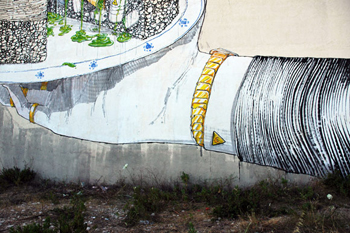 "One of the main shapes of our ceramic tradition is the ivory dish, the artisans of the ceramic district hand-cut little sponges to sop 'em up in ceramic ink and paint the blue stars along the borders while the ivory glace is still fresh on the terracotta."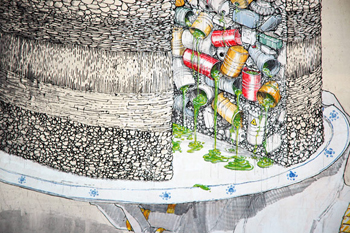 "Another thing that's made our little town famous in these last years is our special waste dump.
"Southern Italy is in real deep shit with the trash business. Grottaglie did not need the dump at all and people in town were not given any warning before it was already being built. Guess how come? Now we have trash coming from very far away and the dump seems to get bigger and bigger, there already are three huge lots full of trash and trucks get here daily from Northern Europe to deliver more shit.
"This piece comes at the very right moment, considering that there are workers digging another huge hole in the ground near the dump. There are reasons to believe that they are going to create a fourth lot and again, our formidable town councilors are not telling anything to their own people. How morbid is this?
"Italian readers can find a lot more info here.
"Now, being this is a very personal interpretation, I'll leave you to the full picture, so you can get your own ideas about it."