A Peek Inside Scion's ROOMS
Juxtapoz // Sunday, 18 Apr 2010
1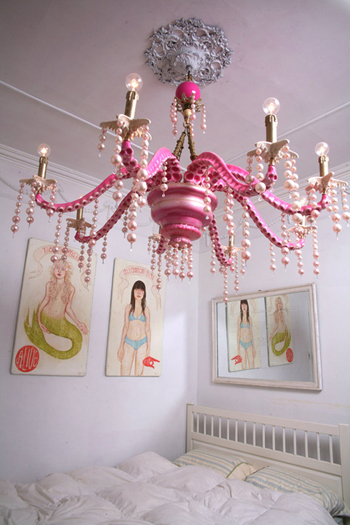 We have to admit; we really like the theme of Scion Space's newest art exhibit. Rooms offers just this: eight rooms designed by eight of contemporary art's most recognized names. It's like interior design meets Cribs meets fine art.
Taking a peek inside someone else's room offers the unique opportunity to peek inside individuals' personal space. Opening April 24, Scion's Installation L.A. Gallery presents Rooms, a group exhibition curated by Roger Gastman that brings eight diverse artists together under one roof.

Rooms will feature unique installations and new works by Kime Buzzelli, Adam Wallacavage (work shown above), Dueling VHS, Chris Stain, Bill Daniel, Justin Van Hoy, Rocky Grimes, and Dan Monick with Caitlin Reilly.
If you haven't yet read our Back Talk interview with curator Roger Gastman in anticipation of this show, do so now here. It's...hilarious.
For the exhibition, Scion's 4,500-square foot Installation Space in Culver City will be built out and subdivided into eight individual spaces. Each space will be assigned to an artist, who will create a room from their imagination. In addition, the artist's work will be hung on the walls of their designated room, and be available to purchase.
Kime Buzzelli will create a teenage girl's bedroom complete with vintage frocks, collected objects and her feminine, fanciful art; Adam Wallacavage's custom chandeliers and frocked wallpaper will fill his guest room; Dueling VHS (work dirctly above) will build a wood-paneled basement with TVs playing their hilarious episodes; Chris Stain's stencil work will adorn the archway leading outside; Bill Daniel will craft the bedroom of a suburban teenager gone bad with a tent of punk T-shirts, bike parts and crumpled homework; Justin Van Hoy's re-worked NBA logo screen prints will hang in the room of an obsessed NBA fan circa the early 1990s; Rocky Grimes' classroom will be filled with desks, doodles and large cutout human figures; and Dan Monick and Caitlin Reilly's room will become a bus stop at night with portraits of passengers and surrounding scenes installed in light boxes.
The opening reception takes place this coming Saturday, April 24, 7 – 10 pm
3521 Helms Ave. (at National)
Culver City, CA 90232.
The reception is free with complimentary valet parking and an open bar. All artists will be present, and available for comment.
The exhibit will run until May 15.