The Official Trailer: "A Love Letter For You" by Joey Garfield and Stephen "ESPO" Powers
Juxtapoz // Wednesday, 02 Feb 2011
1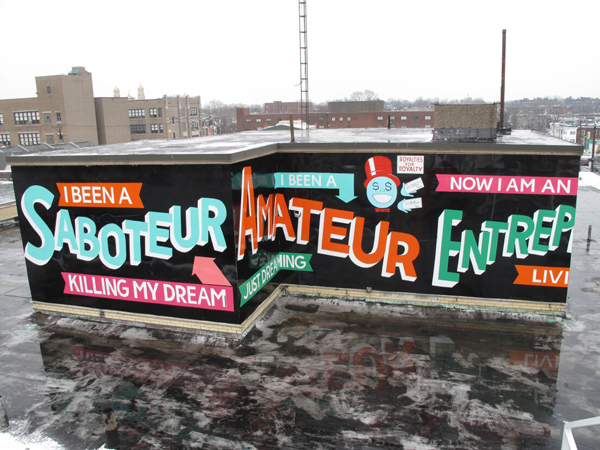 Our Contributing Editor, and also talented filmmaker, Joey Garfield, teamed with Stephen "ESPO" Powers to create
A Love Letter For You
, the official documentary film for ESPO's 2009 project with the City of Philadelphia
Mural Arts Program
. And at last, we have a trailer for the film to show you.
From the looks of the trailer, the film captures some of the stories behind graffiti, why a graffiti artists do what they do, the rush, the danger, and the notiriety. ESPO, as we have come to know, can articulate the point better than almost anyone. He remarks of a finished piece,, "You are seeing an adventure."
We couldn't say it any better.
We spoke Mr. Garfield this afternoon about the film. Here is what he had to say:
Q: You have told us over the past year or so that this film, and the project, is a love story. Explain.

Well, Steve had been talking for a while about  going back to his hometown and writing a love letter across the rooftops that you can read as you ride the elevated trains. Him giving back to his city is just one layer of the love onion peeled back. The project is physically in Philadelphia but it really speaks to everybody. A major part of the process and film was getting neighborhood people to speak up and share their thoughts on the topic and get their voices up on the wall. The film focuses on that aspect and hones in specifically on this one guy named Fire who is trying to re-establish himself back in his world after a stint in prison. He is perhaps the stinkiest layer of the love onion.
Q: What was the process of filming? Did you and Steve have a storyline before the camera was turned on?

We went back and forth, sharing ideas and trying to make them fit into Steve's initial script. By the time the project was a go we had a storyline. Keep in mind this film is also a documentary - Documentaries make themselves. So a lot of the planning went out the window but we always knew what the core of this film was going to be about so that kept us focused.  Somedays things felt so far from getting done I thought we'd be in the shits but a lot of magic would unfold and get us back on track.
Q: Where does the film go from here?

We're going to have some special screenings and keep spreading the word about the project. This is stuff that you can come back to either my production company 
www.ghostrobot.com
or 
www.aloveletterforyou.com
and see where we are at.
http://www.aloveletterforyou.com/
http://ghostrobot.com/loveletter/