A Look Inside Skinner's Sacramento Studio
Juxtapoz // Monday, 16 Aug 2010
1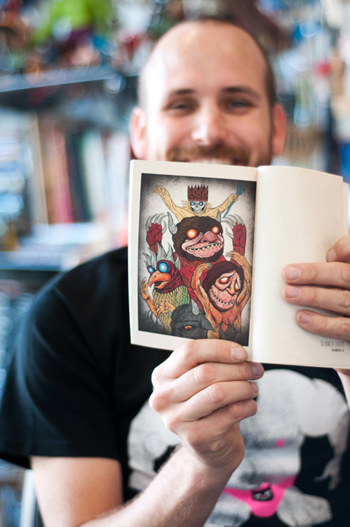 Skinner's (Juxtapoz #101) exhibit now up at White Walls looks amazing, full of the psychedelic/rocker insanity we've come to love about this painter. Want to know where he conceives such works of art? His Sacramento, California based studio, of course.
His workspace walls are covered in funky, colorful pieces and his elderly neighbor regularly invites him over for tea. He has rabbits and guitars all over the place too. Just what we'd expect from such a genuine and talented individual.
His newest show opened this weekend in San Francisco at White Walls. This Fear You May Know is a series of 24 medium and large-scale acrylic and airbrushed paintings, sculptural pieces, and custom airbrushed masks that illustrate his observations of a growing obsession with destruction and conflict, and how fear guides the course of social action.
More on Skinner at www.theartofskinner.com