A Look Inside Juxtapoz August 2010 Issue with Dr Lakra
Juxtapoz // Wednesday, 28 Jul 2010
1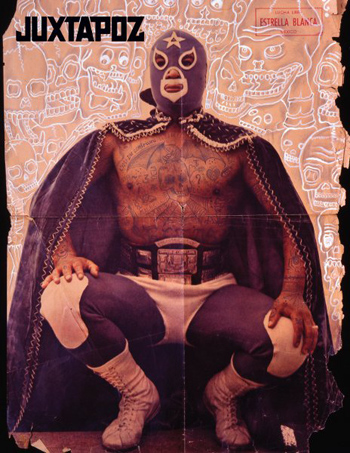 From the very first issue of Juxtapoz to now the latest edition, Dr Lakra has spent the meantime becoming an international tattoo and fine art superstar, and museum regular. That's why we chose him to grace the cover of our August issue.
Currently, Dr Lakra is having his first solo museum exhibition at the Boston ICA, and he spills his life story in our August 2010 Juxtapoz. We thank Don "Ed" Hardy for the Dr Lakra heads-up 17 years ago.
We also have an extensive feature with filmmaker, fine artist, and author, John Waters, where he gives us the story of prostitutes, planned benders, and his role models.
August also covers filmmaker Simon Robson, artist and performance man Dennis McNett, Chilean artist Basco Vasko, fine art fashion photographer Beau Roulette, and graphic novelist Ariel Schrag.
We also touch base with Power House Project, our collaborators on the Juxtapoz 15th Anniversary show benefit and auction, and showcase their exhibition at the Museum of Contemporary Art Detroit.
Grab a subscription to Juxtapoz here or embrace the 21st century and order a digital subscription!