A Look Back at Grind: The Graphics and Culture of Skateboarding
Juxtapoz // Tuesday, 08 Jun 2010
1
Much of what was true then rings true today. Lets take a trip back to 1995. No Google, no Twitter, no Facebook, no YouTube…jeez, what did people do back then? They concentrated on their craft, whether it be art, skating, or video - all three mediums captured in Grind.
Grind took place in the perfect setting for its subject matter: Huntington Beach. Much of the popularity of skating and surf culture was born in and around this small Southern California city and the area's laid-back vibe helped cultivate an epicenter of all things cool (have you been abroad lately? People all across the globe still sport Huntington Beach and California tees, almost as a place some see as the embodiment of the American dream).
Grind traced the origins of certain designs and discusses public reaction to them. "For example, some designs include stolen logos from other companies, such as Burger King, in order to purposefully test their tolerance for the sake of it, but to also pose questions which ask, What constitutes private or public property, and what does it mean to blur the lines of authorship?"
From exhibition co-organizer and curators Ed Templeton and Tyler Stallings to participating artists Chris Pastras, Cleon Peterson, Chris Senn, Bernie Tostenson, and Jeff Tremaine, Grind visually chronicled the rise, height, and background stories of skateboarding.
Nearly as significant to the sport of skating as the act itself is its coinciding culture, fostered by countless artists, designers, photographers, and videographers who captured the essence of what it means to be a young kid stoked on a board with four wheels and made it cool (and marketable) for the entire world.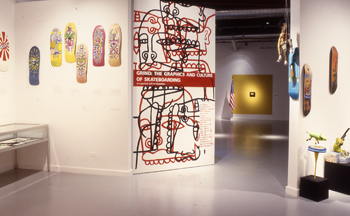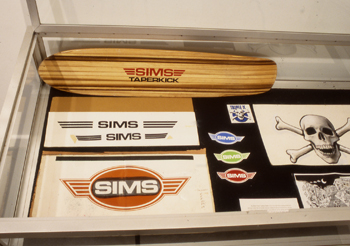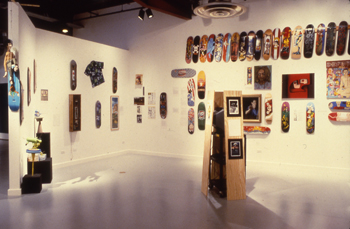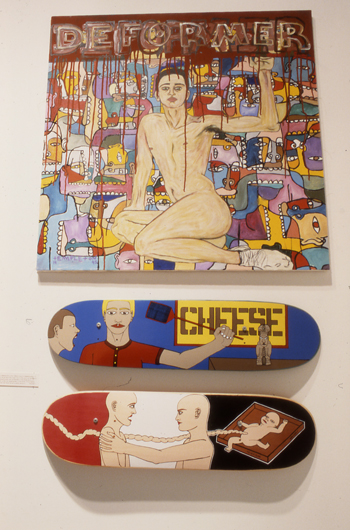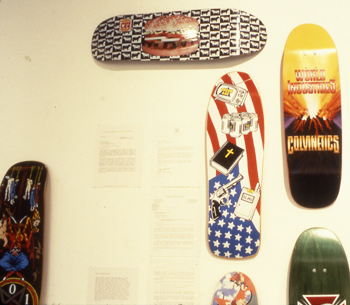 Grind: The Graphics and Culture of Skateboarding
Presented at Huntington Beach Art Center
September 16 - October 15, 1995