A Look at Fashionable Aftertaste Without End by Natalia Fabia
Juxtapoz // Wednesday, 23 Jun 2010
1
Fabia is renowned for masterfully creating thematic environments for each of her shows, and the artist goes East for Fashionable Aftertaste Without End, unveiling the magical world of Kawaii. Blending Japanese icons of pop culture, cuteness, fashion and design with her Western girls, Fabia's narratives are laced with her signature hints of seduction and mystery.
A classically trained painter, Fabia's realistic style continues to evolve, unlocking her hookers' resplendent lives and flamboyant obsessions. Adopting an international twist, her beautifully absurd moments are not lost in translation, as Fabia defines her own interpretation of Kawaii. The painting below, "Electric Marshmallows for Real Eyes" playfully captures three Japanese girls and their stream of consciousness encounter populated with plush Rilakkuma bears, paint brushes, and creative exhaustion.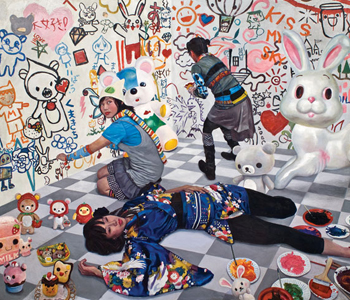 Fashionable Aftertaste Without End features twelve oil paintings that have been in development over the past year, and the exhibition will showcase the debut of Fabia's first full nude painting, a stunning fusion of male desires and Kaiju toys. "Kawaii transforms everyday objects into supreme cuteness", explains Fabia. "It is everything I find irresistible and cute, yet can't explain why. It is a concept I totally fell in love with and validates my crazy random obsessions."
Also on display will be a spectacular six-foot chandelier designed by Fabia, her visionary monument to Japanese pop culture. One hundred handcrafted figurines, each designed and initialed by the artist, will be suspended from the opulent fuchsia sculptural installation, along with thousands of Swarovski crystals, sparkling pink chain and laser-cut objets d'art. Ten different Kawaii-inspired designs make up the collection of limited-edition figurines and many of them are featured in Fabia's new painting series.
About Natalia Fabia
Natalia Fabia's paintings are the signature of LA's "new progressive" women of the 21st century. Like the independent working class of women who emerged from the Industrial Revolution or the liberated "Flappers" of the 1920's, Natalia's women are unabashed, aggressive and confident as she documents their influence on the lifestyle of an enrapt world. Irreverently calling them "hookers" – she uses the term like men use "dude" - she is fueled and fascinated by their color, their sparkles, their sultriness and their strength.
Natalia Fabia is of Polish descent and was raised in Southern California where she graduated from Art Center College of Design in Pasadena. Inspired by artists Henri de Toulouse-Lautrec and John Singer Sargent, ornate interiors, wild animals, voyeurism, and punk rock, Fabia also produced the first known Miss Hooker Beauty Pageant and her jewelry line Hookerfeathers adorns celebrities and fans alike.
For more information about the artist, please visit www.nataliafabia.com.
Natalia Fabia
Fashionable Aftertaste Without End
Solo Exhibition
Opening Reception Saturday, July 10, 2010 from 8?11pm
On View July 10 – August 11, 2010
Corey Helford Gallery
8522 Washington Boulevard
Culver City, CA 90232
T: 310-287-2340
Open Tuesday - Saturday, Noon to 6:00pm