A Look at Ben Frost's Newest Work
Juxtapoz // Tuesday, 09 Sep 2008
1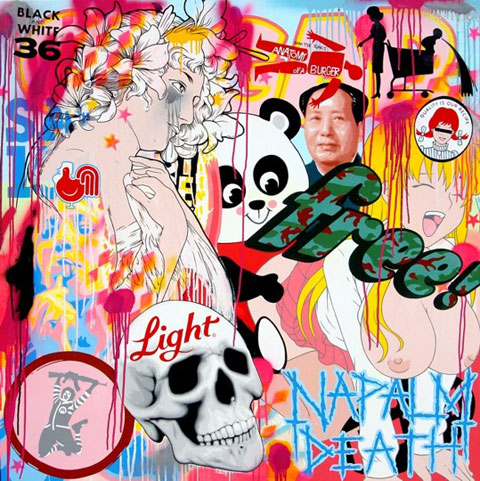 "Australia's Ben Frost is a pop culture puppeteer, composing intimate choreographies on canvas between Disney characters, vintage pin ups, logos, slogans, and anything that smacks of nostalgia. Each element is applied with a sign-painter's precision. Every graphic interaction is deliberate.

Since my first encounter with Ben's work in 2005 at Blank Space, a shop-front gallery in Sydney's Surry Hills area, his work has been pulled in two distinct directions, amping up in popularity and paring down in content. Ben is best known for littering his canvases with congested layers of images but his most recent works, though abridged, are just as affecting.

"With the mash-ups, there were 10 paintings on each canvas. They're very laborious."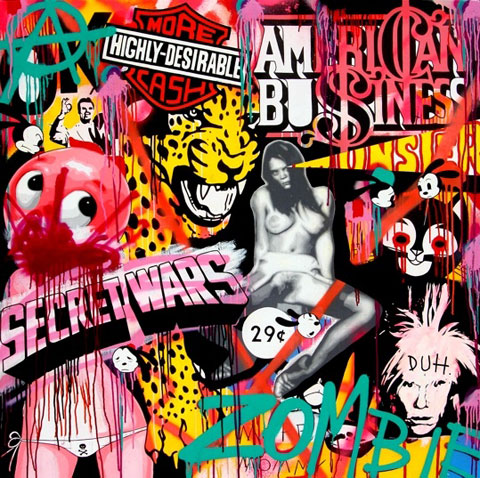 The new works are more focused, isolating a few key dominating icons. The decision, he says was made partly based on some marketing research done by a friend who wanted to create a billboard work. The study found that the general public was more attracted to basic, clear images. A reflection on a shared desire to simplify one's life.

He's not sure how the public will take the new look, "That's often the biggest problem at my level," he says. "You get caught in traps. Sometimes, if you change the style people aren't receptive."

Ben will be able to guage his audience soon enough when he heads to the UK next week. He is the subject of two solo shows, one at London's No Walls Gallery, Brick Lane (September 25-30th) and the other at Newcastle's Opus Underground (October 9th - November 3rd). He's been toying with the central theme of the show, Crapitalism for some time now - switching up his concept pieces several times in the process.

Through his canvases and installations, Ben is playing with the switch between attraction and repulsion in which, he describes the audience as a bee being drawn into a flower until, upon closer inspection they realize the subversion that has taken place. Nothing is as shiny, new and attractive as it once seemed.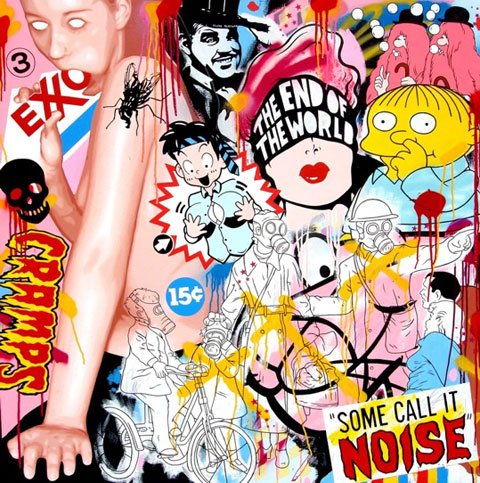 Based in London but not tied to a physical space, No Walls is the middle of Brick Lane, near the renowned Stolen Space gallery and reflects Ben's current experimentation with exhibiting in alternative areas, beyond the restrictions of the gallery. "Eight times out of 10, every time I've had a gallery show, it's been fucked," says Ben.

His recently launched project, Paste Modernism, a group effort of Sydney's most prolific paste-up artists took place in the very building where Ben lives and works. The groundbreaking DIY event was announced via photocopied flyers, MySpace and Facebook with the secret location announced for only 24 hours, three days before the show.

Regardless, he is optimistic about exhibiting in the UK, where the art market is voracious and supportive of Ben's work.

In fact, funneling Australian art to the UK and Europe was the initial aim of Stupid Krap, the art label which he founded alongside Madeleine Boyd. Stupid Krap, as a portal gleans the most promising talent from Australian urban art, sells prints and original works online and offers support through coordinating, curating or promoting events for their artists.

So, when Ben is asked if he plans to join the several other artists who have recently taken their practice overseas, he hesitates. "I'm very fond of nurturing the art here. Stupid Krap is really taking a leadership role. As I'm getting older and wiser, I want to foster the new artists in Sydney."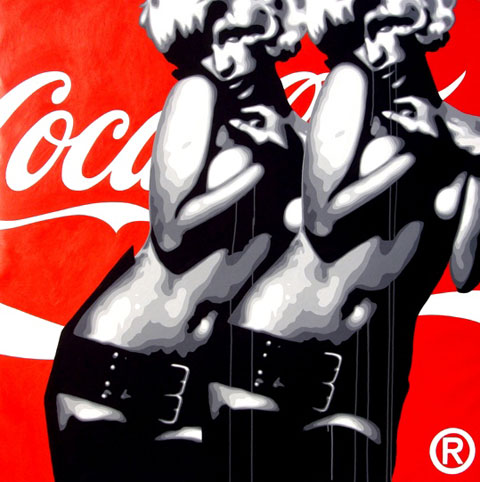 Words by Alana Armstrong.
Images by Ben Frost. More at www.benfrostisdead.com