A Few Words from Os Gemeos
Juxtapoz // Monday, 05 Jul 2010
1
On growing up in Brazil:
Cambuci [neighborhood in Sao Paulo] was a very industrial area and we grew up in this. It was a rough era too, with a lot of crime and dangerous places, but when we discovered hip-hop culture everything became easier.
On their introduction to graffiti:
We drew a lot in that time, almost everyday, and our mom and dad always let us do that. They gave us our first spray cans in 1985, one was burgundy and the other was baby green. The simplest things for us were so supportive.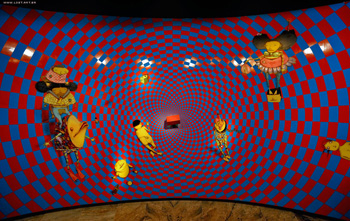 On developing their style:
Antropofagia [cannibalism] is the instinct to improvise and recycle everything that man can create, to change and reconstruct things for better visual communication. Brazil is one of the best places in the world to create art and express yourself. People are open to that, and open to receive and transform what you give.
On the influence meaning behind their art:
It's really a free country, a free spirit, a country of improvisation, of swing, of what we call 'ginga,' and of happiness. We have all these elements inside of our work, all this Brazilian love and hate, all this struggle, all this fighting for a better place, these questions and fights, and sometimes a simple escape. […] This helped a lot in developing our work, the way we use yellow for the characters, the way we need to put a lot of detail in our landscapes. […] The characters speak to the city, a lot of people identify with them, they are part of the civilization.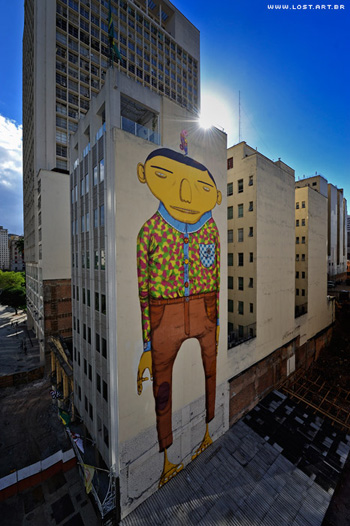 All photos by Lost Art.