A Chat With Pete Fowler
Juxtapoz // Tuesday, 26 Jan 2010
1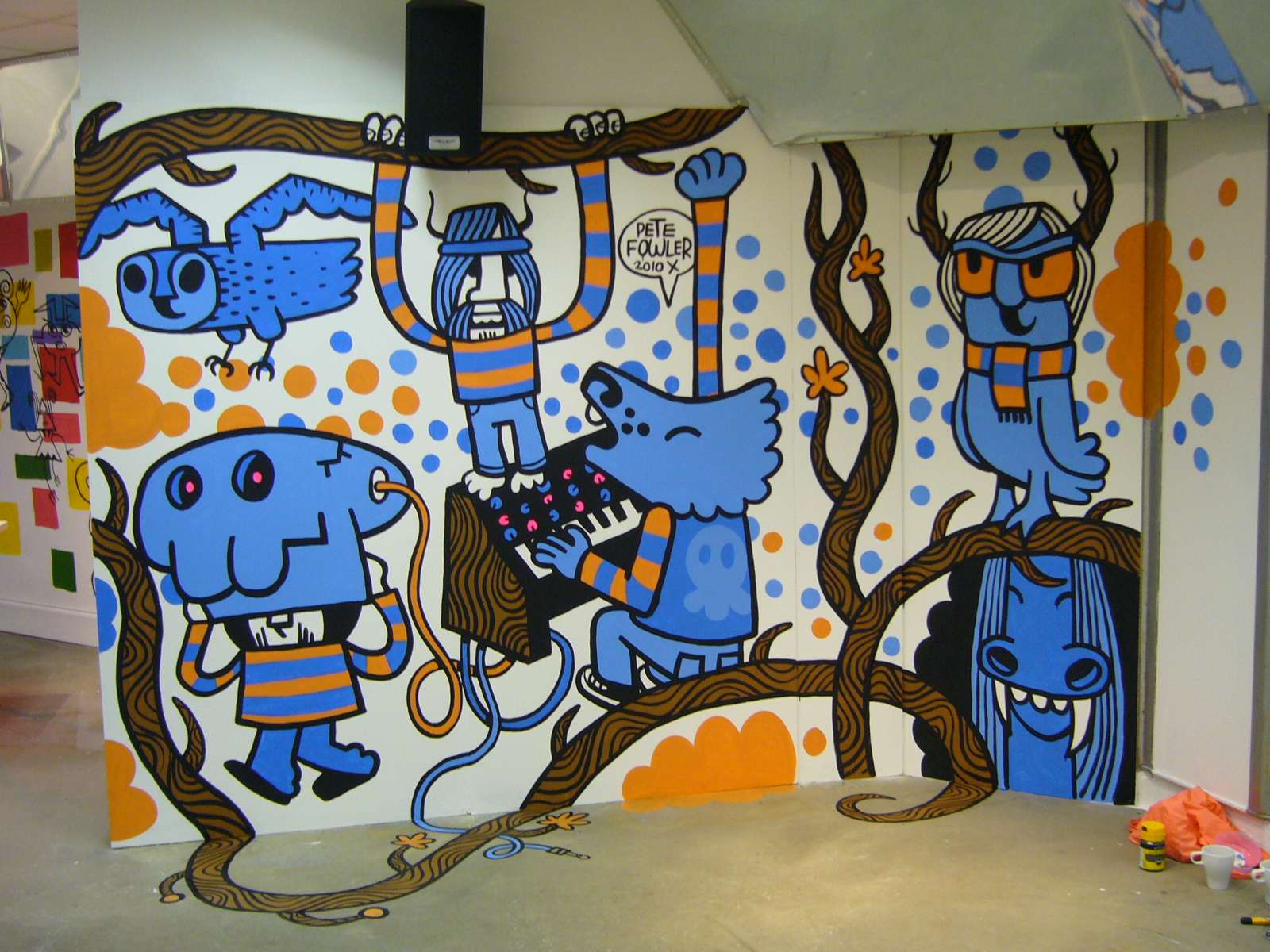 Juxtapoz blogger Chris Osburn catches up with
Pete Fowler
, the Welsh illustrator, animator, and all around "monster creator" who recently teamed up with Noise Lab in Manchester.
Chris Osburn: So, what have you been up to thus far this year?
Pete Fowler: 2010 has been quite busy so far with various projects, commercial and personal. I've just finished designing a logo and identity for a Haiti fundraiser that's going on at the famous Roundhouse in London that starts on the 25th of February.
I'm also working on another project in the charity vein for the Beaver Lake Cree's fight against the tar sands in Alberta Canada, I'm in the process of designing some tees that will be sold to raise money for their legal fight against the government.
(For more info on this endeavor, check out the following links:
http://www.haitiearthquakefundraiser.com/
http://www.co-operativecampaigns.co.uk/toxicfuels/toxicImpacts.php
http://www.guardian.co.uk/environment/2009/jul/20/canada-cree-tar-sands
http://www.facebook.com/toxicfuels )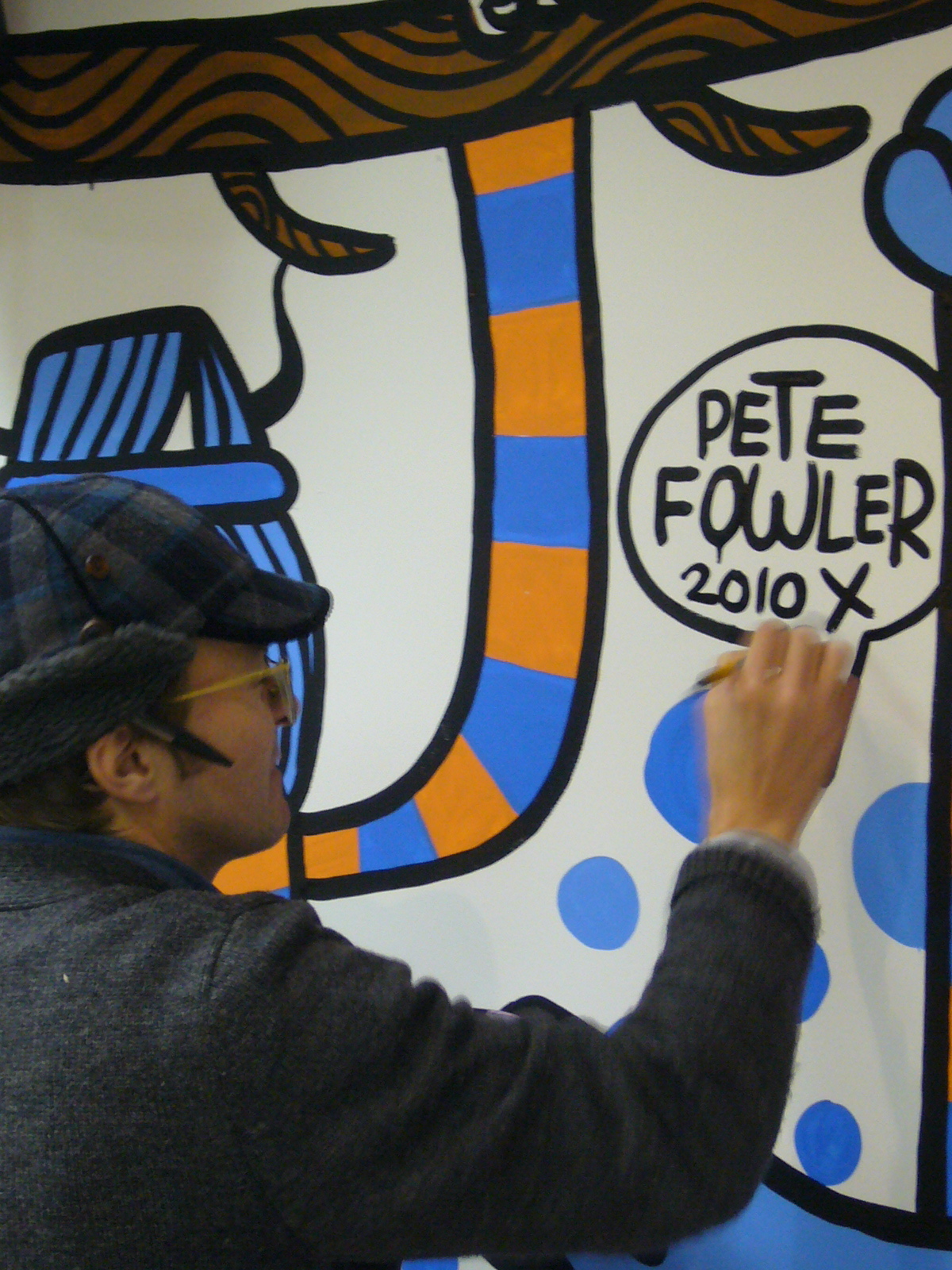 I've also created a custom figure of Jam Factory's Droplet toy to be shown in Bristol soon, taking part in the events at Noise Lab, continuing a commercial project I have with AVG and I'm still developing my animation project with Baby Cow productions. It's taking a long time but we are getting there little by little.
To top that off, I'm working on a music project with a friend (who continues our work together musically with our Space Weather Sounds cassette label) with a release on another record label in the UK.
I'm not quite sure where I find the time!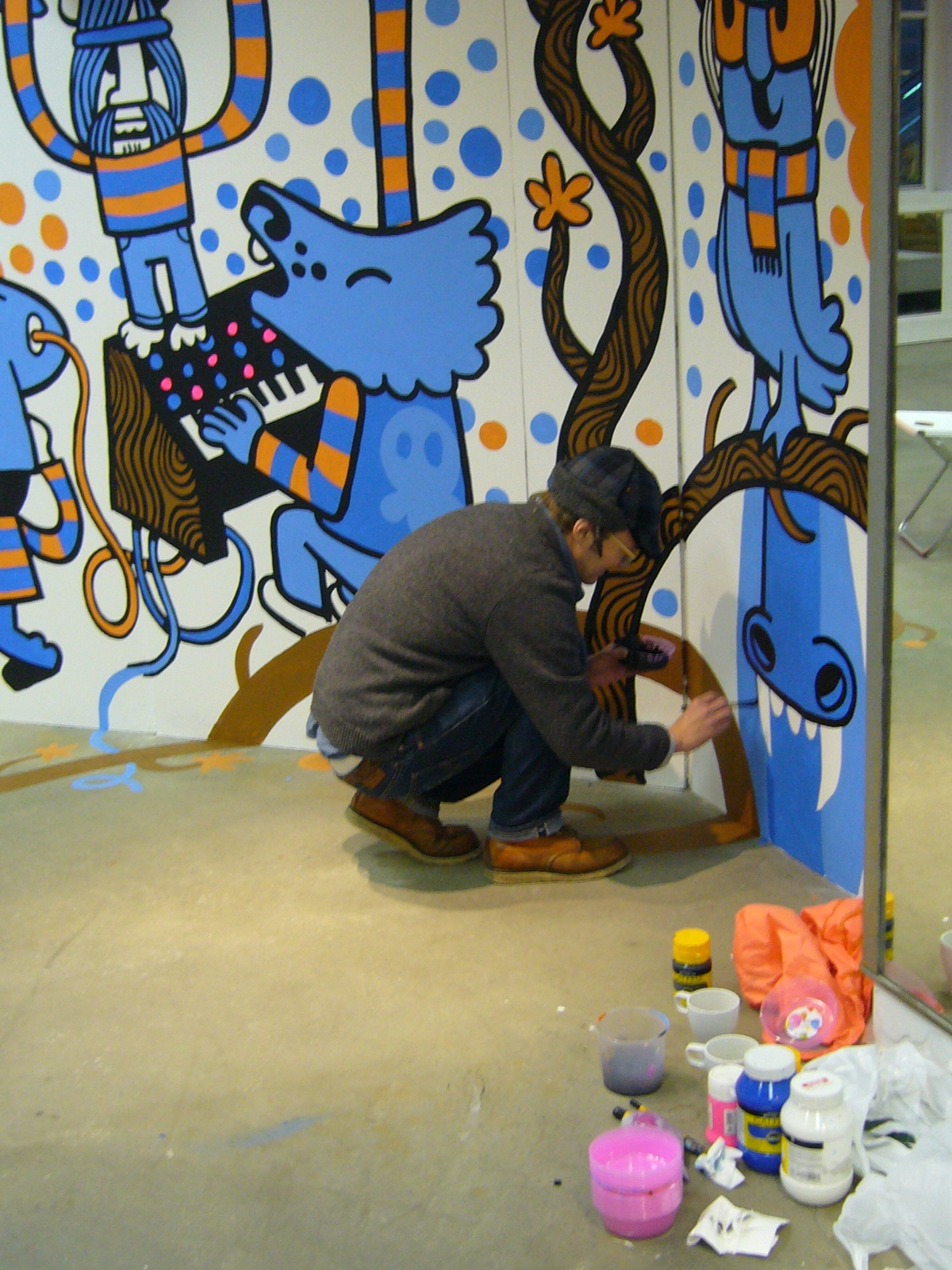 Can you tell us a little bit about NOISE LAB in Manchester and your role in the project?
I was asked to participate in events at NL by my good friend Barney who I've been doing various Doodlebug events with over the years in Manchester and it seemed like a good thing to be involved with.
NL are working with various different artists to provide a creative hub in the centre of Manchester, I believe the space is currently funded by the council and it seems like a very positive move. I was invited to give a talk on my work, paint on the walls in the space and talk to the guests invited about their work and to give out advice and generally chat on the world of illustration and design.
I hope the space can continue to host artist led events, exhibitions and happenings for as long as possible and hopefully people will realize the importance of a space like this.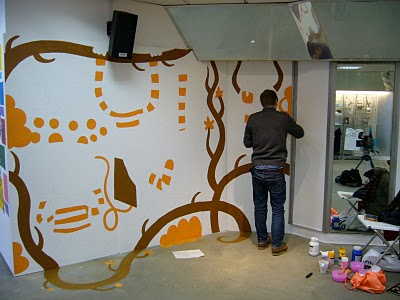 Anything good up your sleeves for the rest of 2010?
I mentioned my animation, which has been in development for AGES and I hope we can make some moves on that in the year to come and actually get animating! Another ongoing project has been my work for the ATP festivals, in particular the forthcoming New York festival weekend in September. I've been designing posters and artwork for that and it'll be released, little by little.
The first poster can be seen here.
My music side project will be releasing some material this year under the name Seahawks with the first scheduled pretty soon. I'm keeping a bit quiet on that until I get more firm release dates but I can say I'm very excited about the first one both musically and visually!
You're possibly best known for your artwork for the Super Furry Animals. How did that relationship develop?
It was by pure chance that the band saw my work in a free paper in Cardiff (my home town) and their label at the time Creation records got in touch and it pretty much started from there, little by little. SFA wanted something else other than photos of themselves to represent the band and thats where I came in. For me it was one of my first big projects and back then I would of never imagined it would have continued for so long. I've been very lucky to hook up with a band that share similar attitudes and open to crazy ideas and different ways of approaching covers, merchandise, DVD's, stage sets and giant inflatable bears!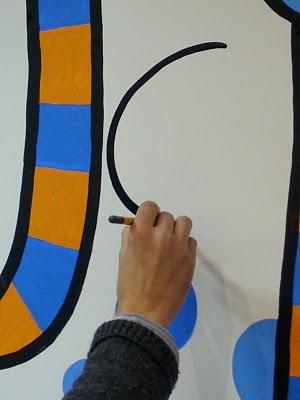 Besides the Super Furry Animals, you've also worked on big accounts such as the Kia commercial. Any advice for artists looking for a break, or on how to maintain personal style and integrity while delving into the commercial realm?
I think one of the most important things that I learnt was to get your work out there and seen. I tramped around to different ad agencies, magazines etc with my portfolio, put on shows of my work in bars and clubs and did a lot of free work for small magazines, keeping myself busy and softly pushing my work on as many relevant people as I could.
Working commercially is always quite a challenge as things can quite often get bent and tweaked beyond initial ideas. In most of my commercial projects I've been fortunate to work with great people at agencies that understand my work so I think that's important but I always try to retain as much integrity as I do with my personal work but it can be a fine balance.
Do you approach your contract work differently than, say, art that you're creating for an exhibition?
It's a totally different approach when I do an exhibition, which is quite rare these days! For me my artwork is a very personal thing in that I'm free to do whatever I want without working to someone else's idea or brief.
An art show is the culmination sometimes of years of work, developing ideas and techniques and although my subject matter is sometimes playful I take it very seriously and see it as my true art (at best!).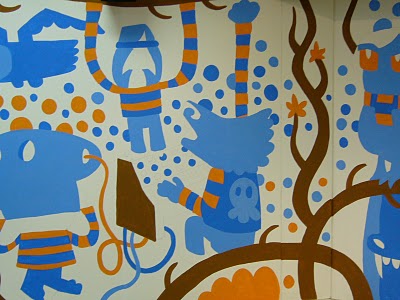 Stay up to date on what Pete's up to here.