A Chat with Baron Von Fancy
Juxtapoz // Wednesday, 03 Feb 2010
1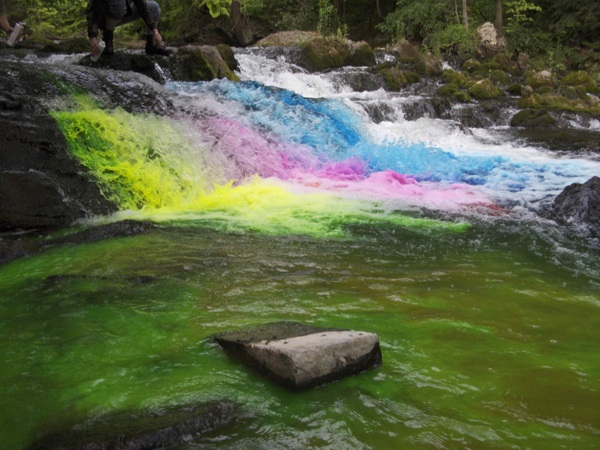 Baron Von Fancy is just that, he's fancy. Very fancy.  He makes fancy paintings, fancy lighters, fancy bowties—he even makes rivers appear fancy. The New York City multimedia artist and graphic designer, whose birth name is Gordon Stevenson, is showing the Bay Area how he uses sewer dye, glue, paint, fluorescents, reactive paints and public property to make everything just a little bit fancier.
"Line For Line", Baron Von Fancy's show, is being shown at Untitled Gallery in Sausalito, California, just across the Golden Gate and will be showing until February 28, 2010.—Elizabeth Culley
Elizabeth Culley: Who is Baron and who is Gordon? Where do they meet and where do they disconnect?
Baron Von Fancy:  Baron Von Fancy is simply the namesake I use to brand anything that I make that I consider commercial art.  For example, if I design a lighter it is done under the name Baron Von Fancy, but if I make a painting it is signed using my birth name.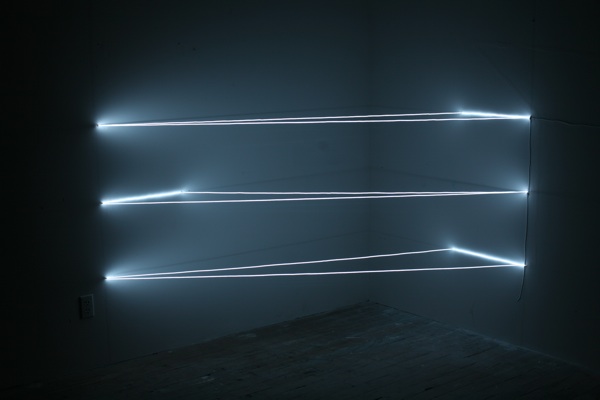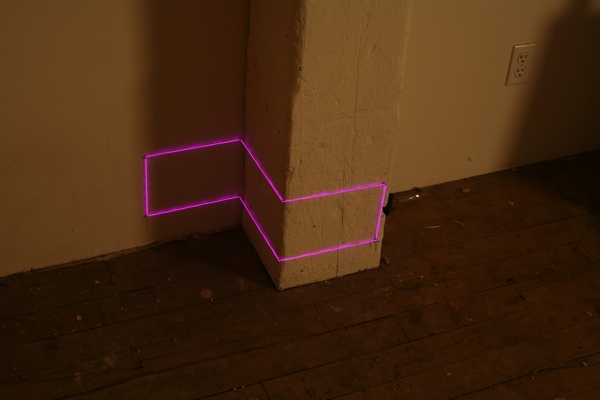 Why don't you use Gordon for the commercial projects, like the lighters? Do you want the two works to be viewed as being done by two different "types" of people?
I have had the nickname Baron Von Fancy for as long as I can remember- to the extent that my friends and mother call me Baron as often as they do my birth name if not more. So, when I really started producing and collaborating on objects that were intended to be sold in stores, I felt it was best to brand myself, and Baron Von Fancy seemed more than fitting for my brand name.  I guess when I first started making objects I didn't consider them really works of art, but objects to be sold that required some sort of company branding for validation. For the purpose of simplicity I probably should just sign everything I make Baron Von Fancy.
Where do you get your inspiration?
From everything and everywhere.
EC: How has being an NYC native affected your work?
My interest in street art stems from seeing it all the time as a child.  In terms of graphic work, seeing all the signage and window displays over the years has definitely played into how I look at and layout my designs.  Trinkets on Canal Street or memorabilia being sold on street corners had a profound effect on my love of producing objects.  Lastly, my love of color comes from all the clashing colors that can be seen everywhere in the city from the lights to the storefronts to the people to even the pigeons.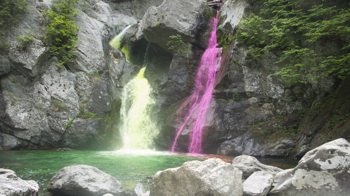 When did you first start making art?
I was always creative, but I knew my passion was for making things by the time I got to high school.
When did you start to experiment with color and materials?
I used to pour glue and ink on paper in art class and draw on my jeans with sharpies.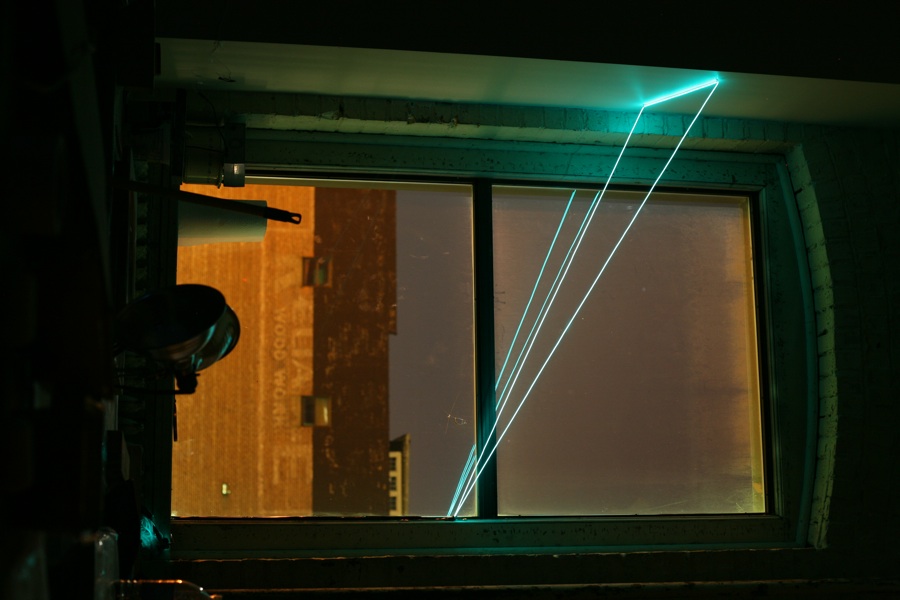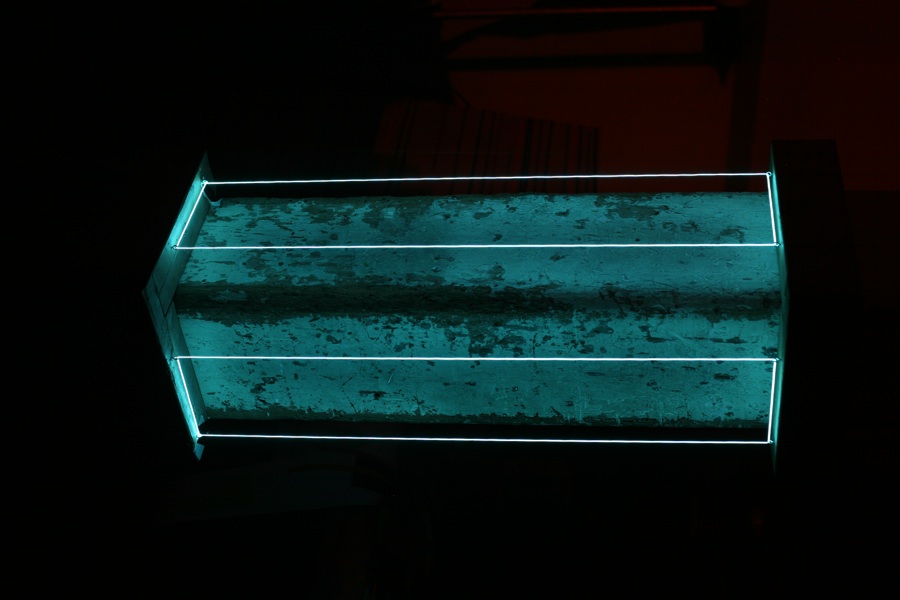 Have you been using any new methods to make colors and materials "react?"

Besides the dye, I am currently playing with a lot of lighting. I just put a bunch of new neon signs into work and have been doing a lot of experimenting with electroluminescent wire.  Electroluminescent wire is a thin bendable wire that when an electrical current is run through it, it will glow as if it has been covered in phosphorous.  It commonly used for "tricking" out a car's interior, but I am using it to make sculptures.  I love the wire because it comes in multiple colors, all of which can be controlled and altered to my desire.  It allows me to play with color in ways paint or dye don't allow.  Neons and the wire are just another way for me to investigate and play with color.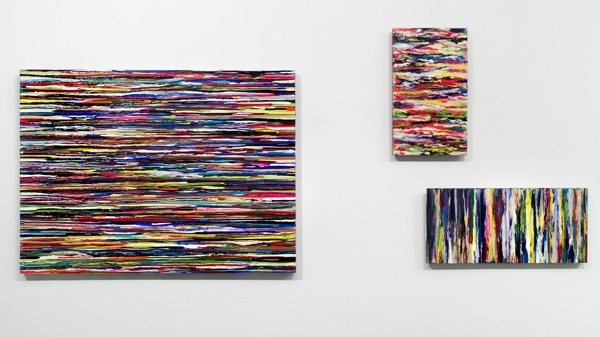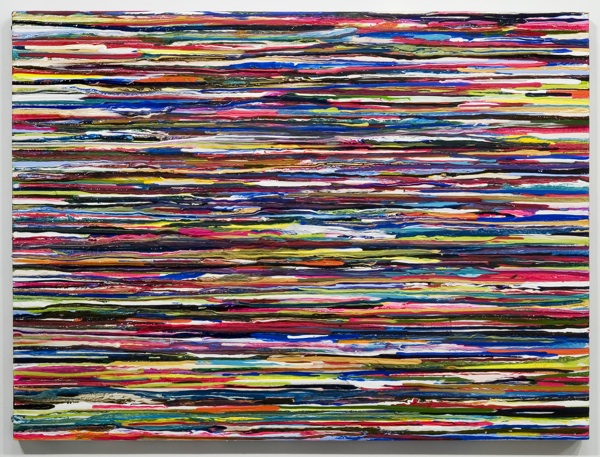 I really love your public pieces. You've painted bike racks, trash cans, and my most favorite is the fountains and rivers you have been dying, how did this come about?

I have been working on the water projects in collaboration with Robert Waltzer and Sebastian Bear Mc-Lard. They consist of dying waterfalls, rivers, fountains and other bodies of water with extremely bright and often multi colored dye in a guerilla-like fashion.  My artwork revolves around color interaction, so dye and water just seemed like another territory of color interaction to explore.
It all started when I was dying a pair of pants in my bathtub and I then became fascinated by the dye and water interacting with each other.  Robert, Sebastian, and I then sought out dyes that we could dye massive bodies of water with and came upon industrial sewer dye.  Once we had found the dye, we went to as many water sources as we knew of or could find and dyed them.  I consider our dye projects a form of graffiti. Just like a spray can of paint alters the standard look of a store grate, the dye alters the standard color of the body of water.  We have taken something that people walk by and probably wouldn't notice, and coerced them into noticing by altering what they are used to seeing.  Graffiti is about leaving a noticeable public mark to be recognized and I think the dye serves the same purpose.  We want the dye to be noticed just as a graffiti writer wants his tag to be noticed.


On the subject of "trinkets," you've been making your own?
For my objects/trinkets, I hope to see more and more commercial and artistic collaborations coming my way.   I just released a lighter with Red Bucket Films, am currently working on a lighter with Steven Powers, and am designing some new bow ties and ties with Mister Mort.  I have always wanted to design a snowboard and a pair of binoculars so those are high on my list of things I hope to collaborate on/make.
At the end of Baron Von Fancy's autobiography, the very fancy man, who seemed more mellow and down-to-earth during our interview than fancy, Von Fancy addresses his fans and critics by saying:
"In the Baron's world, luxury is an understatement, and all consuming passion. So put on a velvet robe, throw a drink in the face of one of your servant's, carelessly burn a stack of money, and ask yourself, " Am I truly fucking fancy enough for Baron Von Fancy?"



Untitled Gallery is located at 1201 Bridgeway. Sausalito, Ca 94965