75 Minutes an Hour: A Narrative Essay on Mercedes Helnwein
Juxtapoz // Thursday, 01 Oct 2009
1

seventy-five
minutes
an hour

a mercedes helnwein tale

by
tommy
tung


Nobody was ever one thing and Mercedes Helnwein proved that as an American, Irish, Austrian, artist, writer, filmmaker, model, romantic, and visionary. She synthesized. But I sundered. In one week, I wrote fiction and rock music, murdered maggots for an art gallery, dreamt of a 7-foot-bat that meowed, and disappointed four people. I was lost in my skin and bone cage.

Mercedes knew who she was, however. This much I sensed, when we met last year -- confidence neither low nor high, but proportionate -- special in a city where that swayed extremely. An invitation to view her studio came, after my articles about her in Juxtapoz. My face hurt that day from smiling. To be around someone of such constitution, I would be blessed and possibly, able to reclaim myself.

The pilgrimage started in 90034 and ended in 90013, the Arts District of downtown L.A. My last time in this neighborhood was at Blue Dahlia Café, reputed for their short-rib-burger. Friends hadn't arrived yet, so I waited at the bar. Five seats away, a cute Korean girl studied The Tao of Jeet Kune Do by Bruce Lee. I read Tarot cards for her.

"Could you guys do that in the corner?" the bartender interrupted.

"Are you serious?"

"Yeah, I'm serious. A lot of Christians come through here. You might scare them."

And so, I prevented heart attacks today: I did not stop in.

I went to my three o'clock appointment and passed another café and its sidewalk loungers, judging me through sunglasses. When I entered a historic building, the breeze died and so did my hair, fallen on my shoulders. I saw a freight elevator with a pull-down-door, but I didn't see Mercedes' apartment, only a doorway with clutter and a reception desk. I went in anyway. The desk was unattended and the space vast.

"Hello?" my voice pinballed off of brick and cement.

Footsteps whispered. A young Japanese man emerged from a shielded living area and stepped into his sandals.

"What unit is this?" I asked.

"One-D."

"Oh, I'm sorry. I'm looking for One-C."

"In the back."

"How do I get there?"

"Do you know who you're seeing?" He came closer to me.

"Mercedes."

"Ah, Mercedes. Yes, through there." He pointed to a door on the far wall.

I exited to a brick courtyard. Foliage loomed above and sunlight mottled me. With dead leaves everywhere, I took crispy steps, until reaching Mercedes' patio. She was cloistered inside. Chris Watson stepped out. His smile matched the afternoon and his beard hadn't met a razor in a few days. Black hair daggered to one side. This musician was her boyfriend.

"You snuck up on us," he japed, shaking my hand.

I ratted out my accomplice, her neighbor, and then tilted a cardboard tray to reveal gifts: blondies, Ceylon tea, and an edition of Huck Finn with illustrations from 1885.

"Blondies? Never heard of them." Mercedes peered at the baking pan, to which I attached the recipe for these blond brownies with butterscotch and chocolate chips.

"I hadn't either until a couple years ago." I entered the living room, the kitchen, the art studio -- all one space with furniture to demarcate the zones. I loved live-work-spaces. One day, I would have one. First, I needed to become as talented as Mercedes though. I imagined it stipulated in the lease -- unwritten but practiced -- like her own stipulation, that she only wore dresses and skirts. "It makes life more complicated sometimes, but whatever," she said last week. Today, she donned a black strap dress. If this was her method of complication, I looked forward to the day it turned labyrinthine.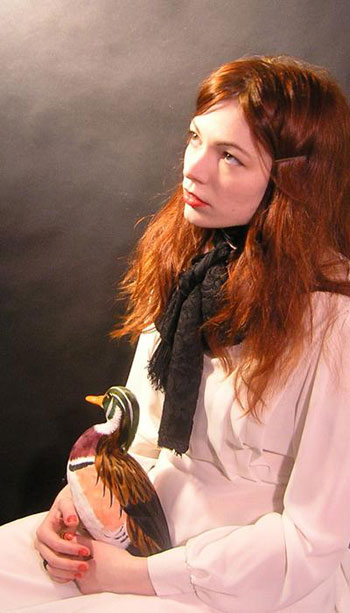 Seeing her now was seeing her for the first time again. It had been a year and my memory was faulty. In the interim, I'd only seen her formatted in .jpg and .mov. Here she was in four dimensions, breathing, talking, blinking. Her hair burned across the spectrum of sunsets, rather than the single color I remembered, and with all of it tied up, her countenance was refined; skin beamed porcelain; lips drew succinctly; eyes brimmed with intelligence. I set down my tray, so I wouldn't lose my balance.

Ali Helnwein stood up from the dining table and Mercedes introduced me to her brother, a composer and a violinist. His hair swung down to his chin and he didn't have an accent for some reason. Only his sister did. I made a mental note to ask for this reason, but to ask on another day (perhaps the one in which I resumed scaring Blue Dahlia customers). I complimented the music he had masterminded for Mercedes' short films, "Faking It" and "Whistling Past the Graveyard."

"You didn't get to meet him last year at the opening," Mercedes said. "He was stuck in Ireland. He had Visa issues."

She led me to the corner: a drawing table, canisters of pencils, a small stereo, drawings for "East of Eden" on the wall. Contrary to many characters in last year's exhibition, "Whistling Past the Graveyard," these were empty-handed. Yet they were armed. Folding, shielding, searching, fanning, their hands wielded unseen forces.

My own hands dewed. I sheathed the nervousness in my pockets, but still my core effervesced. I had been around movie stars, rock stars, porn stars, bestselling authors, but they never moved me -- not the ones prided on celebrity, anyway. People like Mercedes did. It was because of what Jason Lee wrote in Anthem magazine: "Mercedes has the kind of discipline you might find in a great concert pianist; she never stops working. And with artists like Mercedes, I can always rest assured that there is still in fact a real drive somewhere out there to maintain a tradition of intelligent and sincere artistic progression."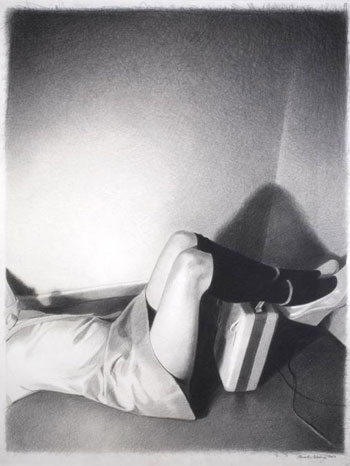 Goodnight Irene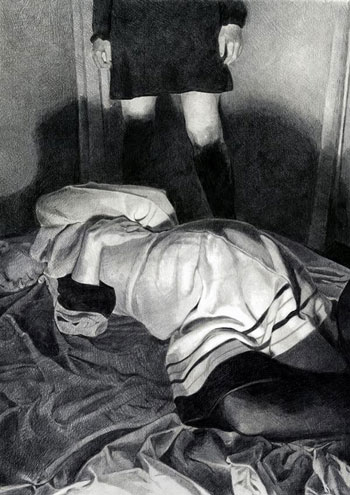 Marjorie Sloth


It was the whole truth and nothing but the truth. She possessed this resolve and she didn't depend on drugs and partying, but on discovery: the extraordinary within the ordinary, the 75 minutes in the hour, the bizarre beneath the banal. This might explain her fascination with businessmen. Taped to the table was a photo of one -- the kind commissioned by Human Resources for an ID badge. His face was neutral and his hair prefabricated. No drawing of him was in sight.

In this work area, I also spotted "Antlers." The colorfully rendered "Emily Standing" was over a dresser. Opposite that, on the living room wall, was a drawing I mistook for "Goodnight Irene." Later, I realized it was "Some Kind of Accident." Both portrayed faceless women on the floor, legs propped up -- on a suitcase in the former, on a chair in the latter.

Despite the error, I considered myself a competent student of Mercedes Helnwein; we were going through a poster rack and I could identify drawings by title, from the WPTG Part Two exhibition; "Vivian" starred the actress, Vivian Gray, brandishing a Nintendo gun controller; actress/musician/model, Kojii Helnwein, clamped a stegosaurus in "The Accomplice II."

I could probably score a B+ on the midterm.

I could never earn a degree in Helnwein Studies though.

I could dream of 7-foot bats that meowed, make blondies without a cake mixer, frighten restaurant patrons without knowing it -- skills undervalued in this market economy.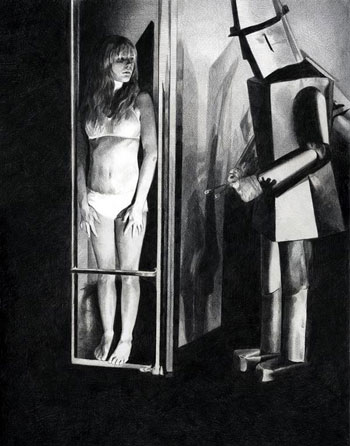 Olga Lust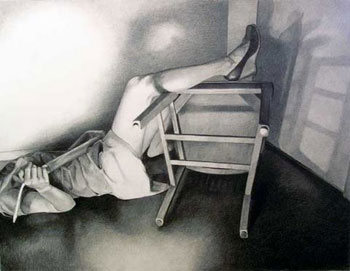 Some Kind of Accident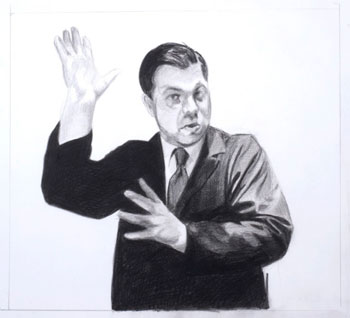 Wild Bill


"Some of this was inspired by the stock market crash -- did I say that in your interview?" she asked.

"Yes."

Mercedes shuffled and found the "East of Eden" drawings, sparked by the financial crisis: groups of Wall Street types trapped in frame, collapsed in spirit. One background character peeked between two huddlers. "I like this guy," she snickered. "He's trying to get in the picture."

Things carried on like so, she the generous host, me the dutiful listener. I didn't wish to say much. I had waited so long for her words and she had plenty to provide. I asked about the number of photos taken for one drawing. She was taking fewer now -- as much as required -- she used to shoot until the memory stick was full. I asked about the longest completion time for one piece.

"People like to ask that. Probably a week. I should really time myself. One time, I tried but it became hard to keep track, when I would get up to make tea, you know?"

The discussion broadened to the contemporary art scene. I shared my involvement: "You know that art gallery internship? The one with the maggots? I quit about three days ago."

I was referring to a short-lived trial at a Culver City gallery. One installation used fresh produce, so that the gallery goers included fruit flies. They orphaned their young in rotting cribs of eggplant and coconut. Equipped with glass cleaner, I engaged in chemical warfare. I resigned later for existential reasons.

Mercedes stroked the wisp from her nape and understood, because I had mentioned the biohazard last week and she had replied, "Maggots should never be part of an artwork"; I was always the last to know these things.

We sat down at the dining table with charmingly mismatched chairs. From here, I counted three guitars in the place: an electric hanging on a column, another electric by her drawing desk, and an acoustic stretched across the sofa. A piano guarded the wall. This was a creative factory for her and her loved ones, and she had nothing but warm words about them. Her youngest brother, Wolfgang Amadeus (or "Ami," as she called him) was in her film, "Faking It." The two-night-production had benefitted greatly from his casting.

"Ami, he's so funny. His humor is really dry. It sneaks up on you." Ami could be a brilliant writer one day, she estimated. He could do so much: literature, journalism, politics. She herself was hardly political and called the news "depressing." I was on par there and I was touched by the joie de vivre in her voice, when she spoke of Ami. It was why I loved hearing about family members. It hatched the most human aspects. I could listen to Mercedes talk all day about him. Somehow though, I didn't think that was her plan for this Tuesday, so I requested a look at her old drawings.

Some were drawn decades ago. Some were of Ami, at various stages of life, boyhood, adolescence. I viewed portraits of Delta blues musicians like John Lee Hooker. I reveled in this privilege -- tantamount to visiting Homer and spying deleted scenes from The Odyssey. Her drawings revealed that her aptitude had been lifelong, that there had never been any box she thought inside of.

"Is that your brother?" I asked, examining one portrait.

"That's a woman." She laughed.

"Oh, sorry, I was looking at, um…." The September heat had cooked my brain.

In one peculiar drawing, a boy and a sheep stood side by side, nearly the same height. The animal's leash dangled like a necktie. Or it was a necktie. Indeed, my senses were failing me as was my knowledge of sheep fashion. The entire scene was unreal. Perhaps psychic, she said, "I didn't make up that sheep. It was actually in the photo from the newspaper."

The last thing she shared was not a drawing. We stood in front of her Mac; a window contained music by Beck and filmmaking by Mercedes; she and her models danced and carved through space, slow-motion, reverse, a medley of movement. It wasn't the official music video, but one for her artistry. She never stopped working, after all.

It was why she lived.

It was why I visited.

It was 4:15 p.m. when I left her studio, coinciding with Act II of rush hour traffic. Instead of joining the herd of car cattle, I walked to Wurstküche, a nearby gastropub with German sausages and beers. The plan was to savor some red ale, while ruminating the last 75 minutes. I ordered a beer in the antechamber and made my way to the dining section. Behind me, a man said, "You go to SCI-Arc?" I turned and saw an African American man, about my age and height. To him, I was enrolled at the Southern California Institute of Architecture, maybe because of the uncut hair.

"No. You?" I asked.

"No. I just saw the notebook."

"Oh, yeah." I chuckled at the thing I held. He had something to tell me, so I returned to the antechamber. Hassan used to be a professional dancer. Now, he was a marketing machine for a social networking startup. He pitched. I declined. He wanted my friends referred to the Web site. I sprayed social-networking-repellent: "I like being the last to know about things like MySpace and Facebook. My friends are the same way."

"Interesting." He nodded slowly. "So, you'd rather wait until something gets big and then join -- when you might have to pay later?"

"Yeah, that's me." I simpered.

"Okay." His attention returned to the notebook in my hand.

"I was…interviewing an artist," I elucidated.

"Oh, you're a writer?"

"Yes, I am," I remembered out loud and rejoiced in silence, for literature reinstated my life, and I was built to fall apart, because I was born together in pieces, and I just had to reassemble the way a writer would, the way an artist would, the way Mercedes would -- daily.

I clinked Hassan's glass and anchored myself in the dining room. I began scribing this account. I fit my skin again. Customers peeked. I gave them a Sphinx smile and kept writing and they couldn't figure it out. It was as though people didn't write essays in German taverns anymore. At least, I didn't scare them here.


If you have yet to read Tommy Tung's first essay about Mercedes Helnwein, read it here. Then experience the interview, "One Million Questions for One Mercedes Helnwein." Part 1 lives here & Part 2 lives here.


--- the muse ---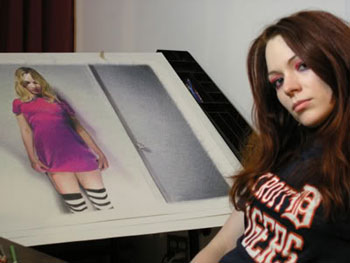 Mercedes Helnwein is a fine artist, novelist, and filmmaker. Known for large-scale drawings of intrigue and suspense, she is one of the few artists today with divine control of pencil and paper. The Potential Hazards of Hester Day is her first novel. Her exhibition, "East of Eden," opens at the Merry Karnowsky Gallery in Los Angeles on November 14. www.mercedeshelnwein.com

--- the lost and found ---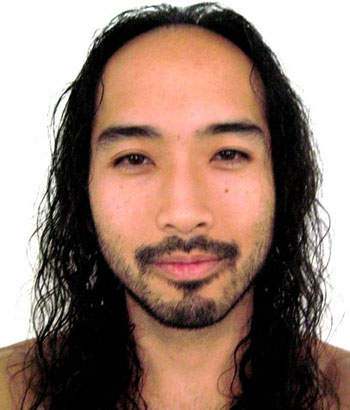 Tommy Tung lives in Los Angeles and holds a B.A. in English from UC Berkeley and an M.F.A. in Screenwriting from USC. He writes fiction mostly and rock music. When he isn't scaring restaurant customers, he is seeking literary representation for his novel, Taurus Ikkanda.
Share your dreams: tungtalk@hotmail.com