20 Questions with Sylvia Ji
Juxtapoz // Thursday, 09 Apr 2009
1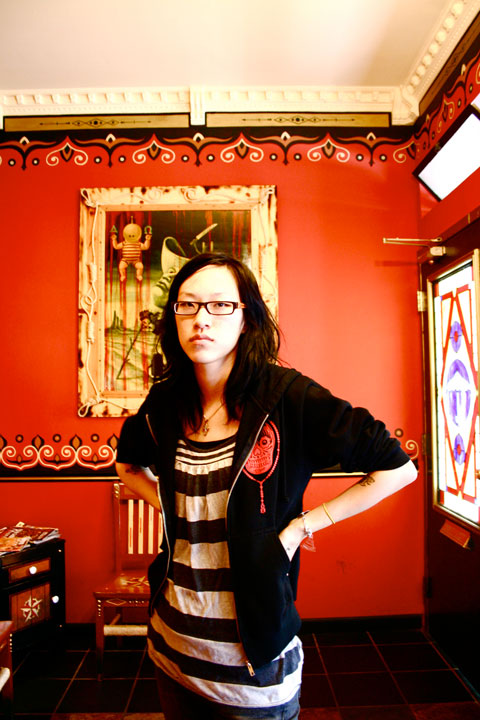 Sylvia Ji's (Juxtapoz #80) freshest body of work will be featured in her new solo show, Haute Epoch, at Los Angeles' Corey Helford Gallery, which opens this Saturday, April 11th, 2009. This highly anticipated exhibit is sure to attract fans far and wide, so get in Sylvia-mode by reading our 20 Questions with Sylvia Ji below:
What's the first thing you did when you woke up this morning?
I made coffee, can't start my mornings without it.
Something about yourself the average person wouldn't guess?
I am obsessed with my two cats Mona and Oliver.
If you had one day left on Earth, what's left to be discovered?
Hopefully I'll be able to just relax, maybe with a glass of chardonnay and some great music.
What is your first art-making memory as a kid?
I think I was 3 or 4, and I was making colored glue paintings on black construction paper.
Do you need long periods of time alone, or are you energized by interaction?
By nature, I'm a loner and I relish alone time. It's essential in my creative process. But I also need social interaction, it's helpful to bounce back ideas and get the inspiration flowing.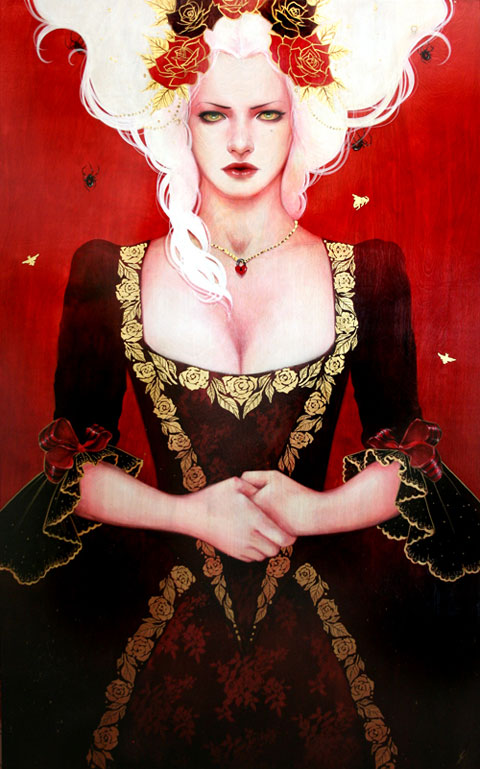 Is being in the dark with the lights out frightening or comforting?
It all depends . . .
What's the most non-art involved activity you continually find yourself enjoying?
Trying to level my warlock to 80, it's taking forever!
Have you been to jail? If so, why? If not, why not?
Nope, I hope I never do.
What kind of car do you drive?
A black Scion xB.
What's your biggest non-green inspired indulgence?
Flat black.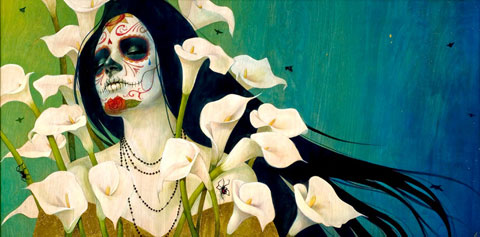 What is the single most important thing you did to breakthrough as a career artist?
To just do it and work hard. Believe in yourself.
Best hustle you ever pulled?
Art-making, it doesn't end.
Are you ever bored?
When I'm painting, I sometimes get bored with music and switch to movies, then vice versa.
What excites you?
San Francisco, LA, new places, travel, great music and food, seeing good films/photography/art, a good story, love.
2023 will look like . . . ?
Hopefully greener.
If you could have a drink with one artist, living or dead, who would it be?
Thom Yorke!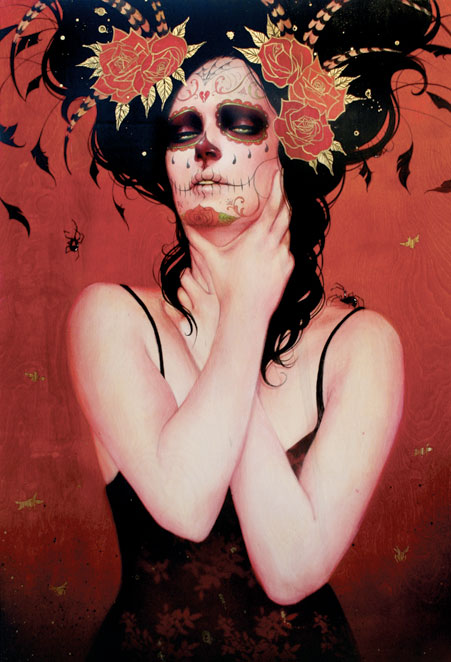 Last passport stamp:
London.
Can't stand:
DrIvers who don't use their turn signals, I have a lot of LA road rage!
Can't live without:
Family and friends, music, cats, art.
Words to live by:
Right now it's: persistent and stubborn where it counts.
More information Sylvia Ji at www.sylviaji.com
Sylvia Ji's solo show, Haute Epoch, opens Saturday April 11th, 2009 at Corey Helford Gallery. Visit www.coreyhelfordgallery.com for details.