20 Questions with SILVANA MELLO
Juxtapoz // Thursday, 26 Feb 2009
1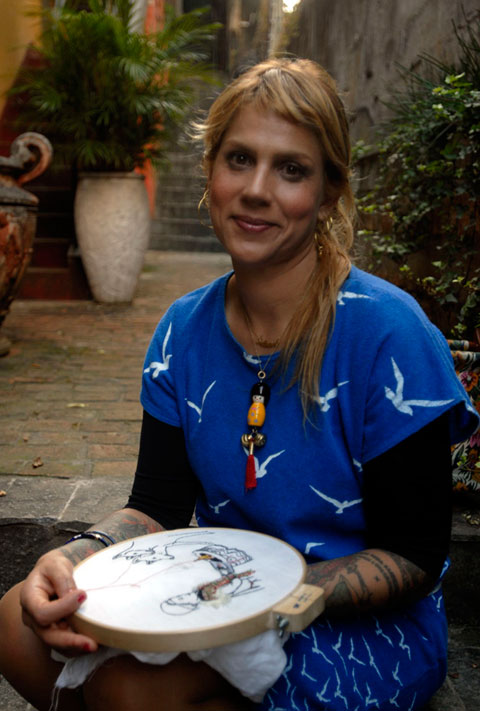 Silvana Mello is a Brazilian artist who explores the irony of advertising's artificial happiness with everything from enamel painting on tiles to express the comfort of home, to carvings on a skateboard and woodprints to express the aggressiveness of urban life.

Mello is part of the fantastic group show, SÃO PAULO, curated by Brazil's Choque Cultural Gallery in association with Jonathan LeVine Gallery, opening this Saturday, February 28th at Scion's Installation L.A. Gallery in Culver City.

Mello provides a unique and rich addition to the group show, and after we saw her delicate work, we wanted to know more about this artist. Luckily, Mello is one cool lady (and quite ballsy, as she admits she went to jail when she was "a punk, everyday I was fighting on the streets") and took the time to answer our 20 Questions for us.
What's the first thing you did when you woke up this morning?

I woke up listening my little daughter laughing. After I changed her diapers and fed her, I took my dog to pet shop for a bath.


Something about yourself the average person wouldn't guess?

Oh I don't know! This question is difficult for me. I guess that I to need have more secrets about me, but I hate feeling pain, even though I'm heavily tattooed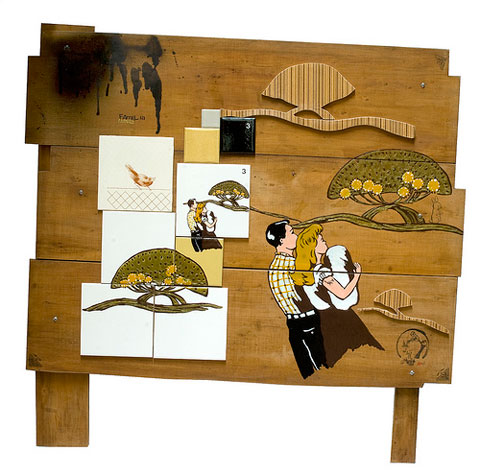 If you had one day left on Earth, what's left to be discovered?

My favorite songs.


What is your first art-making memory as a kid?
When I was eight years old, I had a neighbor that I taught to draw a Brazillian dog cartoon called BIDU and Woody Woodpecker too. I remember that I loved organized my pens by color.
Do you need long periods of time alone, or are you energized by interaction?

I definitely need of long periods alone.



Is being in the dark with the lights out frightening or comforting?
It is depends where I am or with whom, but I like darkness and silence to relax.
What's the most non-art involved activity you continually find yourself enjoying?

I love cooking and inventing new dishes. I also like to ride my bicycle and listen to music on the Sao Paulo streets.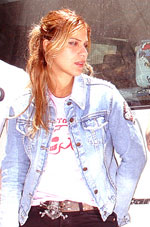 Have you been to jail? If so, why? If not, why not?

Yes. When I was a punk everyday I was fighting on the streets.



What kind of car do you drive?

I only got my license to drive last year and my husband has a Toyota Jippe, so sometimes I use that.
What's your biggest non-green inspired indulgence?

I am back to eating meat.
What is the single most important thing you did to breakthrough as a career artist?
There is a lot of competition, so I try to stay far away; to do my work my own way.
Are you ever bored?

No, I'm so happy, I am mom now.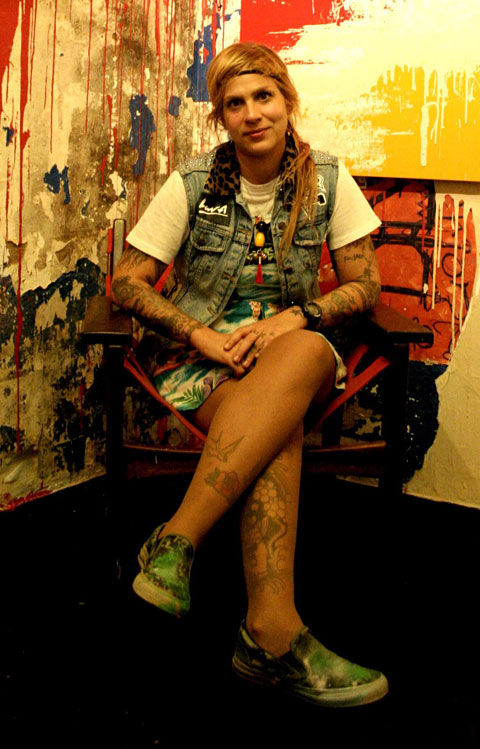 What excites you?

Travel.
2023 will look like . . . ?

Who knows? I don't have a good perspective.
If you could have a drink with one artist, living or dead, who would it be?

A tequila with Frida Kahlo maybe...
Last passport stamp:

Brighton, UK

Can't stand:

Stop time
Can't live without:

Many things... Comfortable sandals, good food, sleep, creating things, my family, and music.


Words to live by:

Work hard. Be humble and true. Never copy anyone.
More on Silvana Mello and her upcoming show, SÃO PAULO at www.scion.com/space