Back Talk with Sam Flores
Juxtapoz // Friday, 20 Feb 2009
1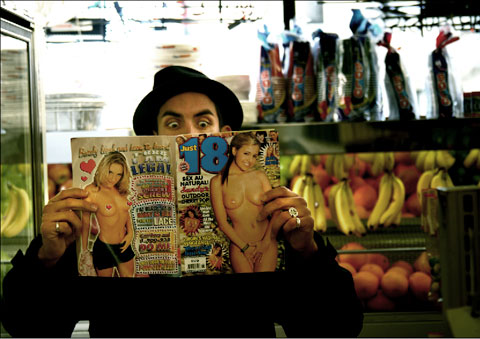 Sam Flores (Juxtapoz cover #95) could be described as a cheeky monkey, but you'll be hard pressed to find someone that doesn't enjoy his artwork. The massively popular San Francisco-based artist Sam Flores is known worldwide for his colorful mixed media paintings, as well as his colorful character.
Always on the move, Sam just hit us back with answers to our burning questions. Learn more on this talented guy and why he really wants to wrestle a tiger underwater.
What's the first thing you did when you woke up this morning?
Called my girl.
Something about yourself the average person wouldn't guess?
I've never eaten meat for the 33 yeas I've been here.
If you had one day left on Earth, what's left to be discovered?
I wanna wrestle a tiger under water.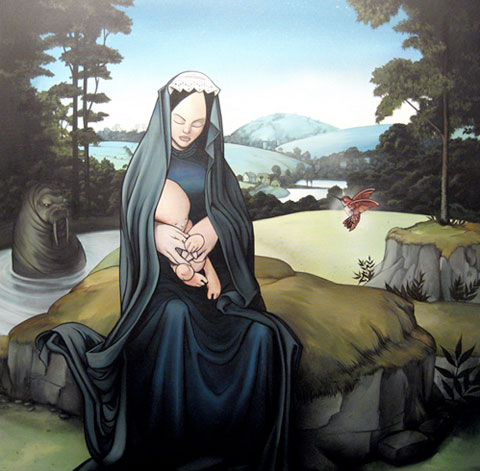 What is your first art-making memory as a kid?
My neighbor gave me their old fridgerater box and each day I would turn it into something different. A fort, the Alamo, a space ship, a castle, time machine. I grew up poor which forced me to develop my imagination.
Do you need long periods of time alone, or are you energized by interaction?
I need a balance of seclusion and social time.
Is being in the dark with the lights out frightening or comforting?
Both.
What's the most non-art involved activity you continually find yourself enjoying?
Porn, but in a way that's very much art involved!
Have you been to jail? If so, why? If not, why not?
FIEFTH!! F-I-F FIIEFTH!!
What kind of car do you drive?
Yellow cabs, and Air Max 95's.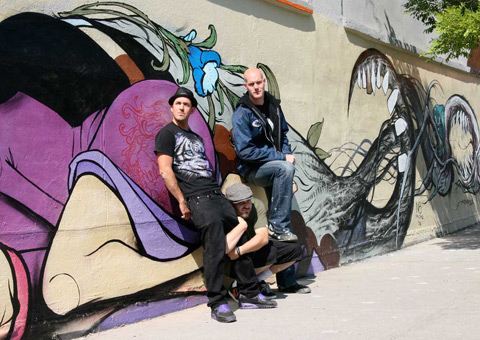 What's your biggest non-green inspired indulgence?
Hairspray.
What is the single most important thing you did to breakthrough as a career artist?
ABC...Always Be Creating!
Best hustle you ever pulled?
Convinced everyone the devil doesn't exist. Just Kidding. That was corny. Umm...sometimes art can be a pretty good hustle.
Are you ever bored?
Never.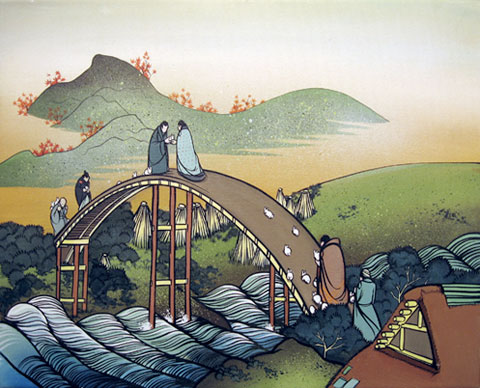 What excites you?
The idea of wrestling a tiger under water.
2023 will look like . . . ?
A cross between now and 10 years from now, with a lot more zip cars...I don't know! I don't really think about that too much.
If you could have a drink with one artist, living or dead, who would it be?
Adolph Hitler, then I'd stab him in the neck with a Bic pen.
Last passport stamp:
Mexico, San Pancho. My moms built a house out in the jungle on the edge of a cliff over looking the ocean. I love it there.
Can't stand:
Mediocracy, racism, ignorance, razor scooters, people talking in the movie theater, girls that wear really big skate shoes with phat laces, Fat spelled with a (P-H), waste (wasted time, wasted food, wasted talent)
Can't live without:
Oxygen and music.
Words to live by:
If you kill all your demons, your angels might die too.
More on Sam Flores at www.samflores.com