Back Talk with REVOK
Juxtapoz // Tuesday, 24 Feb 2009
1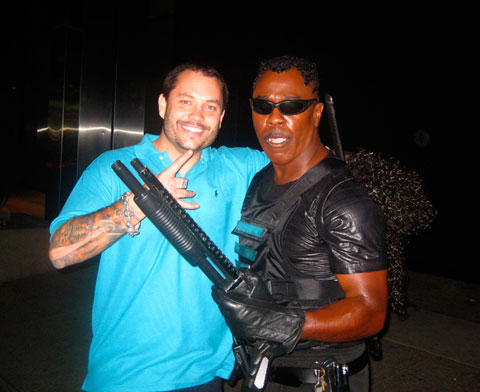 REVOK may seem intimidating, but one look at this hilarious photo and it's clear that (1) REVOK is awesome (2) he's a sweetheart and (3) you need to learn more about him. Naturally we anticipated your desire to get to know one of the most elusive, famed, and respected graffiti artists the world has to offer, so we got him to share his dirty lil secrets by answering our 20 Questions.
Okay, not all his secrets are dirty, but he does spill details about how he dodged getting caught by LA's finest while working on a piece one crazy night. See what we're talking about by reading REVOK's 20 Questions…
What's the first thing you did when you woke up this morning?
Coffee Bean, then went to the gym.
Something about yourself the average person wouldn't guess?
They know too much as it is...
If you had one day left on Earth, what's left to be discovered?
The biggest, most retarded piece in an absolutely ridiculous location... and one that will hopefully last for a while.


What is your first art-making memory as a kid?
I used to draw giant battle scenes of the army vs. dinosaurs... they would go on for pages and pages, I'd just keep taping pieces of paper together making the war longer and longer... my mom still has them in a big trunk under her bed.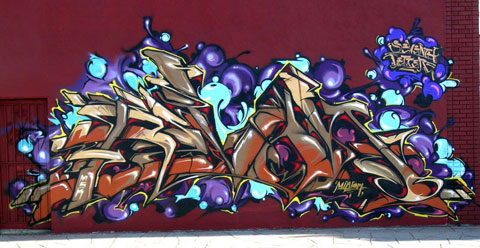 Do you need long periods of time alone, or are you energized by interaction?
Both, I'm moody so there aren't many constants in my life.




Is being in the dark with the lights out frightening or comforting?
The best thing ever.
What's the most non-art involved activity you continually find yourself enjoying?
All that is life is art. Shit that sounded good!
Have you been to jail? If so, why? If not, why not?
Too many fucking times.
What kind of car do you drive?
What kind of car do you drive?
What's your biggest non-green inspired indulgence?
Spraypaint I suppose.
What is the single most important thing you did to breakthrough as a career artist?
Did I breakthrough...shit, that's news to me.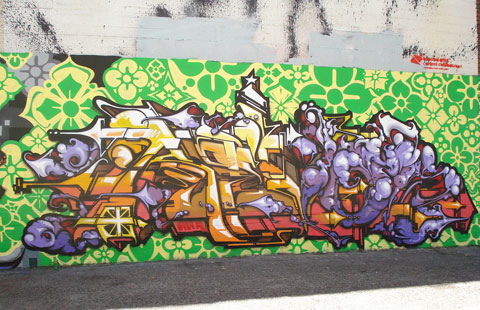 Best hustle you ever pulled?
I'd rather not speak on that one. Actually, It doesn't involve any money, but it is somewhat of a hustle and it's a "safe" story.
A bunch of us were painting a spot. It was myself, ZESER, AUGOR, POSE, and NEKST. I was doing all of the letters for everybody's name and we were all working great as a team putting it all together. We were doing this huge illegal production in a big vacant lot right on a main street in the center of LA. The shit was going to be really fucking retarded when it was done. Unfortunately, somebody was awake at 3am in the apartments behind the lot and heard us through an open window; I guess she heard the noise then peeped us from her pad because (we didn't know this at the time, obviously) she called us in to the police stating, "There are 15 gang members painting graffiti."
A lot of police showed up and while we were making our escape I jumped a wrought iron fence and upon my landing dislocated my knee...not fun. The pain was soo fucking intense my eyes actually went black for a second. I had hurt it in a similar situation running from the police in Miami doing a backlump on the subway there a few weeks before but I thought it had healed up enough to go out again. I was wrong.
When I looked down I could see that it didn't look right, so I flexed my leg and put it back in place. Not fun either.
Anyways, I knew that my running bit of the escape was over so I needed a safe spot to hide. I found what was my best option: the back of a delivery truck that had high walls on the bed, but a open roof. I pulled myself up in there and was hiding for a few minutes. Then I heard the police chopper approaching; my spot wasn't good anymore, needless to say, because there was no cover in the back of the truck that would shield me from the spotlight or the infrared.
Before it got too close I made sure it was safe to get out, then did so. I knew the police were just around the corner, but I was feeling pretty confident for some reason. Luckily I was wearing gloves while painting, so my hands were clean. I got rid of everything incriminating on my person and took off my hoodie for safe measure even though I was sure they hadn't got a clear look at us since the lot was so dark and we were set back far from the street were they approached us.
I hobbled out of the alley right onto the street where 3 squad cars were searching with flashlights. I tried to put my best "what the hell is going on" face and as I popped out around the wall the police rushed me, slamming me into the fence with their guns drawn in my face. I proceeded with my innocent act asking "W-whats going on? Did someone get shot?" Their response was "What the hell were you doing? Did you just come out of that alley?" I replied, "Yeah, I was just taking a piss...what's going on!?"
After checking my hands, clothes, and pockets and finding nothing graffiti related or illegal, LA's finest politely asked me to "Get the fuck out of here!" I tried to walk away as normal as possible not revealing my leg injury... BOO-YAA.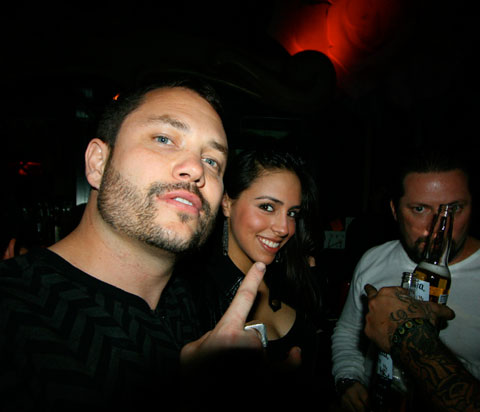 Are you ever bored?
Usually.
What excites you?
Beautiful girls, my friend's graffiti and art, new shoes, those unexpected 20 dollar bills you find in your pant pockets, free travel.
2023 will look like . . . ?
Fuck...I don't want to get that old.
If you could have a drink with one artist, living or dead, who would it be?
Myself 10 years ago, so I could warn me not to make all those fucking stupid mistakes and blunders.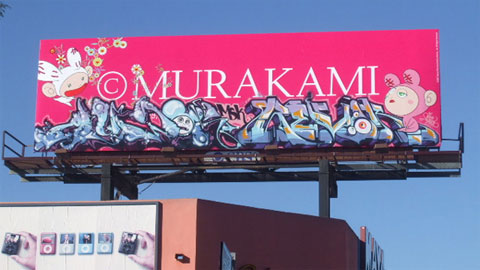 Last passport stamp:
Milan, Italy... a graffiti writer's "Sangri-la"
Can't stand:
Overdraft charges, police.
Can't live without:
iPhone.
Words to live by:
"Keep it grizzly"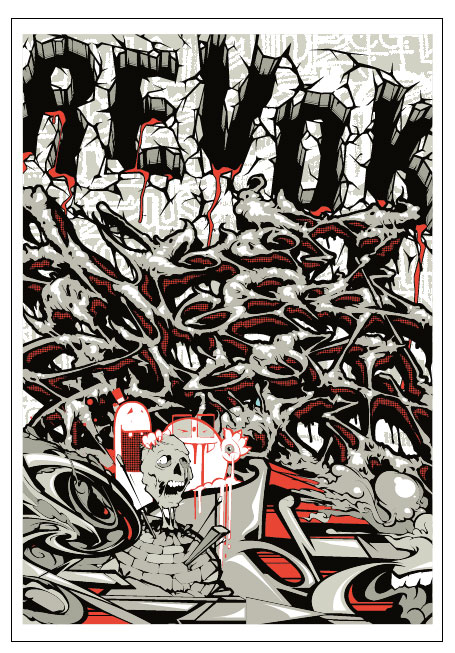 Make sure to head over to Canvas LA this weekend to see REVOK's work in person in a group MSK / AWR exhibit, Send Lawyers, Guns, and Money. Sounds like some shit will be going down, just the way we like it.
Featuring original works from Augor, Aloy, Bert Krak, Dame, Ewok, Jersey Joe (Rime), Krush, Norm, Pose, Risk, Retna, Revok, Saber, Tyke (The Witness) Zeser, and more, this show is sure to bring the heat to Southern California.
This sick collaborative print, above, from REVOK, AUGOR, and POSE will also be released at the opening, along with others.
It all goes down this Saturday, February 28th, 2009. These guys may be the sickest artists the streets have to offer, but they can also kill it in a studio setting.
More on REVOK at revok1.com