Back Talk with Natalia Fabia
Juxtapoz // Sunday, 15 Feb 2009
1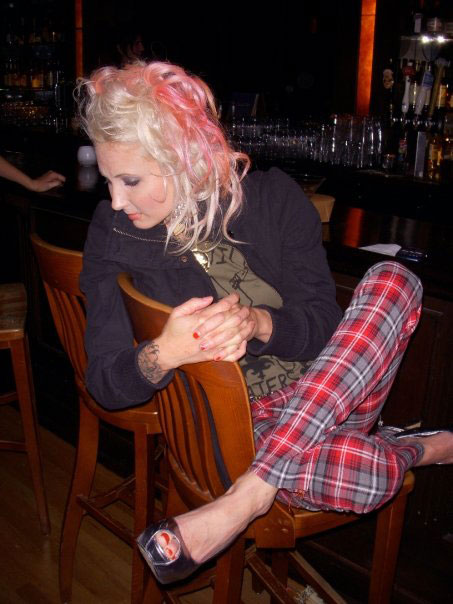 Natalia Fabia is the latest victim we attacked with our game of 20 Questions. Not only is Natalia a rad young woman and a spectacular artist, she has a solo show, Hooker DreamEscape, coming up this Saturday, February 21st at Corey Helford Gallery.
Inspired by everything from punk rock and tattoos to glitter and beautiful women, Natalia's paintings are like diving into a fantasy world inhabited by sexy ladies in surreal environments. Natalia may look like a sweet innocent young lady, but she's also got a little bit if a naughty streak in her (ever seen her portrait for Heroes & Villains? wink, wink) so get down and dirty with the fabulous artist and check out our Back Talk with Natalia Fabia.
What's the first thing you did when you woke up this morning?
Actually, this morning I woke up to my adorable kitty- Toulouse licking my face. Then I made my bed, I always make my bed... It's a big pet peeve of mine to leave it not made, even if I am running late. Then I stare at paintings and make tea.
Something about yourself the average person wouldn't guess?
Ummm, well I do power yoga everyday- I'd DIE with out it! And I recently got certified to teach it.
If you had one day left on Earth, what's left to be discovered?
I would need much more information to answer that question.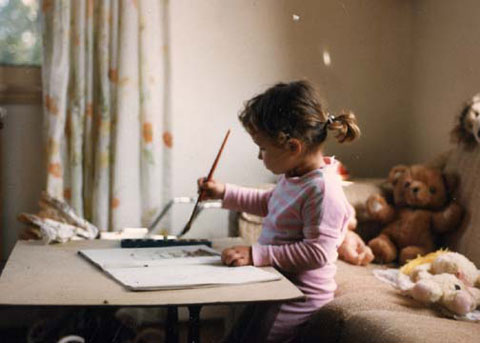 What is your first art-making memory as a kid?
I remember when I was about 3, I would always go to my dad and ask him to draw me girls and girls' lips and features. I used to love watching him draw. Then I'd go and try to draw the girls.
Do you need long periods of time alone, or are you energized by interaction?
I am really energized by interaction, I love being social and I am inspired a lot by people, but I also like to be alone. I spend most of the time alone painting. I like my privacy. But I also love having visitors and I am able to work around people. I listen to Adam Carolla podcasts all day long so I guess it feels like I am not alone…haha.
Is being in the dark with the lights out frightening or comforting?
Ummm. Guess it depends on what I am doing. I am definitely not frightened by lights being off, unless I hear something scary but I am usually too lazy to care about scary stuff.
What's the most non-art involved activity you continually find yourself enjoying?
Watching Bret Michael's Rock of Love Tour bus reality show on VH1. I love that piece of crap show!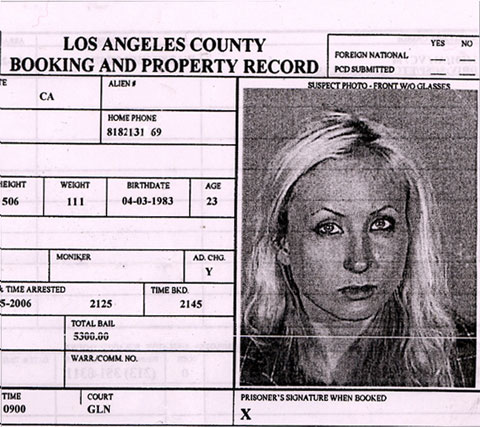 Have you been to jail? If so, why? If not, why not?
Umm yes. I spent the night in jail for driving on a suspended license but the shitty part is I didn't have a suspended license! It was a mistake! I was pissed.
What kind of car do you drive?
'98 black 4 Runner.
What's your biggest non-green inspired indulgence?
I am actually a really strict "green" person; vegan and all that jazz. Oh shit, but I must admit I do have and buy some leather shoes. I am obsessed with shoes and recently got a cute pair of LAMB boots.
Yes I have an SUV but I drive my car because I need it to drive large crap around, it's really good on gas though. I will by a hybrid when I have the dough.
What is the single most important thing you did to breakthrough as a career artist?
I just kept and keep painting. That's all, and hopefully rad stuff comes out.
Best hustle you ever pulled?
Ooooh haha. Well, I collect books, I love books, art books, reference books, picture books and I used to go to the Borders by my house in high school and switch price tags on books and then buy them. I would but a $9.00 sticker on a $100 hard-cover art book. And it worked every time! I would never do anything like that now though! Mainly because it would be embarrassing getting arrested for that at 25.
Are you ever bored?
Never. I always have way too much to do and no time. I wish I would be bored so I could do some stuff I don't have time for. Haha. That doesn't even make sense.
What excites you?
Seeing amazing lighting…colors, things sparkling, the way light hits objects and people- natural and not.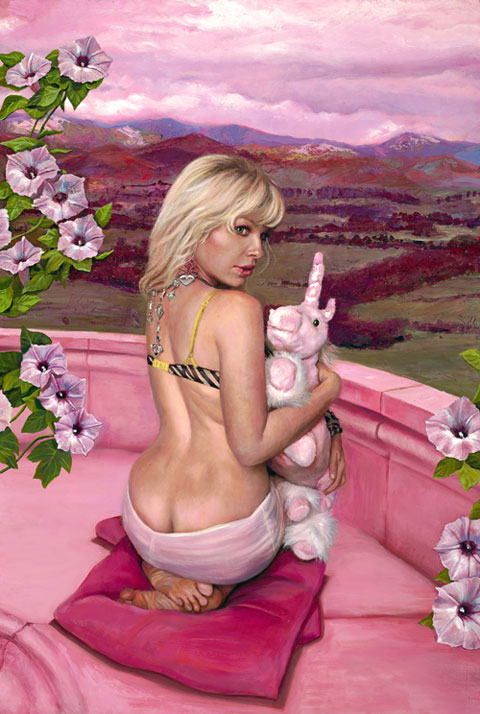 2023 will look like . . . ?
I don't want to think about that. That could go in many directions. I want to maybe live in Poland and in LA. I just hope I have my shit together.
Shit, I hope I don't jinx it by saying that.
If you could have a drink with one artist, living or dead, who would it be?
Toulouse Latrec. And living, Hilary Harkness or Will Cotton.
Last passport stamp:
Brussels, I was there with my boyfriend in July.
Can't stand:
ABREVIATED TEXTING or e-mails! Drives me nuts! Like U R GR*! Ahhh I want to murder people who do that.
Can't live without:
My Blackberry and Orbitz Sweet Mint gum.
Words to live by:
Stop and breathe.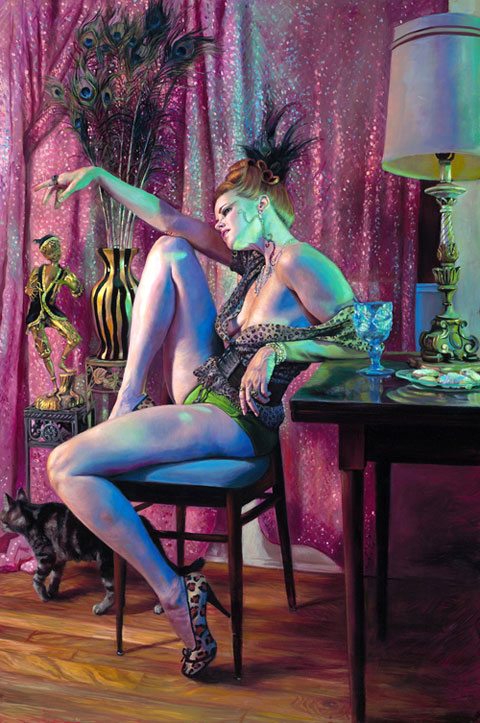 For more information about the Natalia, please visit www.nataliafabia.com
The reception for Hooker DreamEscape is open to the public, and will take place on Saturday, February 21 from 7 to 10pm. The show will be on view until March 14, 2009.
For more information on Hooker DreamEscape, please visit coreyhelfordgallery.com.