Back Talk with Jeremyville
Juxtapoz // Friday, 27 Mar 2009
1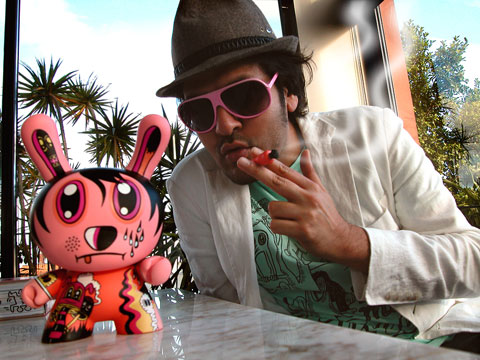 Now entering Jeremyville (Juxtapoz #96): a wonderfully colorful land inhabited by emotionally charged comic characters born from within the mind of its correspondingly named creator.
Sydney and NYC based Jeremyville is busier these days than ever with his massively popular characters, designs, apparel, comics, books, and more. Yeah, this guy seems to have a hand in a little bit of everything. And that's just the way he likes it.
Jeremyville kindly answered our 20 Questions from his Australian studio. Read what's on the mind of Jeremyville in 20 Questions with Jeremyville here…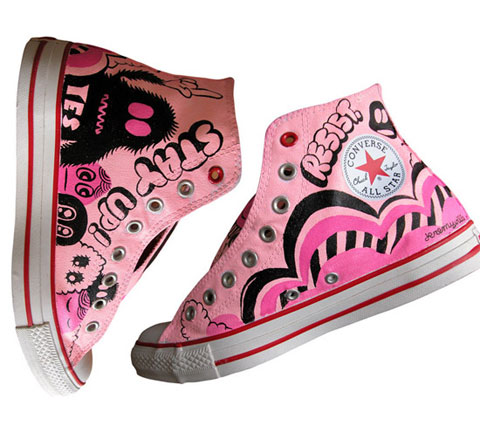 What's the first thing you did when you woke up this morning?
I went for a swim down at Bondi Beach in Sydney. I also washed some dried paint off my arm as I was painting till late last night, and I guess I missed a spot when I cleaned up.
Something about yourself the average person wouldn't guess?
I never went to art school or design school. Instead I have a degree in Architecture, and started out as the editor of the Sydney University student newspaper, writing columns and interviewing people. I then needed to fill in the holes in the articles with some drawings, so that's how and when I started my art career.
If you had one day left on Earth, what's left to be discovered?
I'm still yet to live the perfect day, but some days have come very close. I hope my last day on earth is indeed that perfect day, where everything comes together. Then I'll die happy.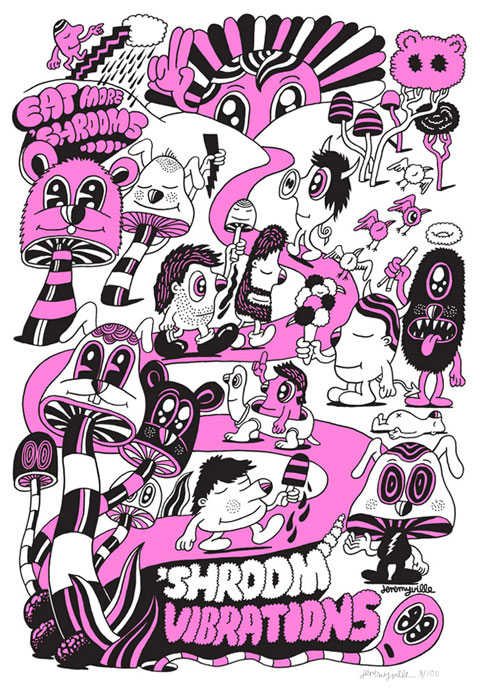 What is your first art-making memory as a kid?
I used to build lots of houses with Lego, and build model aeroplanes and paint the camouflage on the wings and body of the planes. Those were my first 'paintings', and I guess those were the first toys I customised.
Do you need long periods of time alone, or are you energized by interaction?
I could easily spend months on my own, just painting, drawing and writing, but when I'm with humans I love that too. It's about enjoying each moment completely, not thinking 'I wish I was elsewhere'. I try hard to engage in the moment.
Is being in the dark with the lights out frightening or comforting?
Now it's comforting, though I recall that as a child I used to cover my head with the blanket before I slept each night, so only my nose was exposed, as I guess I was afraid of something out there in the darkness.
What's the most non-art involved activity you continually find yourself enjoying?
I love the outdoors, Sydney has a great beach lifestyle, I love running along the beach and doing the Bondi to Bronte cliff run. It's about 3 miles there and back; I do that often. So when I'm in LA I usually head for the hills and find a running trail and get immersed in that. Running is a very primal activity that de clutters my mind from the everyday stuff that can cloud the bigger picture.
Have you been to jail? If so, why? If not, why not?
They haven't caught me yet.
What kind of car do you drive?
I've never driven a car in my life. I don't have a driver's license. My LA friends can't believe that, my New York friends think it's normal. I prefer cycling, skateboards, the subway, taxis, or walking!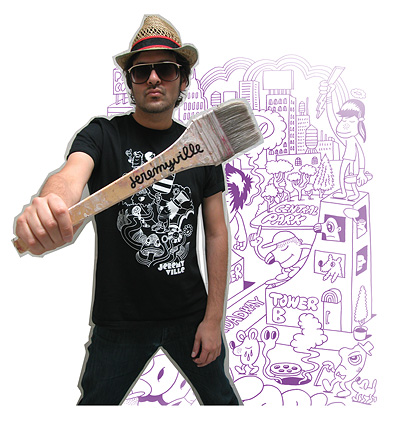 What's your biggest non-green inspired indulgence?
A wood burning fireplace in winter time.
What is the single most important thing you did to breakthrough as a career artist?
I guess writing and producing Vinyl Will Kill, which was the first book in the world on the designer toy movement, which IdN published in 2003-04, distributed by Gingko Press.
Best hustle you ever pulled?
I convinced the biggest newspaper in Australia (the Sydney Morning Herald) to give me a regular job drawing editorial cartoons and illustrations for their paper, I was 19, and that was the start of my art career, and it meant I did not have to have a regular job, I could start living off my art straight away. So I'd go to architecture school and in the morning and draw at the Herald in the afternoons till the evening. I was there for about 3 years and it was a great experience to work to daily deadlines, and in a commercial context. I found that a lot more educational than what I imagined art school would be like, as I was working in the real world. That's why I admire similar newspaper based artists such as Saul Steinberg.
Are you ever bored?
I haven't been bored for a very long time; there is always something to do, or something in my in tray to complete. I have to make a conscious effort to switch off for a while, and just hang out, but I get very restless doing that, I really need to be doing something, or drawing or painting. Holidays are terrible; it takes me days to get into the swing of just not doing anything! There's a real skill to 'doing nothing', and I haven't mastered it yet.
What excites you?
Endless possibilities about where to take my art.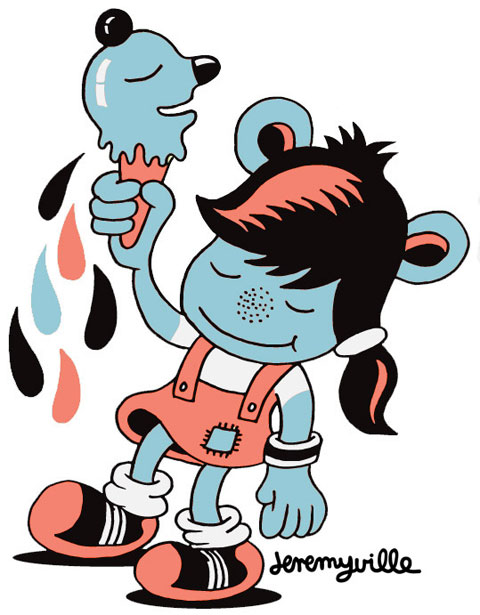 2023 will look like . . . ?
A lot like 2022, but slightly different. I hope hippies make a come-back. I think I have a hippie inside me wanting to break out.
If you could have a drink with one artist, living or dead, who would it be?
My wish came true; I had a drink with Martin Sharp last week.
Last passport stamp:
Rome.
Can't stand:
Old fashioned views about fine art.
Can't live without:
Drawing every day.
Words to live by:
Keep evolving.
More on Jeremyville at www.jeremyville.com