20 Questions with Hannah Stouffer
Juxtapoz // Friday, 03 Apr 2009
1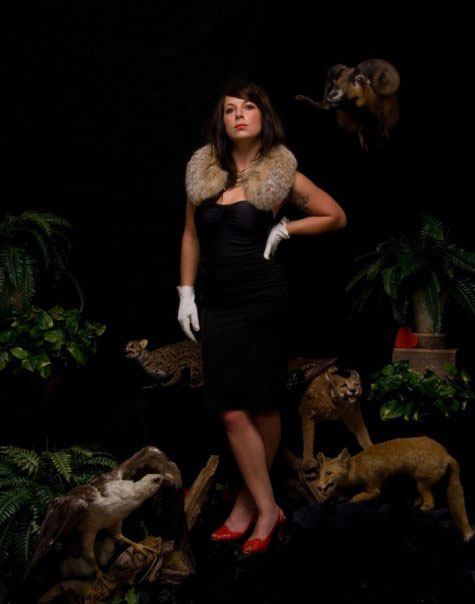 Los Angeles based artist, illustrator, and designer Hannah Stouffer (Juxtapoz #76) is really something else. Her intensely intricate drawings of coiled snakes, fierce tigers, sexy women, and bejeweled foliage has graced everything from canvas to paper, snowboard decks to tote bags. This passionate artist creates work for pleasure but her colorful and detailed designs have landed her more commercial jobs than we can count.
Hannah's densely packed compositions consciously recall classical elements from our past and combine them with our modern attractions, creating cohesive yet opposing array's of imagery and embellishment. She focuses on the contrasts between periods in time, subcultures and social trends- and merges them together with a high regard for traditional decoration. No wonder she has been shaking the world of contemporary art.
Get inside this lady's head and read 20 Questions with Hannah Stouffer here:
What's the first thing you did when you woke up this morning?
Went back to sleep, checked my email from bed, laid around for awhile and had some amazing ideas.
Something about yourself the average person wouldn't guess?
I don't do movies. I never really have- I don't get it- can we just do something real? They kind of give me anxiety- there's a million billion other things I'd rather be doing than sitting next to you not talking.
Try living in LA where everyone breathes movies. While your brain is turning into applesauce I'm playing king of the mountain. Go ahead, quote a movie- they aren't even real. I will watch the shit out of some goldfish or some weird art shorts that make my brain just spin.
If you had one day left on Earth, what's left to be discovered?
I'd probably keep it pretty familiar. Walk around the neighborhood, maybe get a coffee, check out some magazines, read the paper. Then I'd probably mash over to my studio and see what's going on over there- call and see if someone wants do lunch or a manicure. Kind of like ordering your last meal- I'd stick to what I know, but maybe throw in something special just to treat myself.

I'm all about discoveries and surprise but if it was my last day I don't think I'd try to go find out where Nessie has been hangin out- I would definitely need more time for that, more rations and supplies.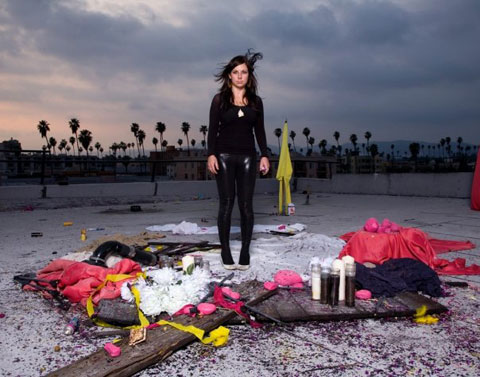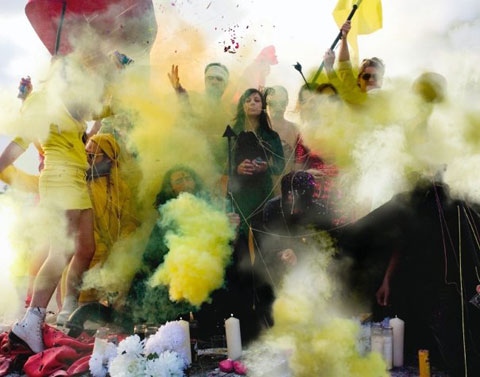 Photo credit: Kaisha Shay and Shaun Pfeifer
What is your first art-making memory as a kid?
Make-a-Plates, those ball point pens with like 35 different color options, scented markers that I smelled on till I couldn't see straight- especially the light blue one. I made some amazing art when I was a kid- my mom kept all of it- believe it or not, it was insanely dark and had a lot to do with animals, black hearts and crying children- go figure.
Do you need long periods of time alone, or are you energized by interaction?
Long periods of both. I need both- finding the balance between solitude and human interaction is always a challenge. All I want to do is hide in my studio for weeks at a time, turn my phone off and focus. But I really wish you were all there to keep me company, or at least rescue me from time to time- which you usually do… then I get anxious and run back to the cave and close the door.
Is being in the dark with the lights out frightening or comforting?
There is definitely something in my closet.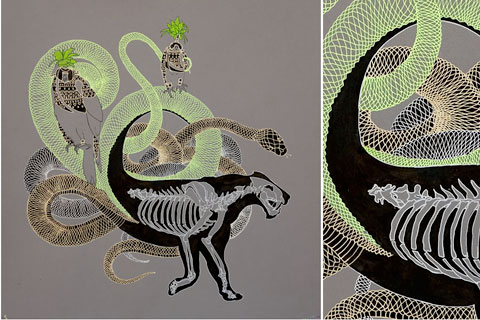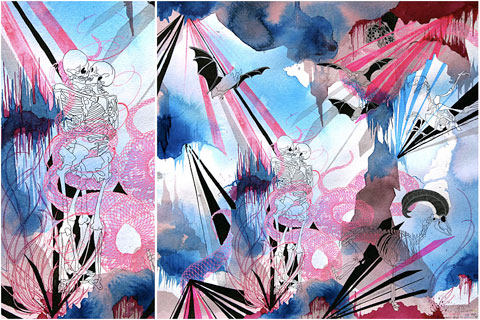 What's the most non-art involved activity you continually find yourself enjoying?
Whisky with friends, biking alone and dancing in the streets.
Have you been to jail? If so, why? If not, why not?
I can't believe I've made it this far- no jail. For all the stupid shit we've done, stolen and painted- it's a miracle I'm not in shackles- or at least on house arrest.
I guess it pays to look like someone's niece. I keep it classy. I learned that from the greats. Composure, composure then burn out and leave 'em in the dust.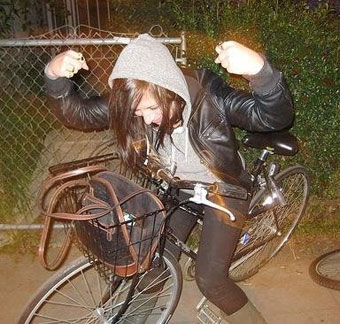 What kind of car do you drive?
Gorgeous Black on Black Cadillac Coup DeVille. Black leather interior, gold grill, white wall tires. The AC is busted, along with most other things that go when a car gets old- and I do have to drive with the turn signal on to prevent it from stalling out - but at least it looks good. Its ladies day at the carwash every Tuesday- keep it clean.
What's your biggest non-green inspired indulgence?
Vintage paper goods (titty mags), google images and taxidermy shopping, driving real fast, and menthol Virginia slims.
What is the single most important thing you did to breakthrough as a career artist?
Told myself I was going to be an illustrator and believed it.
Best hustle you ever pulled?
I never hustle and tell. Are you a cop?
Are you ever bored?
Nope, I got them good brains.
What excites you?
Just about everything. I'm always really excited- I love this shit. Early mornings, Mondays, light, color, contrast, passion, human emotion, a well dressed gentleman, red lips, the unexpected, the familiar, sub-cultures- packages from my mom, Spongebob tattoos, switchblades, pet-stores, dead animals, open air, Garfield, Whisky, hearing some really loud gangster rap coming out a car really early in the morning…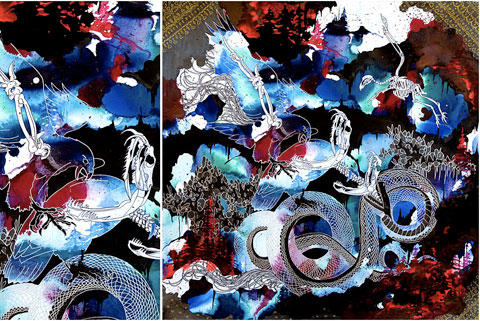 2023 will look like . . . ?
Hover Cars, lots and lots of hover cars, hover boards, hover bikes and hover dogs. Everyone is gonna have a jet pack too- probably an ipack jet pack. I swear to god if we're not all flying by then I'm gonna be so mad.
If you could have a drink with one artist, living or dead, who would it be?
I just want to listen to Andy Warhol.
Last passport stamp:
Probably Mexico?
Can't stand:
Those motorcycle helmets with the Mohawks attached, spiked belts, emoticons, crocks, jocks and blue tooth's, actually I don't even think I know what a blue tooth is, your cat, your girlfriend, my turn to do the dishes …
Can't live without:
Love, lust and gore. R. Kelly, Mac Mall- Pawn shop gold, Scott and Christina, two tone manicures, juice and snacks lots, lots and lots of snacks. Outdated almanacs and encyclopedias, my MacBook, 12 pairs of sunglasses- that guy that serves me cocktails at the Gold Room, rooftop views and being able to look into universe every now and then. Black jeans, black hoodies, black leather, python pumps and jewels.
Words to live by:
Don't stop the hustle. Ever. Real Talk.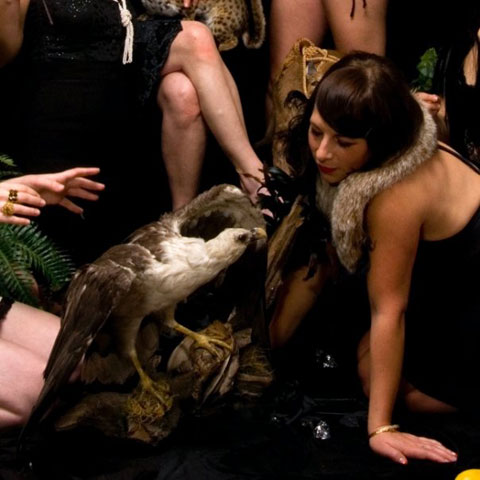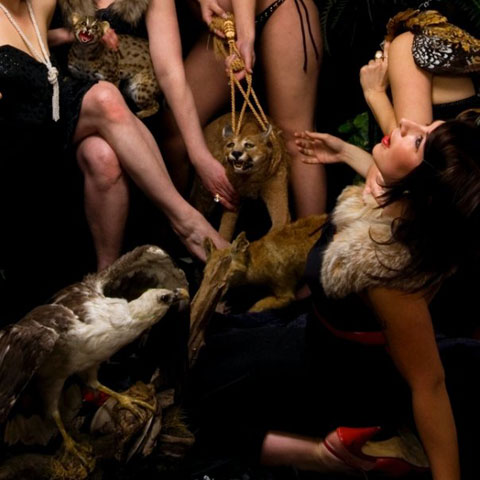 More on Hannah Stouffer at www.hannahstouffer.com
Photo credit: Dustin Aksland