20 Questions with GREG CRAOLA SIMKINS
Juxtapoz // Wednesday, 04 Feb 2009
1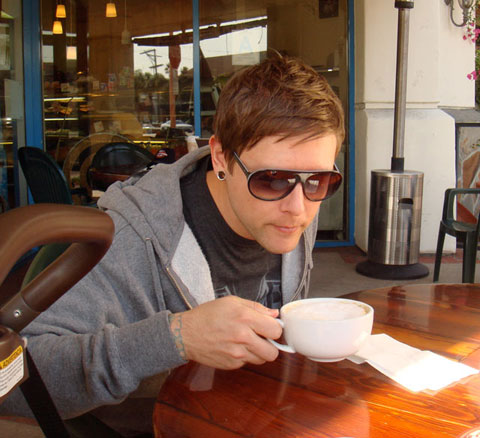 If you love Craola (Juxtapoz #74) (or if we're going by big kid names, Greg Simkins) like we do, you may not any more after reading our 20 Questions with the artist. Here, he confesses he kills polar bears "with my bear hands." Jeez, what a monsta.

Just kidding. Greg is a great guy and an even better artist, so we took the opportunity to lay on him our 20 questions right before tomorrow's opening of his next solo show, Seeing Things, at FIFTY24SF Gallery.

Get to know one of the most influential illustrators/painters working today by reading Greg 'Craola' Simkins' 20 Questions answers here...
What's the first thing you did when you woke up this morning?

Changed a dirty diaper (no, not mine), drank a pot of coffee and watched Elmo sing a song about signs with Chris Brown. Damn, Elmo is a 'G'.


Something about yourself the average person wouldn't guess?

I enjoy long walks on the beach studying the various birds and looking for jellyfish that have washed up on shore. While we are on the subject of dead things washed up on shore. One day I found a wild boar, a sea lion, a dolphin, and about 50 dead jellyfish washed up on the beach in Hermosa. It was a good pot of stew at the Simkins house that night.


If you had one day left on Earth, what's left to be discovered?

A time machine to go back in time.


What is your first art-making memory as a kid?

I had a 4 foot piece of masonite my dad had cut for me to play with my blocks and legos on. I took my crayons and crayola markers and drew all over it. I built on those drawing on that board for years. I remember drawing Darth Vader holding a light saber fighting Count Duckula on there. I also remember watching a show where a guy instructed the audience of kids on how to draw a woodpecker and gave my best attempt at it. I think my parents may still have that somewhere.


Do you need long periods of time alone, or are you energized by interaction?

I need interaction.


Is being in the dark with the lights out frightening or comforting?

Frightening is comforting.


What's the most non-art involved activity you continually find yourself enjoying?

Riding my skateboard on the strand at the beach and feeding the squirrels to my kid at the park. I mean with my kid.


Have you been to jail? If so, why? If not, why not?

Nope. Just to pick up and visit friends. Have you watched Lockup or Lock down or whatever it is called on MSNBC? I would be in big trouble if I were to go to jail. Did you know that the toilet is actually in the same cell as the bed?


What kind of car do you drive?

I don't, I can fly.


What's your biggest non-green inspired indulgence?

Killing Polar bears with my bear hands. Whoops, typo, I meant BARE hands. The other spelling would mean that I have some crazy mutation and big fuzzy paws at the end of my arms, which surprisingly would be more suitable for killing Polar Bears.


What is the single most important thing you did to breakthrough as a career artist?

Quit my job in video games to focus 100% on painting.


Best hustle you ever pulled?

I don't do that.


Are you ever bored?

Yup.


What excites you?

The prospect of sleep.


2023 will look like . . . ?

The final battle scene in Lord Of the Rings but instead of Orcs, we will be battling Rabid Leprechauns for the future of humanity.


If you could have a drink with one artist, living or dead, who would it be?

Michelangelo Merisi da Caravaggio, of course I would need to learn Italian.


Last passport stamp:

Cabo San Lucas.


Can't stand:

Those damn leprechauns from question 15.


Can't live without:

Coffee


Words to live by:

Treat others the way you would want to be treated.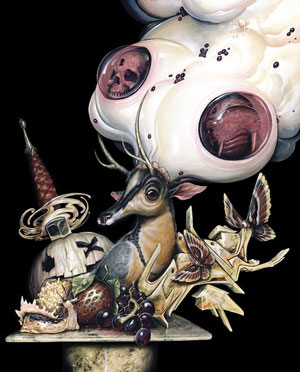 The release of The Lost Thought, a limited edition of 30 giclees on canvas by Greg 'Craola' Simkins, will be available for pre-order at the opening reception of Seeing Things this Thursday, February 5, 2009 from 7-9pm at FIFTY24SF Gallery in San Francisco.

Signed, numbered, loved. Hit up the Gallery for more details.

More on Greg "Craola" Simkins at www.imscared.com