20 Questions with CARLOS DIAS
Juxtapoz // Thursday, 26 Feb 2009
1
Carlos Dias eschews concepts. His original art is born in the streets of Sao Paulo, in his band's concerts, in his record collection, and flows into canvases painted with acrylic paint, markers, crayons, sprays or whatever comes into his hands.

This Brazilian creator wowed us with his answers to our set of 20 Questions, which we asked him to answer in anticipation of his upcoming participation in SÃO PAULO, curated by Brazil's Choque Cultural Gallery in association with Jonathan LeVine Gallery, opening this Saturday, February 28th at Scion's Installation L.A. Gallery.

This guy truly has a great perspective on art, life, and everything in between. See what we mean by reading his answers to our 20 Questions below:
What's the first thing you did when you woke up this morning?

Through the way of toughts and breath, I tried to get rid of the native atoms.


Something about yourself the average person wouldn't guess?

…they wouldn't guess all the places I've been. And I mean it.
If you had one day left on Earth, what's left to be discovered?

Ways of get out of 'time' and any restrictions like that.


What is your first art-making memory as a kid?
I was rejected from art classes at school and used to put all my rage in painting my school stuff with colored pencils or anything available.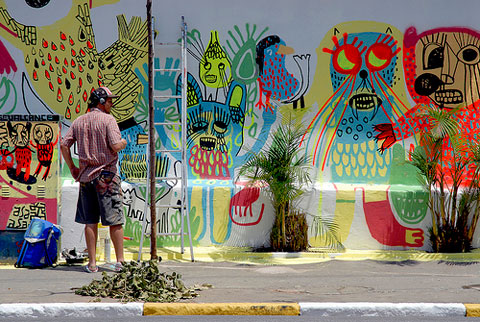 Do you need long periods of time alone, or are you energized by interaction?

Ying-Yang.


Is being in the dark with the lights out frightening or comforting?
Comforting.
What's the most non-art involved activity you continually find yourself enjoying?

Not one. Not anymore.
Have you been to jail? If so, why? If not, why not?

Yes. I didn't know at the time (in 2002) but I was needing some rebirth. And as odd as it sounds, I got that there. But I gotta tell for the record: I was innocent of what they tried to accuse me.
What kind of car do you drive?

I'd rather get a cab.
What's your biggest non-green inspired indulgence?

I have worked out way more of the purple than the green lately.
What is the single most important thing you did to breakthrough as a career artist?
Dedicate all my time to that. When I decided to do it, things started changin' for good.


Best hustle you ever pulled?

Life has been smilin' on me. The simple fact of bein' able to live off of art is the best hustle I ever pulled, y'know?
Are you ever bored?

I'm still a human being…but I got free from the addiction of getting bored.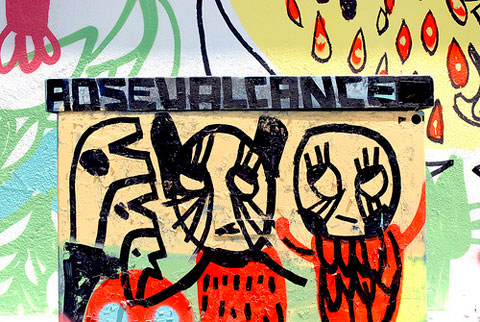 What excites you?

My new life with my wife in a new city, and all this current rebirth.
2023 will look like . . . ?

I try to live in the present tense.
If you could have a drink with one artist, living or dead, who would it be?

Picasso.
Last passport stamp:

France.
Can't stand:

Waitin'.
Can't live without:

My wife, espresso, tea, juices... many colors and flavors.


Words to live by:

A love supreme.
More on Carlos Dias and his upcoming show, SÃO PAULO at www.scion.com/space