20 Questions with BLEK LE RAT
Juxtapoz // Friday, 13 Feb 2009
1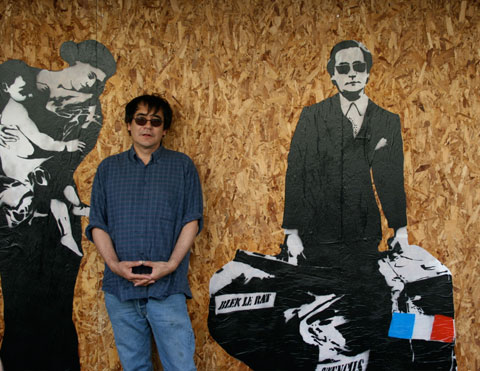 Famed street and studio artist Blek le Rat (Juxtapoz #95) answered our 20 Questions for us all the way from his home in France.

A pioneer of graffiti writers in Europe, Blek le Rat was one of the first people to use stencils for creating art on the street, using icons instead of writing his name. Inspired by a stenciled portrait of Mussolini, which he saw during a trip to Italy among WWII ruins, he created a silhouette of a rat running along the streets and hasn't stopped stenciling since.

As a veteran of the urban contemporary movement, Blek has been changing the altering public landscape since the 1980s. Needless to say, his answers reflect his experience in the game of art and life (and has learned enough to answer that "chinese roast duck" is what excites him.) Learn more about this pioneer in our 20 Questions with Blek le Rat.
What's the first thing you did when you woke up this morning?

Alex, my sixteen years old was really happy this morning at 7:30 AM because it snowed so much during the night that the school bus did not come to pick up the children, so we had a coffee together and the ambiance was rather positive.

Something about yourself the average person wouldn't guess?

I love Al Wilson the blind owl.


If you had one day left on Earth, what's left to be discovered?

God.


What is your first art-making memory as a kid?

I drew the cover of a LP of The Rolling Stones.
Do you need long periods of time alone, or are you energized by interaction?

I need both periods.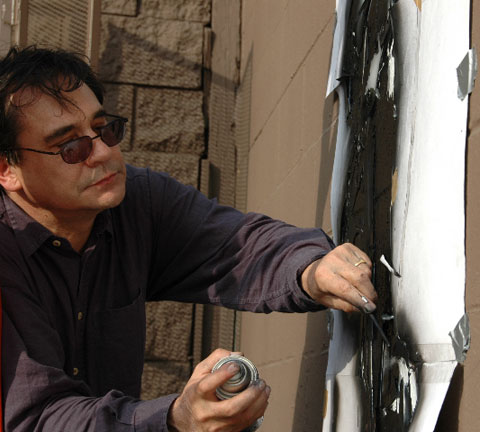 Is being in the dark with the lights out frightening or comforting?

Comforting, I hate to sleep with light in my bedroom.
What's the most non-art involved activity you continually find yourself enjoying?

Collecting helmet soldiers.


Have you been to jail? If so, why? If not, why not?

I think jail is the most frightening place to be. Yes, I have been in jail for graffiti in France.


What kind of car do you drive?

20-year-old BMW.


What's your biggest non-green inspired indulgence?

Spraycan paint because it is for the good cause.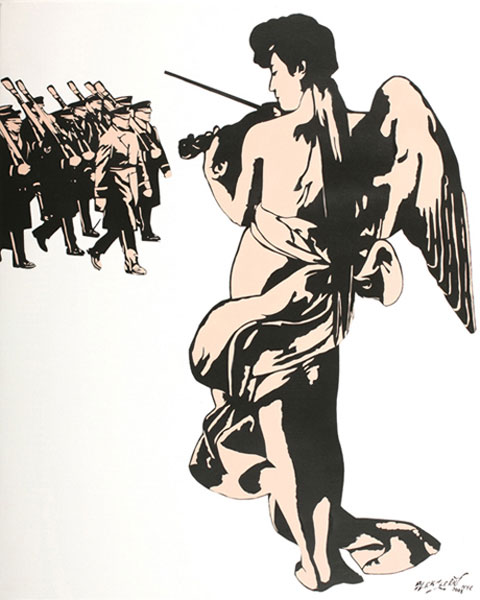 What is the single most important thing you did to breakthrough as a career artist?
Having painted rats in 1981.
Best hustle you ever pulled?

Last October in NYC I had just pasted and when I had put down my bucket a police patrol came by.


Are you ever bored?

No, I rarely get bored.


What excites you?

Chinese roast duck.


2023 will look like . . . ?

Everybody will be vegetarian and women will be in power.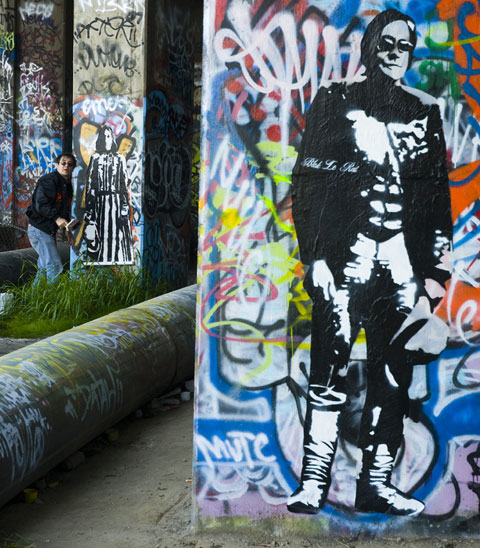 If you could have a drink with one artist, living or dead, who would it be?

Stanley Kubrick.


Last passport stamp:

USA; Miami.


Can't stand:

Bad car drivers.


Can't live without:

Honest people.


Words to live by:
Sex, drugs and rock and roll.
More on Blek le Rat at bleklerat.free.fr