20 Questions with Andy Kehoe
Juxtapoz // Friday, 20 Mar 2009
1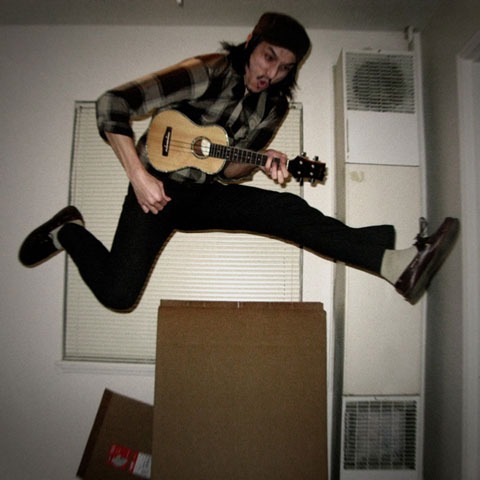 Andy Kehoe (Juxtapoz #75) is one of the most fabulously ridiculous artists we know. Unlike his meticulously rendered paintings, Andy is what we like to call a crazy genius. Perhaps that's why he counts some of his favorite words to live by: "If you're going to be crazy, you have to get paid for it or else you're going to be locked up."
Dig into the mind, and dare we say soul, of a man who paints "cool Forest Dragons" that "look like the Bog Creature found a friend."
Understand why you'll want him for your new best friend after you read Andy Kehoe's 20 Questions below.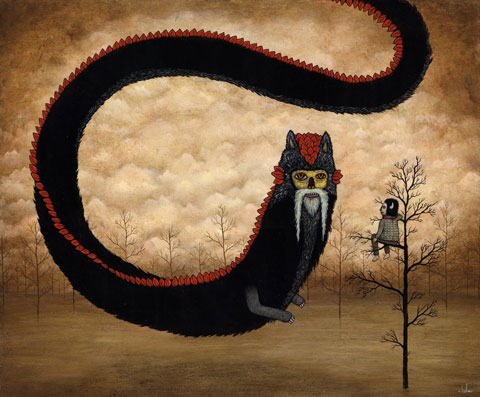 What's the first thing you did when you woke up this morning?
I checked my emails on my phone to see if there was a reason to crawl out of bed early... then I went back to sleep for another 20 minutes.
Something about yourself the average person wouldn't guess?
I'm really into sports, which seems strange to some people. I grew up in Pittsburgh so I have a kind of ingrained and hearty love for the Steelers and Penguins... and I still watch a bunch of Pirates games even though it's becoming a form of masochism.
If you had one day left on Earth, what's left to be discovered?
If I only had one day on earth because the world was ending, I'd buy an assault rifle, steal a boat and go to some remote island to escape the fanatics.
But if the world was just ending for me, I'd say I'd just treat it like any other day and hang out with friends and family. There's so much I want to do that fitting it into one day would just stress me out. Then I would hope for the best regarding any sort of afterlife.
What is your first art-making memory as a kid?
My brother Ben and I used to sit around for hours and scribble away with crayons.
We found one of our earliest drawings and it was of one guy screaming "Poo Poo Poo!" and another guy screaming, "Pee Pee Pee" and there were shooting each other with it. Maybe some early attempt at allegory... or maybe it's just about poo poo and pee pee.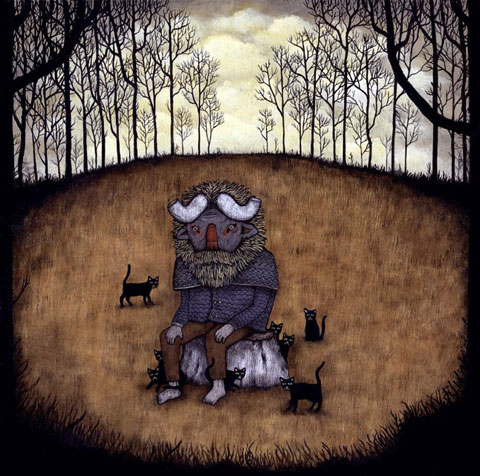 Do you need long periods of time alone, or are you energized by interaction?
I spend an ungodly amount of time by myself... long, long chunks of time. I moved to Portland in the fall and I live by myself so there are stretches where the only people I interact with are behind registers.
It's great working at home and by yourself, but it gets a little ridiculous sometimes when your in the middle of a show and don't see much of the day. I'm going to be moving into Evan B. Harris' studio soon, so that'll be a nice change.
Is being in the dark with the lights out frightening or comforting?
That really depends on the state of mind I'm in. I read an article the other day of a chimpanzee mauling some poor lady and mutilating her face and fingers... Jesus.
Anyways, that ruined my day and even in the bright sunshine that day, I felt morbidly sick and frightened of the world. When it's pitch black my mind tends to wander and any thoughts of things like that will make it pretty uncomfortable.
What's the most non-art involved activity you continually find yourself enjoying?
I'm pretty obsessed with movies and finding new music. I've also been known to throw down on some Xbox. And as soon as it gets warmer out, some camping is definitely in order.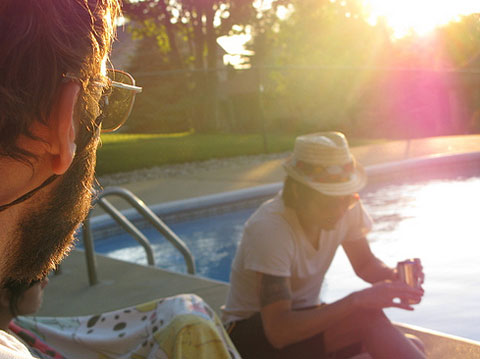 (Photo by Ben Hernstrom)
Have you been to jail? If so, why? If not, why not?
Surprisingly, I'm the only one of my siblings that hasn't spent a night in jail... although I have been choked out by bouncers... twice.
What kind of car do you drive?
Ford Ranger Pickup Truck.
What's your biggest non-green inspired indulgence?
Sometimes on sunny days I like to rent a Hummer, pick up some McDonalds and drive to the beach with the AC blasting full power. Then I'll eat my burger and watch some DVD's until my gas runs out. After which, I'll throw my trash in the ocean and Molotov Cocktail that son of a bitch Hummer while holding up a portrait of Ronald Reagan and screaming Bible scriptures while it all burns.
What is the single most important thing you did to breakthrough as a career artist?
I think meeting Jordin Isip at Parsons was huge. Later, he introduced me and my work to Jonathan LeVine and now I have my first solo show in his gallery in May. That was pretty damn fortunate.
Best hustle you ever pulled?
Somehow I made it through my schooling at Parsons when I had to wait tables to pay for tuition, my supplies and rent and somehow still ended up doing pretty well.
For 2 years straight, I don't think I slept more than 4 hours a night. I have no clue how I did it.
Are you ever bored?
Not really. I usually wish there were at least 3 more hours in the day so I would have more time to get things done. If I do have a moment of peace and quiet, I try to soak it in and enjoy it.
What excites you?
Luckily, I tend to get really excited about my work. Honestly, it's probably the only exciting thing about my life.
Sometimes I'll get a call from an old friend and listen to an hour about their life and crazy adventures. When it comes to me all I can say is.... "Well, I painted this cool Forest Dragon and it looks like the Bog Creature found a friend...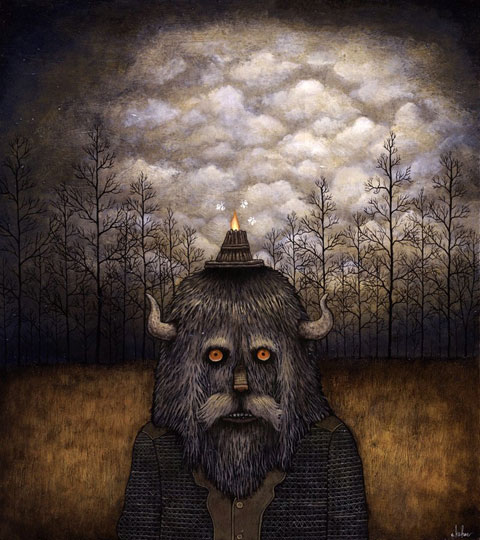 2023 will look like . . . ?
I just hope to be around that long and maybe to have a bionic arm and be dressed in a silver suit... and we better have some goddamn clean energy by then.
If you could have a drink with one artist, living or dead, who would it be?
It would be cool to hang out with Terrence Malick. That would be funny if he did voice over for his everyday life, too. "What's this war in the heart of nature?" he would ask himself aloud as we sipped on our drinks. And I would know better than to try and answer... just let him go.
Last passport stamp:
Haven't had a passport since I was 16 when we visited my mother's side of the family in Korea. I hope to get a show overseas somewhere and that'll force me to get a new one.
Can't stand:
People that treat others like they're beneath them. Sometimes I'll see someone treat a waiter or waitress like shit and it makes me want to go over there to box their ears and finish them off with an atomic leg drop.
Can't live without:
Pants. Life would suck with out pants.
Words to live by:
"If you're going to be crazy, you have to get paid for it or else you're going to be locked up." -Hunter S. Thompson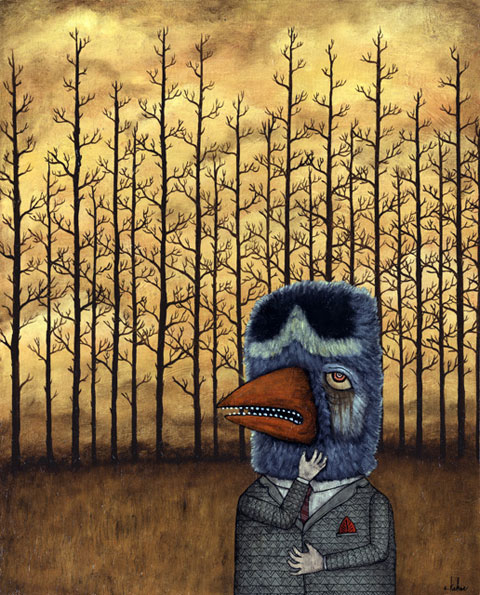 More from Andy Kehoe at www.andykehoe.net