20 Questions with John P. Dessereau
Juxtapoz // Monday, 14 Feb 2011
1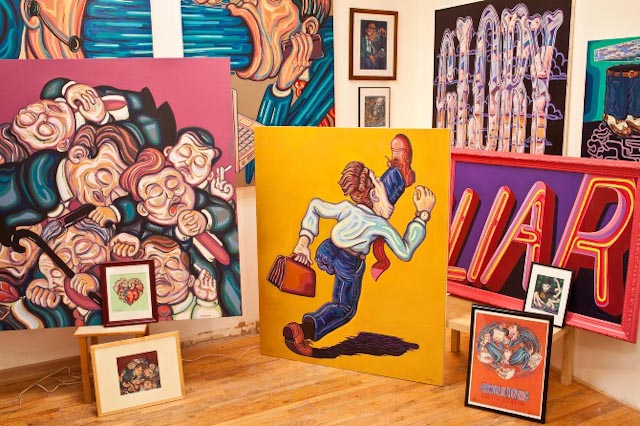 I recently caught up with artist John P. Dessereau a.k.a. Johnsville in his Williamsburg, Brooklyn studio. John recently wrapped up The Brooklyn Artist Project, a group show put together by taste-making brand IHMDJ!. The native New Yorker studied illustration at The School of Visual Arts, and has a diverse passion for global systems, popular culture, word play and internal conflict. He is a contributor to Palms Out Sounds, a respected electronic music source. We played 20 questions... —Brock Fetch
What is your current state of mind?

I am swimming in my mind, trying to understand the waters. I feel blessed. The world is so complicated, keeping my mind light and painting constantly helps my stability.
What is your message via art?

I am sharing as I am learning about the system we live in; internally, economically and environmentally in the modern world... how money works, how ambition works, questioning the future and recently how love works.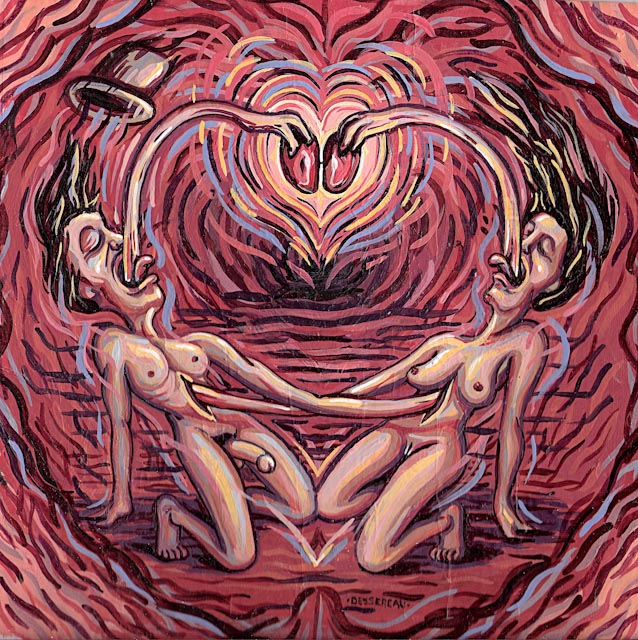 If you lost all creative sense, what would your chosen profession be?


Keeping it simple, I would learn how to farm, watching plants grow is important.
If you had to punch one living contemporary artist who would it be?


I'd probably pop Kehinde Wiley one time. I love his work. It is bold and communicates well. I was at his show at Deitch Projects last summer, he was there and I got star struck. Between him and I were a handful associates. I tried to cut in to give him love… he was not having it. That's why I would gently punch him in the shoulder with a smile.
What is your strangest work habit?


I'm definitely a weirdo. I do lots of strange things. For example, I'll often put the back end of paintbrushes in my ears. Sometimes to clean, sometimes I just leave them in there. It must be a sensory deficiency.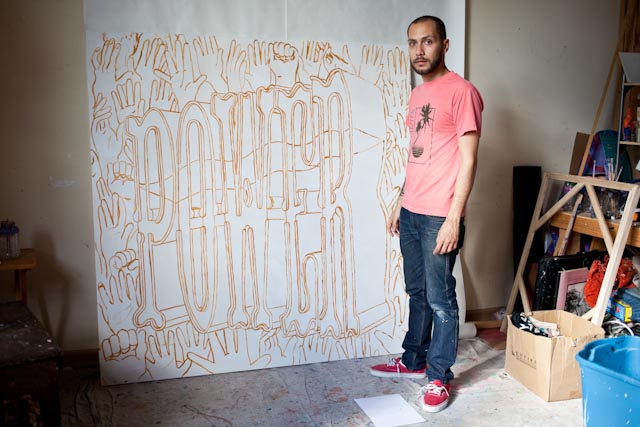 What is your biggest regret?


I was DJ'ing once at a local Williamsburg dive about 3 years ago. A friend of mine came out with some girls. I thought my friend was legit when he told me that he was not so fond of how a patron was talking to his ladies. I approached this guy, and got left to get beat up pretty bad. My "friend" bitched out completely. It was a learning lesson about how expensive dental work can be.
If you had to pick one of your paintings which would it be?


Tell you the truth I don't want to have sex with any of them. Which one I would keep? That first social networking painting would come in the casket with me. I think that piece illustrates how many folks feel.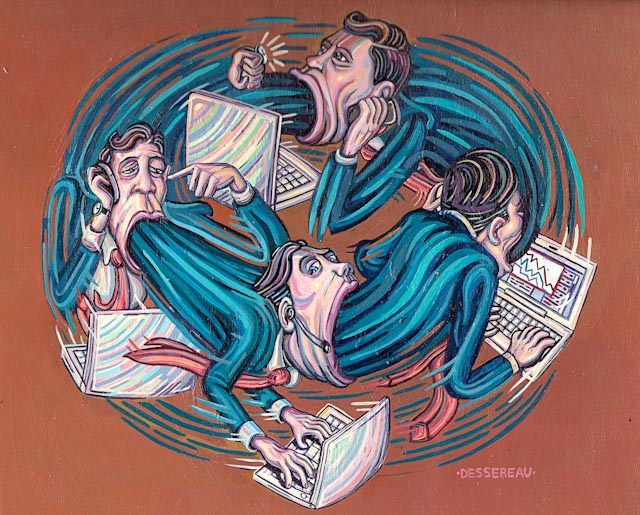 If your studio caught on fire what is the first thing you'd grab?


I've been keeping sketchbooks since a teenager. I would save them. I'd probably reach for my grandfathers gold chain on the way out as well.
Which public figure, living or dead has been your biggest inspiration?


I've always been a fan of Malcolm X. Some of his views are a little extreme, but his story is inspirational. He did a 10yr sentence for robbery, and upon his release, became one of the biggest public figures in history.
What is your biggest complaint as an artist?


It's hard to maintain balance. I get restless and the entire world can be a distraction. I wonder if I am leaning towards being a conspiracy theorist or is the planet in such disarray? On the other hand, sitting and painting lines forever makes me stir crazy. Balance.
What would your greatest scientific discovery be?


I would discover a way generate resources faster and cleaner. We can't eat or drink money. Possessing resources is the ultimate power, and figuring out better ways to renew them will shape a stainable economy and then some.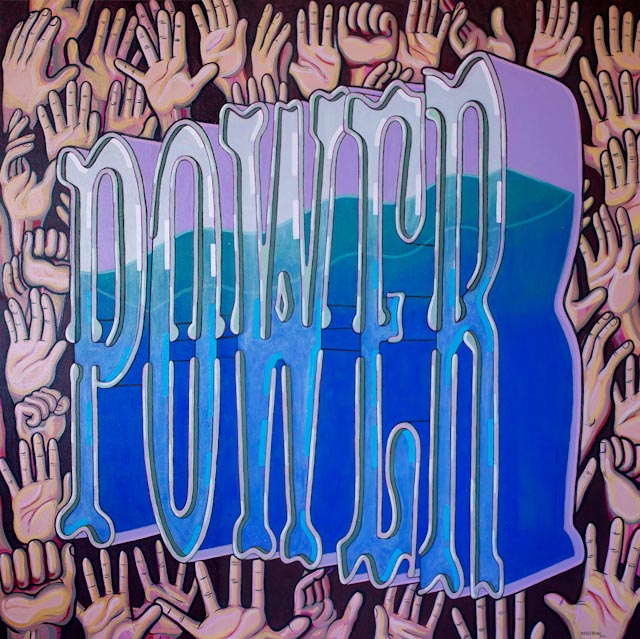 What is your favorite quote?


I have a few, I really like "Everything you can imagine is real." by Picasso. But in the spirit of not being typical, I'll go with, "If you feed a sucker they turn into a bigger leech" by Fabolous.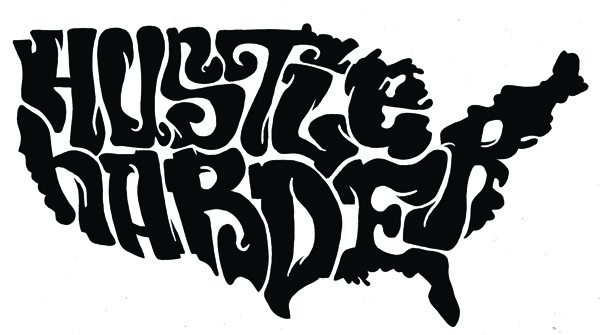 What character would you come back as from your favorite childhood story or film in real life?


Probably Dr. Jekyll. I defiantly have a darker side. For someone who explores the human condition I often feel pretty detached. I wonder what it would be like to transform like that. I know better than to wish for it although.
Did you make a new year's resolution?


I'd like to talk less this year.
If you were the child of 2 artists who would your parents be?
That is a tough one, I really artist like Gary Baseman, Gary Taxali, and Steven Brodner. Historically, I'd say Keith Haring and Van Gogh. Robert Crumb would be my uncle.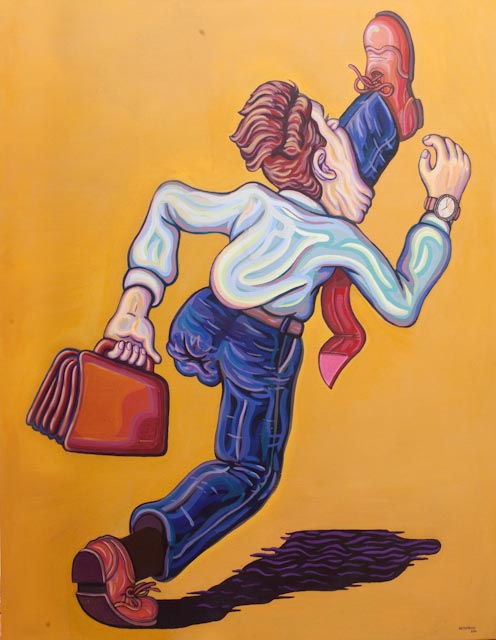 When did you first become serious about art?


I use to have a cartoon column in my high school newspaper. I went to a conservative same sex Catholic school. I really enjoyed pushing the envelope and making the administration uncomfortable. I knew then.
What are your favorite and lease favorite aspects of the internet?
My favorite is fact-checking people's stories. My least favorite is that I have about 6 different email addresses, that all go to my phone.
What do you consider your greatest achievement?


I am not sure about my greatest, but I just finished up a record cover for one of my favorite musicians, Ryan Leslie.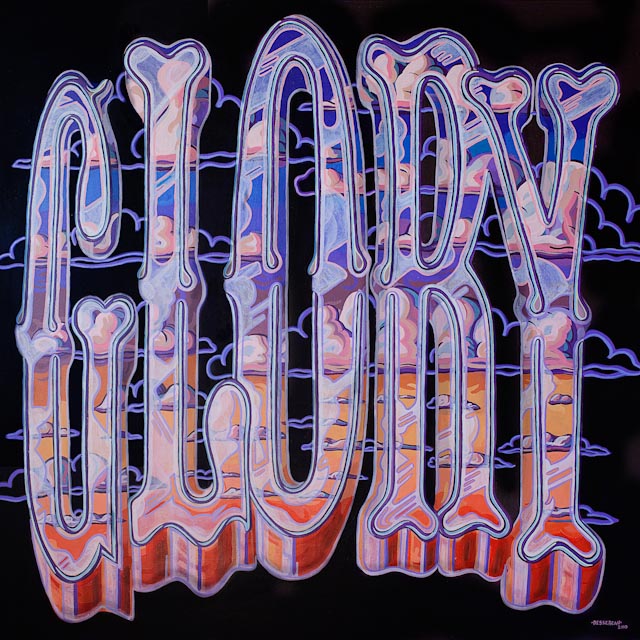 If you could pass a law tomorrow what would it be?


Honestly, Not to sound red, but community service of sorts would not kill young adults in this country and solve a ton of issues.
How would you like to die?


God willing, I get to live a long life, I want to throw an all white party and give a long-winded campaign toast. At the end of the speech, I want to explode all over the room, ruining all my friends' outfits just for the fun of it. Not like a suicide bomber but more like a party popper.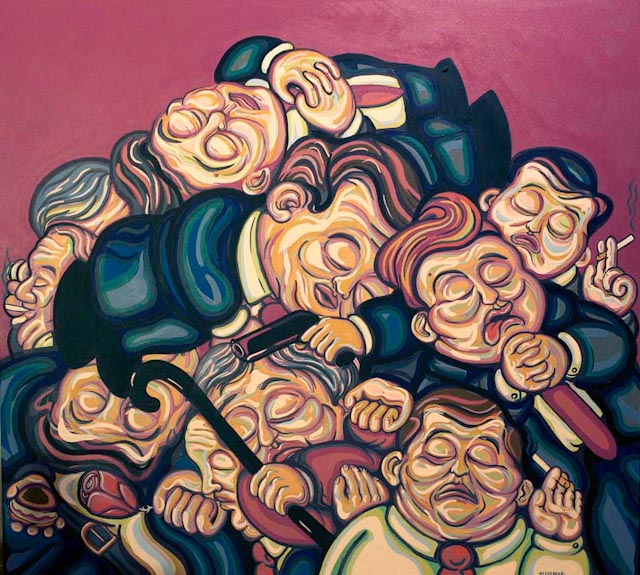 For more information on John please visit his site.
Questions and photographs by Brock Fetch.