15 Cheap and Creative Design x Decor Ideas
Juxtapoz // Wednesday, 25 Aug 2010
1


When we say easy, we really mean it because we all have limited time and ability. We're also based in San Francisco, which might just be the most expensive place to live in the country, so we're talking less than $10 a project here. A little effort goes along way, so take an hour to have fun and then get back to all that stuff you 'have' to do.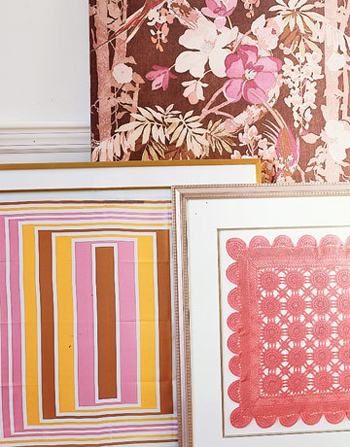 Framed Wallpaper/Cards/Fabric
Original artwork is often out of range and even prints can get pricey. It's easy to come across single sheets of wallpaper and beautiful or funky greeting cards, as well as fabric. Frame your favorites knowing you can swap them out regularly.
Even better: hit up a thrift store and peruse the art section. Most of it's pretty bad, but is framed. Buy that painting of playing kittens for $5 and strip the unique frame to house your funky wallpaper.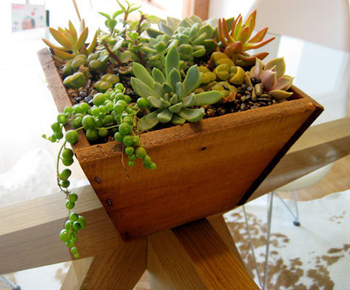 Succulent/Cacti Garden
Cut flowers don't last and it can be easy to kill potted ferns and orchids as well. Succulents and cacti look great and require next to no upkeep.
Even better: many grocery and corner stores often have wooden crates around, either in the back ally or right in front on the street that they've discarded from shipments. Grab a smaller one and plant your garden there.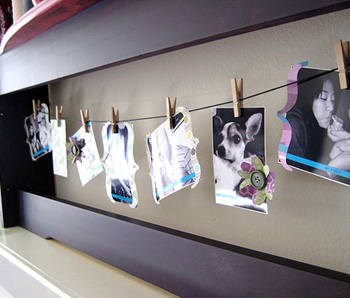 Strung Photos/Postcards
Postcards are a great reminder of trips taken or places you'd like to visit one day. And if you still have real photos in hand and not just stored on your laptop, display them by simply grabbing some clips and stringing them for as long and wide as you have room.
Even better: use thick, colorful ribbon to string the photos on for an extra bit of flavor.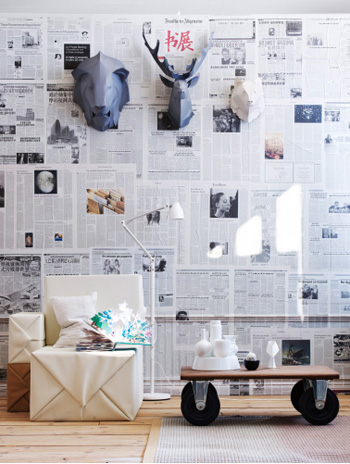 Magazine/Newspaper Wallpaper
Accent walls are a great alternative to covering 5 large walls in paint or wallpaper. We all have extra newspaper and mags lying around, why not show your love of media and swap it up on your wall? It promises to be a great conversation starter.
Even better: many thrift stores have boxes of old magazines. Snag some old Life mags and you'll have your walls looking historically accurate, or old Vogue's for a constant source of fashion inspiration.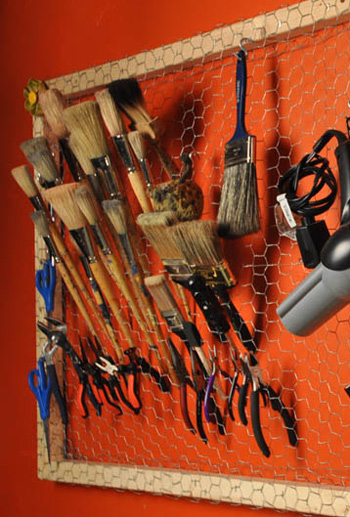 Chicken Wire Brush/Jewelry Rack
This also works well for holding paintbrushes as they dry, as well as jewelry of all sorts. Chicken wire is about as cheap as it comes, and can be easily pinned or nailed to nearly any surface. No more tangled necklaces or lost brushes.
Even better: this can't really get much better. We've been hauling our chunk of chicken wire all over the globe for years every time we move.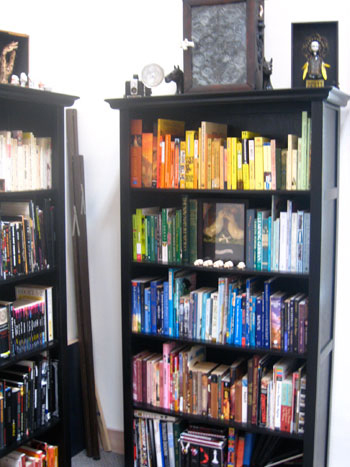 Color-coordinated Book Arranging
We've noticed a few artists tend to arrange their books according to the color of their binding. The effect is immediately striking.
Even better: depending on how many books you have, try spacing the bookshelves around a room to spread out the color effect, making visitors feel as if they're entering a rainbow room. Yeah okay, that was corny.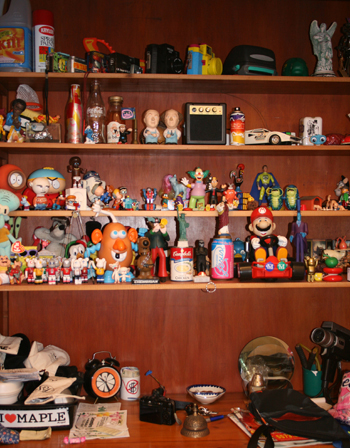 Compact Toy Section
Designer and plastic toys have been a part of our culture for decades and aren't just for kids. Avoid that scary cluttered look and condense a selection of your finest collectible toys into one bookshelf or table.
Even better: organize them according to size or genre, creating micro-communities. Bart with Homer and Marge, those old school Trolls clustered in one area, varying Munnies holding it down in another.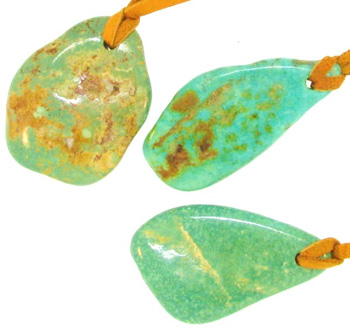 Homemade Turquoise/Gem Necklace
Stone and gem jewelry can be pricey, but if you hit up a gem shop you'll be shocked to find how many stones are available with holes already drilled into them for easy stringing. We recently found raw turquoise for 75 cents apiece, dropped it on string, and had the type of basic necklace we'd been looking for.
Even better: make a couple of these (so now you're up to a whopping $4) and layer them at varying lengths.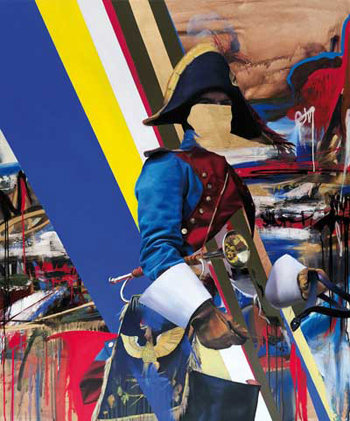 Magazine Wrapping Paper
There's always a birthday, wedding, or holiday that requires a gift to be given, that then must also be wrapped. Avoid the cliché balloon paper and cover smaller gifts in one of your (or their) favorite magazine pages.
Even better: Use Juxtapoz. We don't advocate ripping up your favorite art magazine, but for you cluster-phobes that don't like to hold onto past issues, we clearly offer page after page of artistic images that you can tailor to your different friend's styles and moods.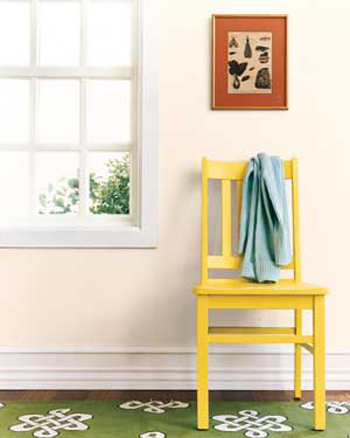 Spray Paint Furniture
You'd be surprised at how much great furniture is constantly available at garage sales, often for just a few bucks if they're not in the greatest of condition. Any wooden chair will immediately look new with fresh paint, which can easily be accomplished with a coat of spray paint.
Even better: After the paint dries, customize it with more detailed painting, some graf, or even rhinestones.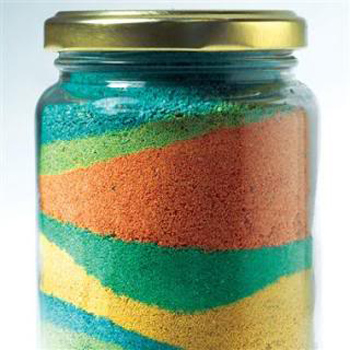 Chalk/Food Coloring Sand Striping
We tried this once as children and the results can be surprisingly polished looking. Grab some sand and colored chalk (or food coloring) and place both into a plastic baggy. Rub the chalk or coloring into the sand until it takes on the new hue. Repeat until you have a variety of colors and then gently pour each baggy of sand into a container of your choice in varying layers of color.
Even better: when you're done layering the chalk, dip a toothpick or wooden skewer into the sides of the container to create a 'dripping' color effect in the sand.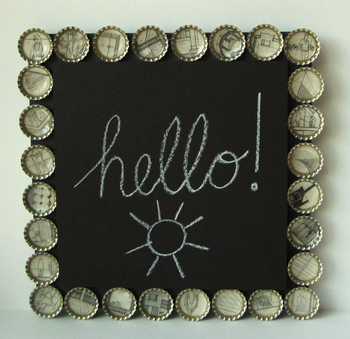 Bottle Cap Frame
We first played around with this idea in college because there were always a lot of extra bottle caps lying around. A great way to spruce up an ugly frame.
Even better: draw or collage inside the caps for an extra-artsy bottle cap.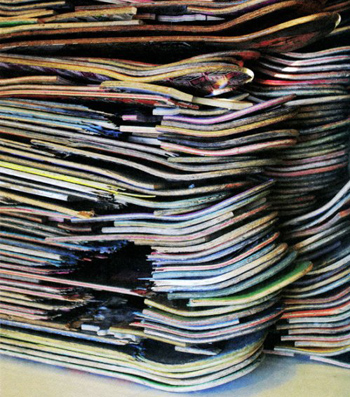 Skate Deck Table
If your place looks like this, you need to start getting creative with your old decks. There are a ton of options, but an extremely simple idea is to stack one or two atop equal amounts of books and voila- you have a table.
Even better: They're also simple to get a bit more creative with and add a couple screws to wood legs, or even more skateboards.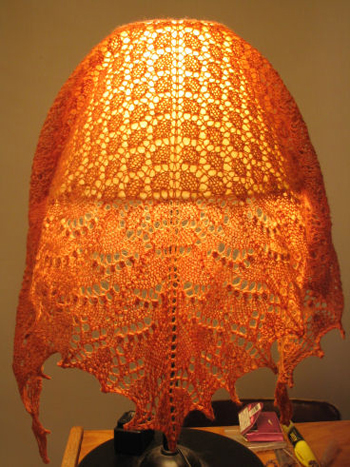 Scarf Over Lamp
It might be the world's fastest way ever to change mood lighting. Yellow to calm the area, pale blue to lighten it up, and red for…well, whatever.
Even better: Just have a ton of different colored scarves to work with here.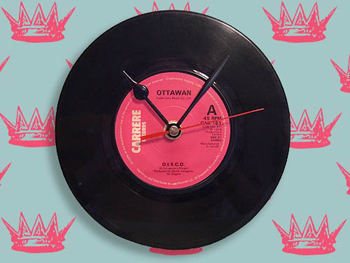 Record Wall Clock
Though most of our music is scrunched down into thousands of MP3s, there's nothing like a classic record. Not only do they sound great, but they look great too. Buy a cheap wall clock (about $4 at Ikea) then strip off the back and slap on the record.
Even better: It's easy to change the record backing, so if you're in a punk mood add the Dead Kennedys, when you're feeling more mellow, try some classic Simon & Garfunkel.