111 Minna Skinner Review
Juxtapoz // Tuesday, 07 Jul 2009
1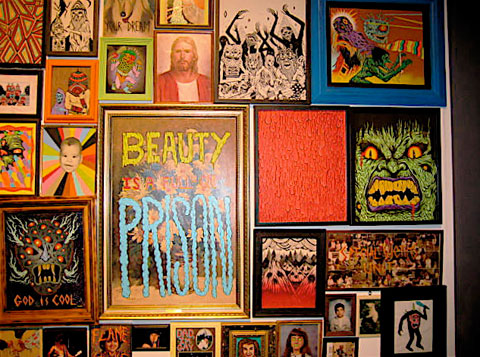 111 Minna Gallery recently featured an exhibition showcasing new and recent works from Skinner, "Worship Thee Kindly The Dark Hand That Guides Me". The installation was Skinner's first major solo effort and featured a range of sculpture, paintings and mixed media work. John Soldano and Gretchen Becker of Toyroom Gallery in Sacramento captured the experience perfectly in this personal review of the show. They obviously think Skinner is awesome. We tend to agree. Read their review below.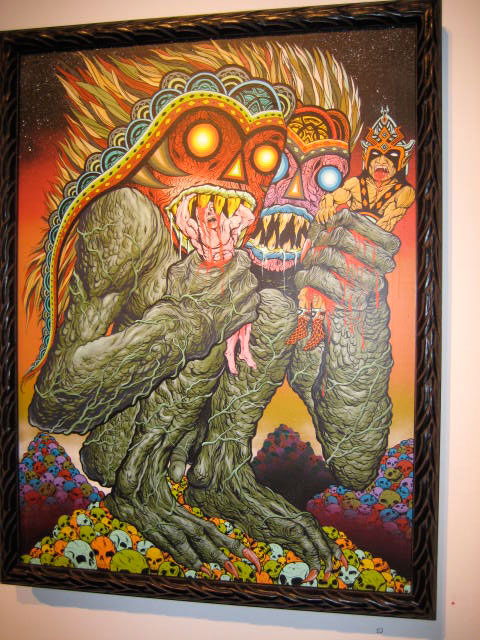 "On June 4th, four ragged and worn friends jammed out of work early on a Thursday and headed for San Francisco to catch the first major solo show of their beloved friend, Skin-Dawg, AKA Skinner (only his mom knows what his real name is.) at the 111 Minna Gallery. The captain of our ship chuckled as she popped in a little taste of what was in store, a CD from "Iguanodon" of which Skinner is lead singer and guitarist. Also in the band, Kristie Harris (whaling on drums), and Dan Herrera (on bass and channeling Satan). Imagine a wicked battle between GWAR and King Diamond and you are almost half way there. When asked to describe the band, Skinner once said they were a 'Rock Anthem Band' what he didn't mention was the 'anthem' was actually the National Anthem from Saddam and Gomorrah – HELL YEAH, awesome doesn't even come close to cutting it.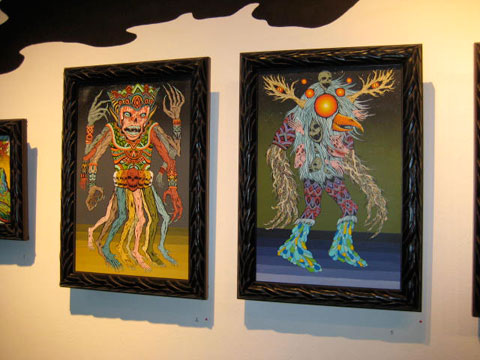 We rocked the CD all the way to SF, in fact, we played it twice all the way through. When we got to the Gallery and peeked through the window, seeing the words 'worship thee kindly the dark hand that guides me' painted in a way that, if it were a font, and had a proper name - it would be Bookman Old Satanika, or something like that, we knew it was going to be an experience well worth the drive. One definition of "awesome" is…' impressive and frightening: so impressive as to inspire a strong feeling of admiration or fear'. Most people might experience both fear and admiration, but we think that they might want to create a new word for this kind of awesomeness – like say, hollycrapthatssomewickedass-shitiveness – or something.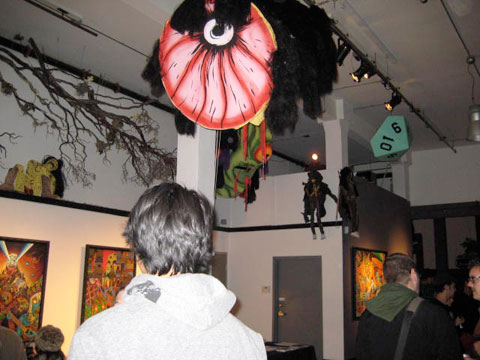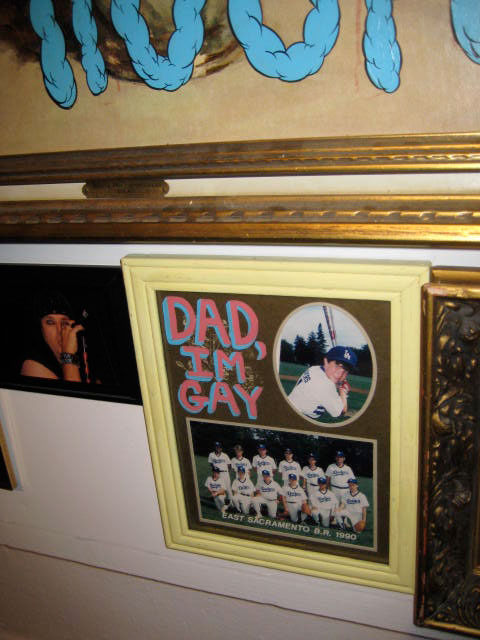 As always, Skinner managed to pull off the seemingly impossible by outdoing his last show 10 times over. The art was phenomenal. There was one wall of well lit, beautifully framed, monster masterpieces, and it seemed that each painting told a story. When you can get that many fashion conscious people to put on 3-D glasses, you have officially earned your self a cult following – and what better sort of following is there?

Another wall was an installation of tightly packed little painting / drawings, and with what appeared to be discarded photos from some estranged family albums, that were enhanced by Skinner with slogans and painted up with wicked details of funny little nightmarish little creatures like those straight out of an underground comic book.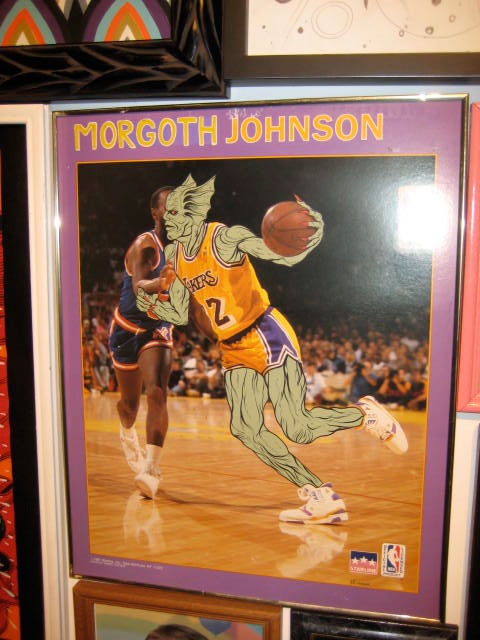 If the installations of impaled freaks hanging from several different location throughout the gallery, or the giant sized Dungeons and Dragons dice hanging from the ceiling didn't impress you, then the grand finale of pounding rhythms from Iguanodon playing satanic sounding vocals with a back drop of a huge Ron English Obama/Lincoln, enhanced (by Skinner) with veins, sweat, and several sets of eyes, might just do the trick.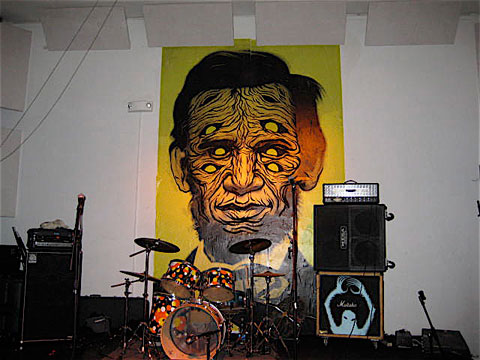 To sum it all up, Skinner is a bad-ass. He is the real deal. He is, (as his girlfriend, Kristie put it once) 'a force of nature'. This show was fun, funny, great, masterful, and unlike any thing we've ever seen before. And for those moms out there that might look at some of his art and maybe think that, if their kids hang out with Skinner, they might start sacrificing small animals, worry not… Skinner is a vegetarian, and a friend to all creatures great and small. We love the shit out of him.

Devil horns, Skinner!

--John Soldano and Gretchen Becker