From an underwater paradise in Fiji to a funky art hotel in Copenhagen, these ten wild hotels will make you want to turn your nose at the next hostel you run into during your summer travels. Take a look inside some of the most design-driven hotels across the globe.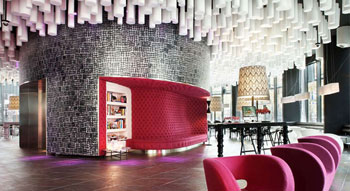 Barcelo Raval Hotel, Barcelona, Spain
This ultra modern spot has flashy written all over it.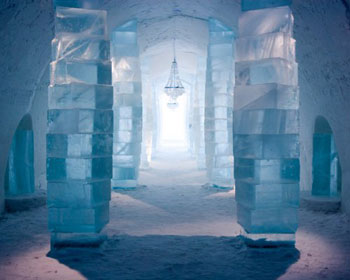 Ice Hotel, Jukkasjarvi, Sweden
Bring your parka, this ice hotel is not for the faint of heart. The temperature never drops below 23 degrees Fahrenheit and guests sport thermal underwear and hats and slip into a sleeping bag atop blocks of ice, a thick mattress, and reindeer skins.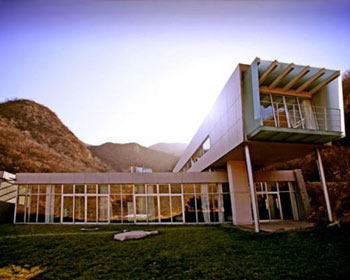 Commune by the Great Wall Kempinski, Beijing
If you're heading to China, mark this one down. Spread over eight square kilometers along the Great Wall of China, all of the 236 rooms scattered across the commune offer views of the Great Wall.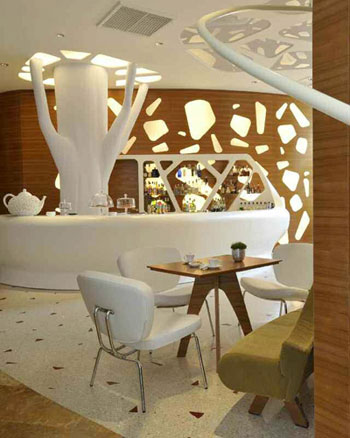 Boscolo Hotel Exedra, Nice, France
This new hotel in France has been built in the Belle Epoque style, with a bar designed by Massimo Iosa Ghini featuring using treelike sculptures and scattered lights.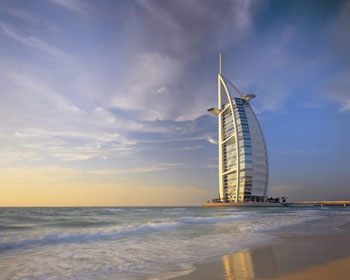 Burj Al Arab, Dubai, United Arab Emirates
That's not a sailboat you're looking at; it's a hotel! Dubai is known for its over-the-top lifestyle, and this hotel is no exception.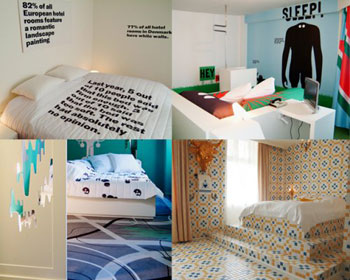 Hotel Fox, Copenhagen, Denmark
We always love a good art hotel. 61 rooms have been designed and decorated by 21 artists and groups, including our favorites, the blue-and-yellow-checked room by Miami designers Friendswithyou and France's Genevieve Gauckler's graphic albeit demanding space commanding guests to "SLEEP!" Beats counting sheep, right?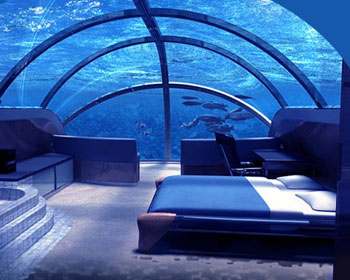 Poseidon Undersea Resort, Fiji
The underwater hotel you've been waiting for. Located in a Fijian lagoon only accessible by elevator are suites submerged a full 40 feet underwater. Opening in early 2010, you'd better start saving now a weeklong stay will put you back $15,000 per head.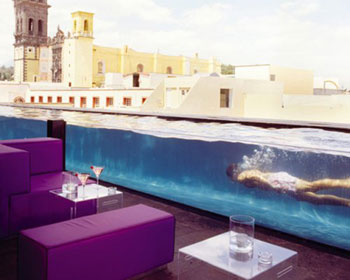 La Purificadora, Puebla, Mexico
This space is actually a former 19th-century water-purifying center. Melding the modern with the new provides one stunning hotel room.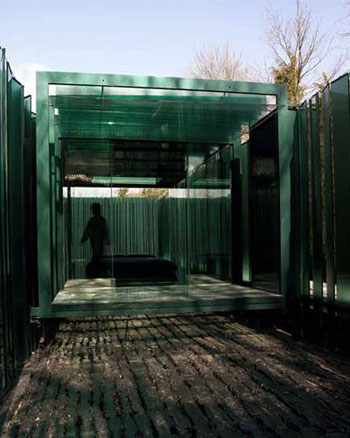 Les Cols Pavellones, Olot, Spain
Talk about going green. All of this hotel's doors, walls, ceilings, and even floors are made solely of green glass and black steel, making for a futuristic, of not slightly eerie, experience.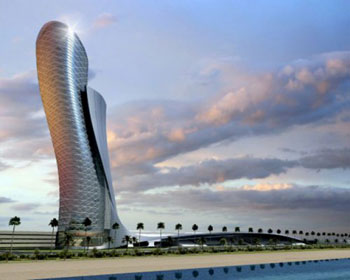 Hyatt Capital Gate Tower, Abu Dhabi, United Arab Emirates
And we're back in Dubai. Opening this fall, this leaning Hyatt will boast the greatest angle in the world. Looks like Pisa's finally got some competition.
Images via www.pointclickhome.com